Bron sets Siege of Bethlehem with Antoine Fuqua
Based on the book A Season in Bethlehem: Unholy War in a Sacred Place, The Equalizer director is attached to direct.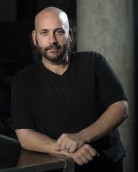 Bron Studios has revealed its latest project: Siege of Bethlehem with The Equalizer director Antoine Fuqua set to direct.
Based on former Newsweek Jerusalem bureau chief Joshua Hammer's 2003 book A Season in Bethlehem: Unholy War in a Sacred Place, the Vancouver-headquartered media and entertainment company will produce the project alongside Michael Kase (6 Underground) from a screenplay penned by Avi Issacharoff (Fauda) and Matt Cook (Patriots Day).
Issacharoff, Kase, Lior Raz (Fauda) and Bron chairman and CEO Aaron L. Gilbert (Joker, pictured) will produce, while Creative Wealth Media's Jason Cloth serves as an executive producer.
Siege of Bethlehem tracks how a three different people – a Muslim, an Israeli Jew and a Christian American – came together to prevent a battle between the Israeli army and a group of armed Palestinian militants who had taken refuge in Bethlehem's Church of the Nativity.
"I've been shepherding this project for 15 years," said Kase in a press release. "There couldn't be a more appropriate time for a movie like this; it's a story about uniting people through peace at a time of significant unrest."
This new feature follows Bron Media Corp.'s decision to launch Bron Digital last month.
Based between Vancouver and L.A., the new state-of-the-art virtual production and service company features team members from all over the world and aims to develop and produce long-form animation for film, TV series and short-form content. Bron also recently revealed it had appointed industry veteran Jason Chen (Avatar) as head of digital and that it was underway on its first project under the division, eight-part animated TV series Fables.
As well, last week, Canada/U.S./Hungary copro Pieces of a Woman, directed by Kornél Mundruczó and produced by Bron Studios division Little Lamb Productions, was among the 50 feature films announced as part of the 45th Toronto International Film Festival. Notably, the Montreal-shot drama will make its world premiere in the Venice Film Festival's main competition this September.