Scripted series ramp up in Ontario, but industry remains shackled by insurance impasse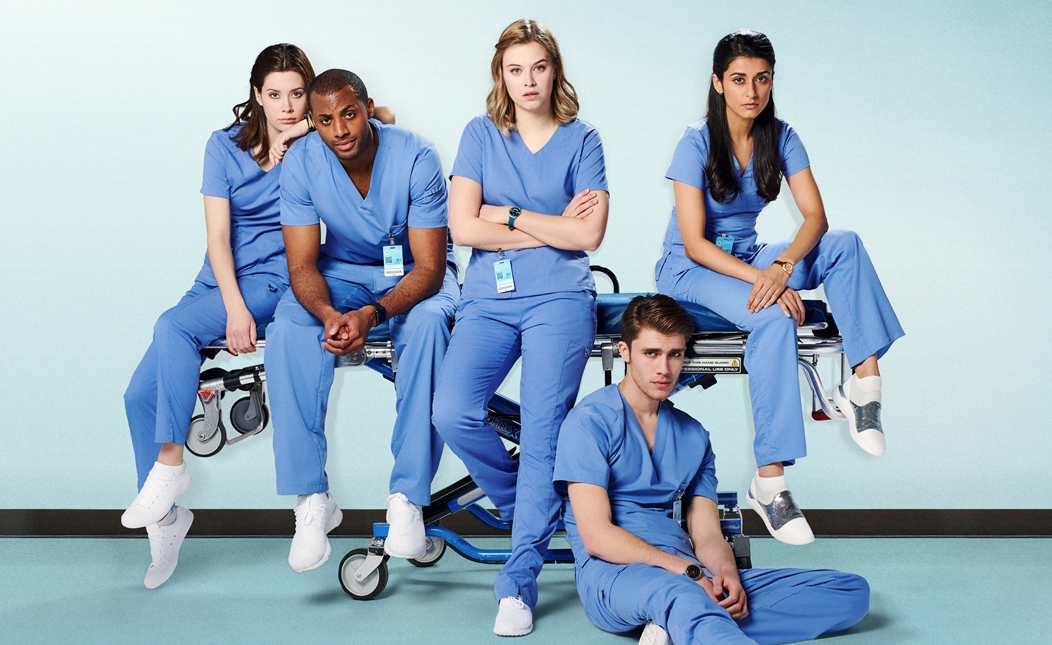 Promising signs emerge as Nurses, Murdoch and others return, however concern is rising that the majority of projects will be pushed to 2021 if there's no insurance solution by September.
While much of Ontario's production sector remains in a holding pattern as it works through issues surrounding insurance, immigration and COVID-19 testing, a growing number of scripted TV projects are starting to find routes back into production this month.
But with producers navigating a tricky, stressful and uncharted production cycle – the first of the COVID-19 era – many are foregoing the usual start-of-production fanfare and focusing solely on getting through principal photography without a hitch.
Among the first to return to set was Global's hour-long medical drama Nurses (ICF Films, eOne, pictured). The show went back into production two weeks ago, four months after filming was suspended in March due to the onset of the COVID-19 pandemic.
There is mounting evidence to suggest a broader return to work is underway across Ontario. The Toronto Film Office told Playback Daily more than 70 filming permits have been issued since it resumed its permitting operations on June 25. In a typical year, the Office issues 3,000 permits to north of 1,300 film, TV and commercial projects.
Murdoch Mysteries is also scheduled to go into production on its 14th season on Aug. 4, making it the second Shaftesbury project to get going again after Hudson & Rex started filming its third season in St. John's. (On the west coast, Nomadic Pictures went back into production on the fifth season of Van Helsing on June 29 in Vancouver and Kamloops, B.C., while SEVEN24 Films and Lark Productions' Family Law, which suspended production in early March, resumed last week. Wynonna Earp is also in production on its fourth season in Calgary.)
Raft of scripted CBC titles ramping up for late-summer restart
And while insurance remains the main word on the lips of producers and broadcasters alike, a significant number of CBC scripted series are diving back into production in Ontario later this summer.
Frankie Drake Mysteries season four, Coroner season three, Lady Dicks and Tallyboyz season two are all scheduled to go to camera in September, with many of them starting pre-production in August.
Across the province, projects find themselves in different situations with regards to insurance for production delays or stoppages related to COVID-19.
Some projects were insured prior to the onset of the pandemic and therefore can continue with coverage under their original policies. Other productions have seen their level of coverage lowered but not to the degree that they are deterred from continuing.
Others are in a different position altogether. Playback understands that certain productions without COVID-19 coverage have explored a "secondary" insurance market, whereby a private underwriter provides coronavirus insurance on top of existing coverage.
However, the cost of such policies is significantly higher than pre-pandemic rates, with one producer estimating that insurance for COVID-19-related stoppages would cost 10 times more than in the past. So, for example, where a $10,000 policy could previously buy $1 million in coverage under an entertainment package insurance policy, getting COVID-19 coverage as an insurable loss would now require a production to pay $100,000 in premiums to get the same $1 million in coverage. When the additional $90,000 is multiplied across various policies (such as cast insurance, commercial general insurance liability, and civil authority), the extra costs add up quickly, especially for Canadian productions.
Playback has heard that some producers are lining up these higher-priced insurance policies in the event that an industry-wide, government-supported solution cannot be found before summer's end.

And swallowing the additional costs might prove to be worth it, as broadcasters and producers grapple with the reality that a second wave could once again shutter the production sector.
"People want to try to get as many episodes in the can before a second wave potentially occurs, which could very well happen when they open up the schools," one producer told Playback.
On the unscripted side, Gusto, which operates its own studio in Ottawa, has been back in production for about six weeks. When COVID-19 restrictions lifted in the nation's capital last month, the lifestyle-focused prodco got to work on CombiNATION Plates (CTV Life Channel), which CEO and president Chris Knight says will be in production until mid-September. DNA Dinners and Cook Like a Chef have also been renewed by Bell Media.
To facilitate production on CombiNATION Plates, Knight says the crew sizes have been slightly reduced (the crew count is around 16, compared to around 20 prior to the pandemic) and the per-episode shooting time has almost doubled. "The mantra on set is 'go slow,'" says Knight, who calls Gusto's studio set-up a "self-contained, hermetically sealed bubble," with audio, post-production, colour correction and more handled in-house. 

The challenges with containing the virus south of the border have also meant that U.S. producers have started inquiring about commissioning projects that could be produced out of Gusto's studio, added Knight. He hasn't yet decided whether it's a direction Gusto would consider going.
On the insurance front, Knight said the company has some coverage for production shutdowns, however, any disruption to production schedules would sting financially. "There are clauses in our insurance coverage that would allow us to recoup some of our costs if we have to stop, but it would be a significant financial impact if we had to stop for any period of time," he said.
Northern Ontario production still on pause
It's a similar situation in Northern Ontario, according to Rob Riselli, film programs and reporting supervisor for Northern Ontario-focused industry organization Cultural Industries Ontario North (CION).
As it currently stands, Riselli says it's "50-50 on a busy fall" in Sudbury, North Bay and Sault Ste. Marie as productions find themselves in a "holding pattern" as they look to iron out issues surrounding insurance, immigration and testing.
A substantial amount of location scouting is taking place across Northern Ontario's production hubs, which have far fewer reported cases of the novel coronavirus than the Greater Toronto Area. As of right now, Riselli said he knows of at least three indie film projects that are targeting mid-September to begin filming in Northern Ontario, while a number of TV series are also trying to map a route back to production.
Many are simply awaiting an answer on the insurance question before deciding whether to shoot this year or wait until next. "What's in the back of their mind is that if they don't get an answer by a certain date, they're going to pull the plug on this year and look at spring or summer of next year," said Riselli. One such project is Sudbury-shot Letterkenny (New Metric Media), which has seen its season-six shoot pushed to next year.
Long-term insurance solution still the biggest roadblock
While an increasing number of projects are finding a way back into production, a long-term, nationwide insurance solution is elusive. Following its proposal of a $100-million backstop, the CMPA has continued to meet regularly with the government to discuss a plan for the insurance issue.
Behind the scenes, the word is that talks between the government and CMPA have been constructive thus far. Time is of the essence however, and producers Playback has spoken with have expressed concern that if a solution isn't found during August, a large swathe of projects will be pushed into 2021.
And with deep-pocketed U.S. companies clamouring to relocate to Canada as the U.S. struggles to contain coronavirus cases, it's the source of significant worry for Ontario-based producers.
There could be serious consequences if the majority of Canadian projects get delayed until 2021. "It would be a devastating blow for Canadian content and for Canadian creators if we can't find some sort of insurance solution," said one producer. "Our crews and our content creators are going to end up being scooped up by American productions, and the local production community is going to be facing this paralysis as we try to figure out our insurance problems. Then once we're ready to go again, we'll have lost our crews and our studio spaces," the producer continued.
Canada is by no means the only country facing this issue. In the U.K., talks between trade body Pact and the government appeared to be at a standstill until earlier this week when a £500 million (around C$880 million) rescue package was unveiled to address the insurance issue and kickstart local production. A number of other countries have also implemented government-supported schemes to backstop insurance claims related to COVID-19.
The sense among producers is that a Canadian solution needs to be found before the end of August to allow projects enough time to shoot before winter. And while many remain anxious that an industry-wide remedy could come too late, there are others who say they believe the government realizes the scale of the economic activity driven by the film and TV industry in Canada and will act to protect it.
"I really am feeling very bullish that after the British announcement, the Canadian government will follow suit," said one industry executive. "Canada has a big advantage being the North American jurisdiction that's pumping out content for a desperate U.S., and we're not taking advantage of it right now."
With files from Lauren Malyk
Image: Unsplash