OutACTRAto releases Working with Queer Performers guideline doc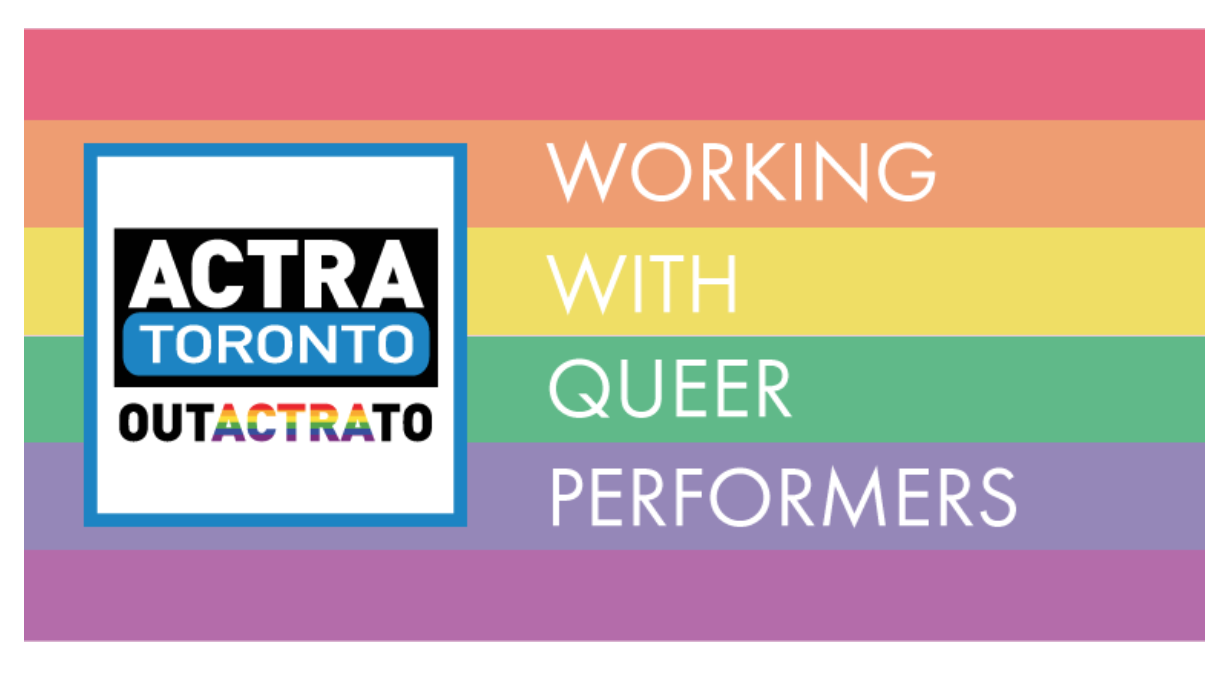 The best-practices document aims to break down barriers and initiate a shift in how screenwriters, agents, casting directors, directors and producers treat queer performers.
OutACTRAto, the LGBTQ+ committee of ACTRA Toronto, has released a set of guidelines and best practices for working with queer performers in the entertainment industry.
The document, released Wednesday (July 29), aims to break down barriers for queer performers and initiate a shift in how screenwriters, agents, casting directors, directors, producers and productions treat queer performers.
The guidelines, written by Merlin Simard, Kiley May and Joanne Vannicola, also outlines how individuals at all levels of the industry can be an ally to queer performers, in addition to providing suggestions to broaden the way queer performers are portrayed, managed, auditioned, cast and directed.
"While LGBTQ+ stories are on the rise, there is still a long way to go to authentically reflect queer people in film and TV shows," said Joanne Vannicola, co-author of the guideline and the founder and chair of outACTRAto in a statement, adding that one of the committee's goals is to create guidelines and projects that "educate and challenge people in positions of power in our industry to write more LGBTQ+ stories and expand their ideas of what queer performers can play."
In terms of best practices for casting directors working with queer performers, the document's recommendations include the following: never assume anyone's gender or sexual identity; leave it up to the performer to self-identify and control their own disclosures, and do not ask performers to out themselves at an audition; consider not auditioning heterosexual and cisgender performers for queer roles; "strongly suggest" to the production team that queer actors are cast for queer parts; and think in multidimensional, intersectional and original ways that avoid stereotyping and leaning on queer sexuality or gender tropes and cliches.
"Until our industry casts queer performers in queer parts, young queer performers will stay in the closet and audiences will not see queer characters authentically depicted in our work," added ACTRA Toronto V.P. David Gale, who helped establish outACTRAto in 2018.
For best practices during auditions, OutACTRAto suggests all personnel strive to be specific about pronouns. "If you are unsure what the performer's pronoun is, ask. The more we normalize the use of gender non-specific pronouns the more we create safe spaces for trans, non-binary and two-spirit performers within the industry," notes the document.
As well, OutACTRAto said that when a performer has been hired, it is unfair to subsequently change the look of their character's costume and makeup. "Queer performers want our gender expressions and identities to be accurately reflected through our costumes and makeup," said the document. "Misogyny, homophobia, and transphobic stereotypes often present themselves in the costume rooms. Work with performers on finding the appropriate wardrobe, hair and makeup for their characters."
OutACTRAto noted that this is document is meant to act as a starting point for a dynamic set of guidelines that will evolve over time.