Michelle Latimer's Inconvenient Indian, Trickster selected for TIFF 2020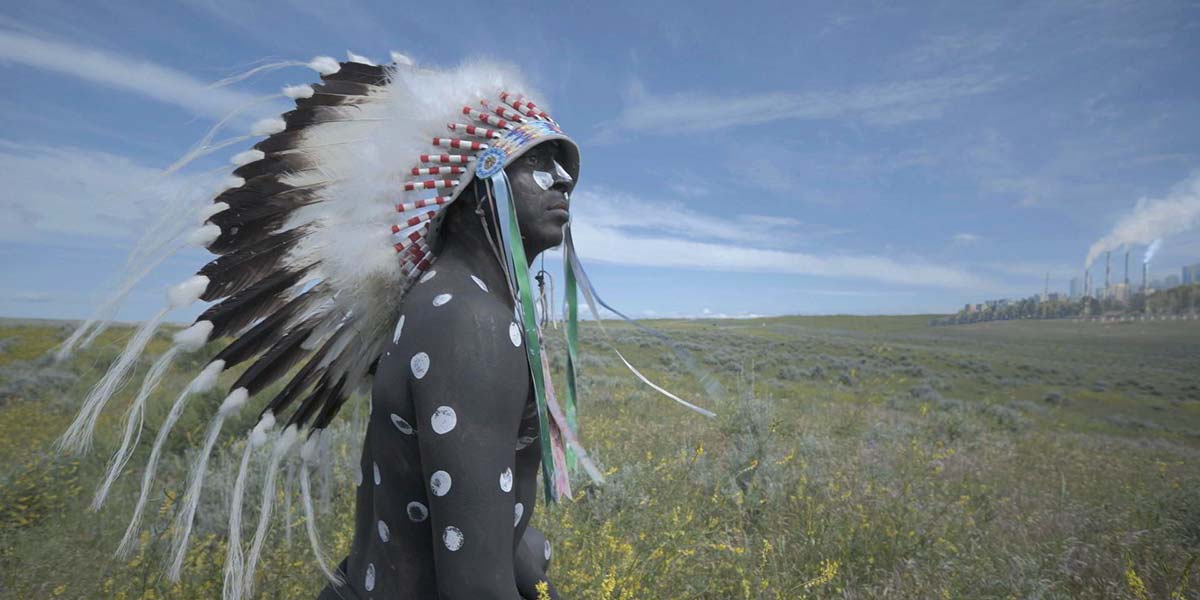 The festival unveiled its 50 feature picks, with films from Tracey Deer, Aisling Chin-Yee, Chase Joynt and two projects from Michelle Latimer in the mix.
The full 50-film lineup for the 45th Toronto International Film Festival has arrived, with two projects directed by Michelle Latimer making the cut.
Latimer's documentary Inconvenient Indian (pictured) will be featured, along with the upcoming CBC drama series Trickster, which she co-created, directed and executive produced. Inconvenient Indian, which features author and intellect Thomas King, is produced by 90th Parallel Productions and The National Film Board of Canada and is part of Crave's original documentary slate. Trickster is produced by Sienna Films and will broadcast on CBC this fall. TIFF has featured a number of series in its festival lineup in the last few years, including the premiere of Amazon Prime Video's drama Homecoming in 2018.
"TIFF 2020 is a special edition and symbolizes what is possible when collaboration, ingenuity, and passion take centre stage," said Joana Vicente, executive director and co-head of TIFF, in a statement. "It's also a time for us to celebrate and affirm some of the founding values of TIFF, including the power film has to propel us forward as a society and present a diversity of voices.
None of the films at TIFF this year will have labeled premiere categories as part of the fall film festival alliance forged with the Venice, New York and Telluride film festivals, according to a TIFF spokesperson.
Another Crave original set for TIFF is Beans, co-written and directed by Tracey Deer. The film, which depicts the Oka Crisis in Quebec in 1990, is produced by EMA Films. Mongrel Media holds the English Canada distribution rights and Métropole Films for Quebec. Deer and co-writer Meredith Vuchnich won the TIFF-CBC screenwriter award for the Beans script in 2019.
Canadian horror film Violation, directed by Madeleine Sims-Fewer and Dusty Mancinelli, will also be part of the festival. TIFF endorsed the film for a speed meeting event at Cannes Marché du Film Online in June. The directing duo recently premiered their short film Chubby at the Canadian Film Fest, which was broadcast on Super Channel this year.
Two TIFF-bound Canadian documentaries are No Ordinary Man, directed by Aisling Chin-Yee and Chase Joynt, and The New Corporation: The Unfortunately Necessary Sequel, directed by Joel Bakan and Jennifer Abbott. This will be Chin-Yee's second straight year at TIFF – her film The Rest of Us made its world premiere in 2019. No Ordinary Man is produced by Parabola Films and was part of Cannes Film Festival's Documentary Showcase. The New Corporation is a Crave original doc and is produced by Grant Street Productions and Screen Siren Pictures.
A number of Canadian coproductions have also been selected, including Viggo Mortenson's Falling, which premiered at Sundance earlier this year and is co-produced by Scythia Films, Perceval Pictures and Zephyr Films; Venice picks Pieces of a Woman, directed by Kornél Mundruczó and produced by BRON Studios division Little Lamb Productions, and Canada/France/Ivory Coast feature La nuit des rois (The Night of Kings), directed by Philippe Lacôte and produced by Peripheria Productions, Banshee Films and Wassakara Productions; and the previously announced Fauna by Mexican-Canadian director Nicolás Pereda. Canadian director Emma Seligman'a Shiva Baby, which debuted at the virtual SXSW this year, will also screen.
This year's festival will close with the BBC miniseries A Suitable Boy, directed by Mira Nair. Spike Lee's David Byrne's American Utopia was previously announced as the opening film for TIFF. The festival is running with a hybrid model for 2020, with virtual red carpets,Q&As and industry panels mixed with in-person screenings at select venues and drive-in theatres.
The 45th Toronto International Film Festival runs Sept. 10 to 19.
The full selection of TIFF 2020 feature lineup is available below.
Opening Film
David Byrne's American Utopia – Spike Lee (U.S.)
Closing Film
A Suitable Boy – Mira Nair (U.K./India)
Feature lineup
180 Degree Rule – Farnoosh Samadi (Iran)
76 Days – Hao Wu, Anonymous, Weixi Chen (U.S.)
Ammonite – Francis Lee (U.K.)
Another Round (Druk) – Thomas Vinterberg (Denmark)
Bandar Band – Manijeh Hekmat (Iran/Germany)
Beans – Tracey Deer (Canada)
Beginning (Dasatskisi) – Dea Kulumbegashvili (Georgia/France)
The Best is Yet to Come (Bu Zhi Bu Xiu) – Wang Jing (China)
Bruised – Halle Berry (U.S.)
City Hall – Frederick Wiseman (U.S.)
Concrete Cowboy – Ricky Staub (U.S.)
The Disciple – Chaitanya Tamhane (India)
Enemies of the State – Sonia Kennebeck (U.S.)
Falling – Viggo Mortensen (Canada/U.K.)
The Father – Florian Zeller (U.K./France)
Fauna – Nicolás Pereda (Mexico/Canada)
Fireball: Visitors from Darker Worlds – Werner Herzog, Clive Oppenheimer (U.K./U.S.)
Gaza mon amour – Tarzan Nasser, Arab Nasser (France/Germany/Portugal/Palestine/Qatar)
Get the Hell Out (Tao Chu Li Fa Yuan) – I-Fan Wang (Taiwan)
Good Joe Bell - Reinaldo Marcus Green (U.S.)
I Care A Lot – J Blakeson (U.K.)
Inconvenient Indian – Michelle Latimer (Canada)
The Inheritance – Ephraim Asili (U.S.)
Lift Like a Girl (Ash Ya Captain) – Mayye Zayed (Egypt/Germany/Denmark)
Limbo – Ben Sharrock (U.K.)
Memory House (Casa de Antiguidades) – João Paulo Miranda Maria (Brazil/France)
MLK/FBI – Sam Pollard (U.S.)
The New Corporation: The Unfortunately Necessary Sequel – Joel Bakan, Jennifer Abbott (Canada)
New Order (Nuevo orden) – Michel Franco (Mexico)
Night of the Kings (La Nuit des Rois) – Philippe Lacôte (Côte d'Ivoire/France/Canada/Senegal)
Nomadland – Chloé Zhao (U.S.)
No Ordinary Man – Aisling Chin-Yee, Chase Joynt (Canada)
Notturno – Gianfranco Rosi (Italy/France/Germany)
One Night in Miami – Regina King (U.S.)
Penguin Bloom – Glendyn Ivin (Australia)
Pieces of a Woman – Kornél Mundruczó (U.S./Canada/Hungary)
Preparations to Be Together For an Unknown Period of Time (Felkészülés meghatározatlan ideig tartó együttlétre) – Lili Horvát (Hungary)
Quo Vadis, Aïda? – Jasmila Žbanić (Bosnia and Herzegovina/Norway/The Netherlands/Austria/Romania/France/Germany/Poland/Turkey)
Shadow In The Cloud – Roseanne Liang (U.S./New Zealand)
Shiva Baby – Emma Seligman (U.S./Canada)
Spring Blossom – Suzanne Lindon (France)
Summer of 85 (Été 85) – François Ozon (France)
The Third Day – Felix Barrett, Dennis Kelly (U.K.)
Trickster – Michelle Latimer (Canada)
True Mothers (Asa Ga Kuru) – Naomi Kawase (Japan)
Under the Open Sky (Subarashiki Sekai) – Miwa Nishikawa (Japan)
Violation – Madeleine Sims-Fewer, Dusty Mancinelli (Canada)
Wildfire – Cathy Brady (U.K./Ireland)