Canadian media's 'inner circle' confronts systemic racism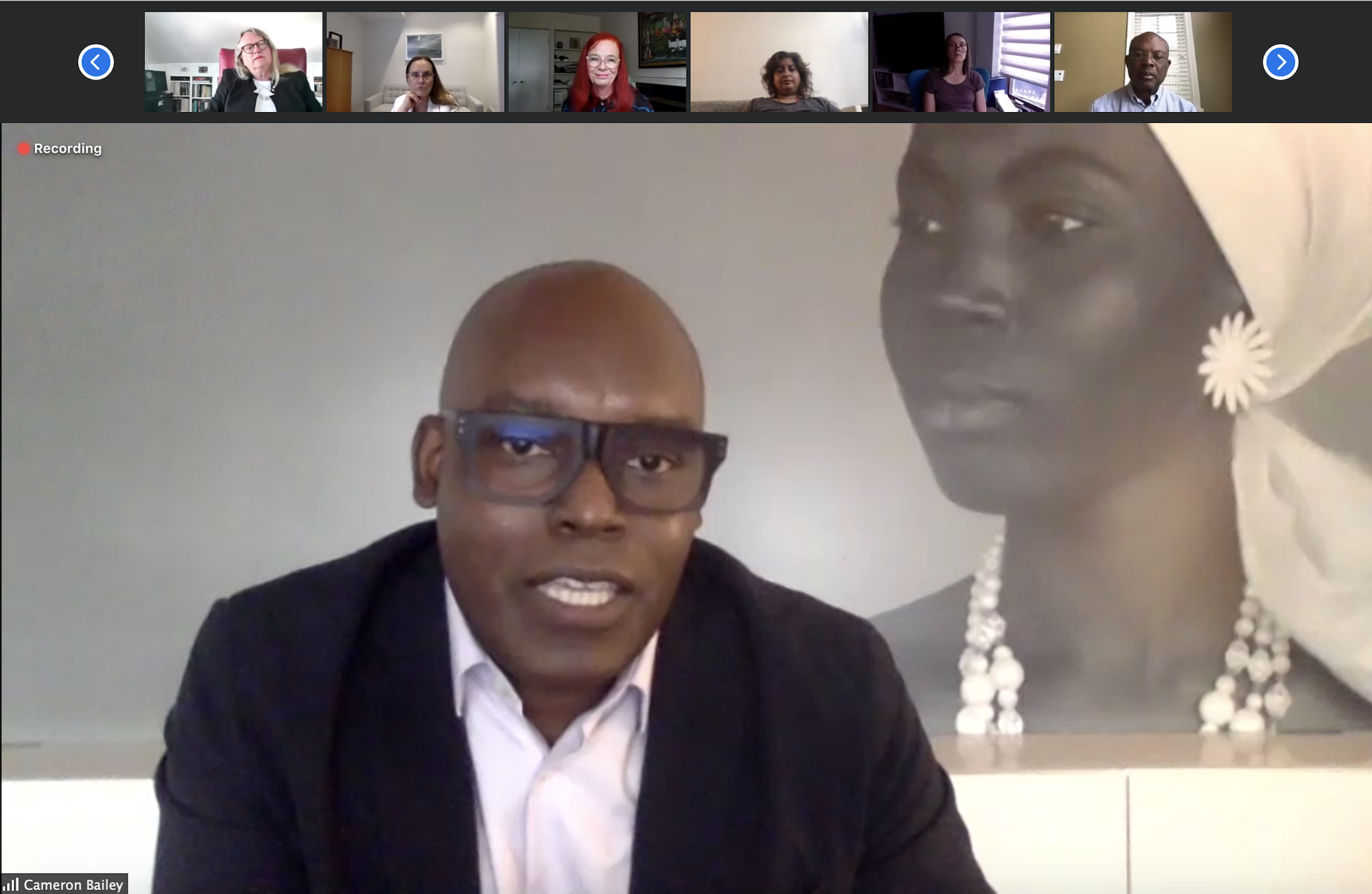 Moderated by Amanda Parris, TIFF's virtual roundtable saw panelists tackle topics such as the make up of their workforce, barriers for BIPOC creators and data collection.
The Canadian media community came out in full-force to hear executives across broadcasting, and federal funding organizations in film and TV openly acknowledge systemic racism within the industry – and share how they hope to drive change to extinguish it.
Hosted by the Toronto International Film Festival (TIFF), the virtual roundtable brought together: TIFF artistic director and co-head Cameron Bailey (pictured); Bell Media president Randy Lennox; CBC/Radio-Canada president and CEO Catherine Tait; Telefilm Canada executive director Christa Dickenson; CMF president and CEO Valerie Creighton; The Indigenous Screen Office (ISO) executive director Jesse Wente; National Film Board of Canada (NFB) government film commissioner and chairperson Claude Joli-Coeur; and the Academy of Canadian Cinema & Television CEO Beth Janson. The Filmmakers (CBC) host Amanda Parris moderated the session Addressing Systemic Racism in Canada's Media Sector.
The online event yesterday (July 22) – which saw around 840 participants listen in – was split into short introductions addressing various body's current plans and future goals, prior to an audience Q&A.
Off the top, the Canadian Academy's Janson noted that Canada's media institutions should be held accountable and that changes are put into practice. "This is about concrete structural changes that we can make in our institutions that we can drive that change," the CEO said. "I think the reason why we're doing this is because there is an inner circle in Canadian media, and yes, we want to expand it because it is the right thing, but I also think it is one of the main reasons that our industry has not moved forward with as much energy as it could have. Because it has been exclusionary and things do need to change. You know, [a] variety of voices will lead to more compelling content and that's good for everyone. That's good for our industry and that's good for our audiences."
The national non-profit is also in the process of formalizing its hiring process, which it expects to announce during its Sept. 24 annual general meeting, added Janson.
Bell Media's Lennox highlighted how his team has been conducting weekly listening calls that draw the community together as well as the broadcaster's upcoming staffing resource with BIPOC TV & Film: HireBIPOC.
Expected to launch this August, the web portal will generate increased employment for BIPOC working in the Canadian media industry – marking the first project announced as part of the broadcaster and the grassroots organization's joint partnership.
"We need to properly mirror the society in which we live," said Lennox, noting that the organization will walk-the-walk by mandating the projects it greenlights from producers to utilize the list and that he is speaking to other broadcasters and streaming services about joining the initiative. Of note, Lennox said that Corus will be joining HireBIPOC. Corus confirmed the news to Playback Daily.
When pressed on how Bell Media's listening calls and HireBIPOC will serve as policy-driven actions oriented to long-term systemic change by Parris, Lennox said: "This bears repeating. We're not fixing this in 15 minutes. So when I speak, I'm speaking for our entire team. When we finish the BIPOC call every Monday, we subsequently have a call with our entire team telling them a) what we've committed to b) the fact that they have to adhere to that commitment, because I'm learning, I can't just say it. And if I get hit by a bus, you're right, someone needs to be there to make sure this is executed long-term," he said. "So we are rainmaking this for everyone within our organization, and may I add, also up to Bell, our parent company, so they can be sensitive, understanding and empathetic to the mandate that we're creating."
Lennox also stated that the broadcaster has committed to having 40% of all its new interns and fresh out-of-college hires identifying as BIPOC and to evolving its executive team over the years to consist of 25% BIPOC. "These are not numbers that I'm making up for the sake of this call. We are trying to take action as expeditiously and for the long-term as we can," the Bell Media president said.
The NFB and CBC/Radio-Canada also addressed their efforts – with both acknowledging that systemic racism exists within their organizations and that it is essential that they represent Canada's diversity.
"Unfortunately, it's not the case now and we have a long way to go," said the NFB's Joli-Coeur regarding the agency's employees. "In 2016, 10% of our staff self-identified as BIPOC, and last March we brought that number to 15%. But it's still very far from what our institution should be. In our production division, seven out of our 30 producers or executive producers are BIPOC, approximately a ratio of one in four." The leader also pledged that by the end of his team in 2022, the NFB's workforce would be representative of the composition of Canada, noting that recruitment is key.
CBC/Radio-Canada's Tait, meanwhile, referenced how when the pubcaster launched its 2019/22 strategic plan (named "Your Stories, Taken to Heart") it included a commitment to reflect contemporary Canada in its workforce and its goal to have at least one key creative decision-making position (such as a producer, director, writer, showrunner or lead performer) be filled by someone with a diverse background in all its scripted and factual commissioned programming by 2025 – a pledge that was announced at the 2019 Banff World Media Festival.
"We've already made unbelievable progress on that, so I would say that that goal has been significantly accelerated in the last 18 months," she said. Tait also noted that of the 119 projects funded through the CBC Creative Relief Fund, 51 came from creators who are BIPOC and that over a third of its new hires came from BIPOC communities. She also referenced the creation of a new anonymous hotline for CBC employees called Be Heard, dedicated to reporting racism within the organization.
As well, TIFF co-head Bailey also said the organization is committed to representing a staff that reflects Toronto, noting that right now it doesn't fully. "That means we have to look in new places when we're hiring, we have to develop and promote the talent that's already here. And we have to give people the chance to talk about racism at work so they don't leave. There's kind of a silent burden that a lot of people carry and it's what forces people out the door at some point because they don't have a place to speak about what is going on in the workplace," he said.
Bailey also went on to say that TIFF wants to deepen its partnerships with groups such as imagineNATIVE, Black Women Film! Canada, Black Youth Pathway 2 Industry and the Toronto Reel Asian International Film Festival; promote what it is doing more on the audience side; and meeting the target of having at least a third of its programming of archival work and cinematech from Black, Asian and Indigenous filmmakers, and meeting the same target at the festival and in its theatrical programming year-round.
In response to a question from Canadian grassroots organization BIPOC TV & Film regarding how TIFF's reduced lineup of 50 feature films for its September festival will represent Black and Indigenous voices, Bailey also acknowledged that the lineup more than meets its third programming target – also highlighting how its Opening Night Presentation is director Spike Lee's concert film David Byrne's American Utopia. "I would say just judge us based on what you see and the lineup will be announced shortly," he said.
Monitoring and data collection was also a key topic covered by leaders.
Notably, Telefilm Canada's Dickenson – who earlier during the conversation said she could not comment on the investigation launched into allegations of misconduct made against one of its employees – acknowledged that data collection is integral, calling it a complex beast because of issues such as privacy, technology and the right to capture this data.
"We have with the COVID relief top up been able for the first time to get data when it comes to underrepresented communities," she said, referencing how moving forward Telefilm is mandating data collection in applications and programs – an action mentioned in the organization's Equity and Representation Action Plan, which came out earlier this week. "What I really understand right now in the conversations I've had in the recent weeks, days and hours is that absolute need to be able to break it down beyond an umbrella term to give candidates the opportunity to further identify themselves in terms of race. So those are things that we absolutely need to face, and we're going to put a plan together on that." The executive director also said she couldn't put a timeframe on when this would be completed.
Building off of this, the NFB's Joli-Coeur called on the CMF and Telefilm to team up to create the same kind of procedure on data collection, to find a common terminology and approach to nationally talk about it as well as create a safe environment to safely collect this information. "Because without targets that are made on solid ground, it's very hard to have objectives and that data is essential," he said.
Noting that the CMF often teams up on those kinds of initiatives, the CMF's Creighton explained that she thought data is something that should be collected by and for the people that use it and that as federal institutions they need to find a way to ensure they don't head down that path on their own. "What I would hate to see is everybody put a lot of time and energy and resources into data independently, and if there is a way – Randy's doing a big project – that we can connect and we have connected, we've been talking to Bell at the CMF, but just to make sure that we get the strongest possible approach to data. But I think it has to be driven by the communities on which the data is being collected, so that we don't go down a direction that doesn't get us that data we need," she said. Creighton also noted earlier in the discussion that in June the CMF convened a group of Black Industry Leaders to discuss the action it can take.
The panel also saw leaders challenged on why institutions weren't motivated to make change until now; how their organization's plan to work with film schools to tackle systemic racism and sexism in the film industry; and if gatekeepers were considering signing the BlackNorth Initiative.
Introduced earlier this week, the pledge features over 200 signatories who have committed to specific actions and targets to end anti-Black racism. Some of the Canadian media organizations that have already signed include 9 Story Media Group, the Canadian Film Centre, Cineplex, Corus Entertainment and Entertainment One. Bailey said TIFF hasn't signed the pledge yet, while Lennox said Bell Media will be looking into the process later this week and Dickenson expressed interest in participating, but said that there were a couple of pieces holding the organization back.
Of note, addressing an audience question about the changes that need to be made to help BIPOC creators that have experienced career roadblocks for decades, TIFF's Bailey said there is an accumulated racism deficit. "And I think that's really important to address, for all of us –  whether that's someone who's looking to make a film, tell a story or get their story seen. I think we have to address the fact that people feel like they have been banging their heads against a wall, and the wall is us. It's the institutions and we need to change that," he said.