Buttignol to continue as Knowledge Network head
The B.C. pubcaster's board of directors has extended the long-time president and CEO's contract to October 2024.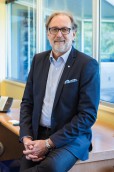 Long-time leader Rudy Buttignol will continue on in his post as president and CEO of Knowledge Network.
Buttignol, who was appointed to the B.C. public broadcaster's top role in 2007, has had his contract extended to Oct. 31, 2024 by the organization's board of directors. His five-year term was previously set to expire in 2020.
"We are delighted to have Rudy continue as president and CEO," said board chair Maurine Karagianis in a statement. "His leadership and commitment have strengthened Knowledge Network as a trusted public service greatly valued by British Columbians."
The founding chair of the Documentary Organization of Canada (DOC) and a founder of the Hot Docs Financing Forum, the Order of Canada member is credited with transforming the pubcaster into a popular, commercial-free TV and digital streaming service.
Under his leadership, Knowledge Network previously acquired BBC Kids from Shaw Media. A joint venture with BBC Studios, the channel ceased operations in December 2018, generating over $18 million in revenues to fund Knowledge Network's high definition service and streaming platforms over the course of its eight years, according to a release. Buttignol also previously served as president of the channel.
In addition to his role, Buttignol is chair of the Canadian Association of Public Educational Media.
Photo courtesy of Jason Evans