In brief: CBC sets special programming in honour of Emancipation Day
Plus: Two Canadians make the 2020 Sundance Ignite x Adobe Fellows program and Super Channel unveils its latest virtual film festival partnership.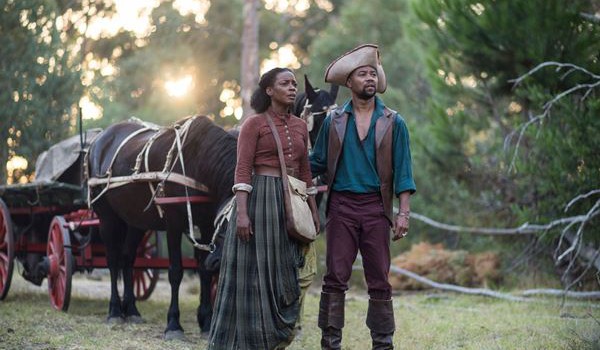 CBC schedules The Book of Negroes, Being Black in Canada and more
To mark Emancipation Day (Aug. 1), which commemorates the abolition of slavery across the British Empire, the CBC has scheduled a raft of programming – including an encore presentation of miniseries The Book of Negroes (pictured).
Produced by Conquering Lion Pictures and Out of Africa Entertainment, the series based on Lawrence Hill's award-winning novel originally made its debut on the pubcaster in 2015. Starting on July 26, the miniseries will run as a three-night special event on CBC TV and CBC Gem.
On July 26, CBC TV will also air CBC Arts: Exhibitionists – Reflection and Resistance hosted by Amanda Parris at 6:30 p.m and Being Black in Canada hosted by Asha Tomlinson at 7 p.m.
CBC Arts: Exhibitionists – Reflection and Resistance is dedicated to Black artists who are trying to create in the midst of an uprising, while Being Black in Canada is an hour of news, current affairs and arts content, which includes interviews with Hill and The Book of Negroes cast and creators. The pubcaster is also set to launch an expanded Being Black in Canada website on July 26, which will feature the stories and experiences of Black Canadians through profiles, opinion pieces, video and other forms of content from CBC. CBC has also launched the Black Stories Collection on CBC Gem to showcase Black creators and stories.
CBC Arts has also partnered with Ngozi Paul and Emancipation Arts to present FREE UP! on Aug. 1. An annual youth-led celebration of Emancipation Day that features music, theatre, spoken word and dance, more details about FREE UP! are expected to be announced soon. Finally, CBC has scheduled documentary series Jackie Robinson (2016) for Aug. 2 and 3 at 8 p.m. EDT on CBC TV and CBC Gem. Directed by Ken Burns, Sarah Burns and David McMahon for PBS, the two-part project focuses on famous Black baseball player Jack Roosevelt Robinson.
Two Canadians among 2020 Sundance Ignite x Adobe Fellows
Toronto-based filmmaker Kourtney Jackson and Vancouver-based writer/director Sasha Argirov have been selected for the 2020 Sundance Ignite x Adobe Fellows program.
Chosen from a global pool of more than 1,600 applicants, the year-long artist-focused fellowship aims to support 10 emerging documentary and narrative filmmakers. Notably, Jackson's previously picked up the 2018 Emerging Director's Spotlight Award at the Regent Park Film Festival for her short experimental documentary Wash Day. Her film also recently screened at the Breakthroughs Film Festival.
As part of the program, fellows are awarded a complimentary year-long membership to Sundance's Co//ab, a two-year Adobe Creative Cloud membership and will be paired with a Sundance Institute alumni mentor. Mentors attached to the 2020 edition include: Andrew Ahn, Patricia Cordoso, Jeff Orlowski, Lacey Schwartz, Hannah Pearl Utt, Malik Vitthal and Roger Ross Williams. As well, nine of the fellows short films will be screened as part of Celebration of Sundance Film Festival: London, which runs from Aug. 7 to 9 and is available for U.K. festival passholders digitally. The program officially kicked off this Monday with the Sundance Ignite Digital Filmmakers Lab, which includes sessions on how to pitch your project and goal setting.
Super Channel and Blood in the Snow team for virtual fall festival
Super Channel has set its second festival collaboration.
Following The Canadian Film Fest presented by Super Channel, the premium cable channel has teamed up with the Blood in the Snow Film Festival (BITS) to offer the Blood in the Snow Film Festival presented by Super Channel.
Set to run from Oct. 28 to Nov. 7, the virtual festival will showcase a selection of Canadian horror films and shorts on Super Channel Fuse, offering fans across Canada the chance to immerse themselves in the indie Toronto horror film festival for the first time.
"We are proud to be partnering with Blood in the Snow to bring another important indie festival celebrating Canadian filmmakers to our viewers. As independent festivals continue to face uncertainty with the ongoing COVID-19 pandemic, we want to continue to do our part to support the Canadian film industry," said Super Channel president and CEO Don McDonald in a statement. "With a robust horror offering on our schedule, we saw this as a natural fit that would be a welcome addition for Super Channel's horror fans over the Halloween week."
The initiative will also include pre-recorded film introductions, Q&A's with filmmakers, an awards show and BITS's Deadly Exposure industry events, which will take place online from Nov. 4 to 7 and feature a mix of industry panels and virtual roundtables. More details about programming are expected to be announced at a later date.
Image courtesy of CBC