Babe Nation's Ghost BFF returns for season two
After a successful first season, additional funders boarded season two of the Vanessa Matsui-created project, nearly tripling the budget to more than $700,000.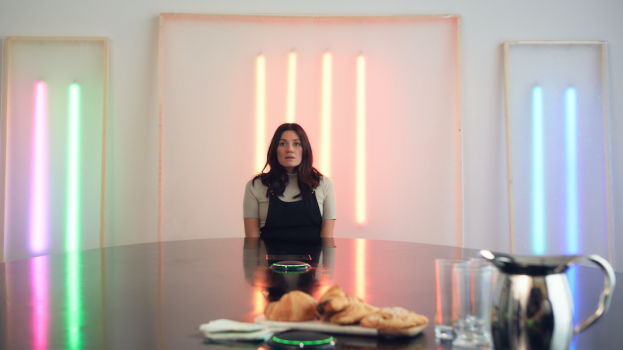 Babe Nation's digital series Ghost BFF, created by Vanessa Matsui, is gathering plenty of spirit as it heads into its second season.
The first, made on a budget of $250,000 and released in spring 2018, turned heads with a boutique festival run, distribution on the female-focused digital comedy platform WhoHaha and a Canadian Screen Award nomination.
The production team has parlayed that momentum into a significantly bigger budget for season two, with The Bell Fund and Ontario Creates coming on board (in addition to season-one funders TELUS and CMF), nearly tripling the budget to more than $700,000.
Season two launches today (July 7) on Shaftesbury's YouTube channel KindaTV, which has close to 300,000 subscribers and houses properties such as Gay Mean Girls, Barbelle and Carmilla. The new episodes delve further into lead character Amy's struggles as she addresses unemployment, singledom, unexpected challenges and the grief of missing her friend. Matsui (The Handmaid's Tale, Shadowhunters) and Kaniehtiio Horn (Barskins, Letterkenny) play the lead roles.

The eight new episodes (ranging from five to 11 minutes in length) are accompanied by eight mental health PSAs, which address the show's central themes of depression, anxiety, boundaries, self-care and mindfulness. Principal photography took place prior to the production shutdown, meaning the timeline for release was delayed only slightly due to the fact post-production took place remotely, noted the production team.
The success of season one also caught the attention of some of the most recognizable faces in Canadian television, with Jean Yoon (Kim's Convenience), Dani Kind (Workin' Moms) and Angela Asher (Bad Blood) signing on to guest star, along with Steve Lund (Schitt's Creek) and Thomas Colford (Backstreet). Season one regulars Jane Moffat (Backstage), Dan Beirne (Workin' Moms, Murdoch Mysteries) and Rick Roberts (Fortunate Son) also return. Shaftesbury holds the international distribution rights to the series.
Babe Nation's Katie Nolan and Lindsay Tapscott, who serves as producers on the series, told Playback Daily the company has expanded its development slate since the production shutdown in mid-March. The prodco is developing a number of film and TV projects, including an adaptation of a young-adult property in partnership with Shaftesbury Films. Meanwhile, Matsui said she has completed her first hour-long pilot script, which she intends to start pitching later in the year.