'A brave new world': Shaftesbury preps for production return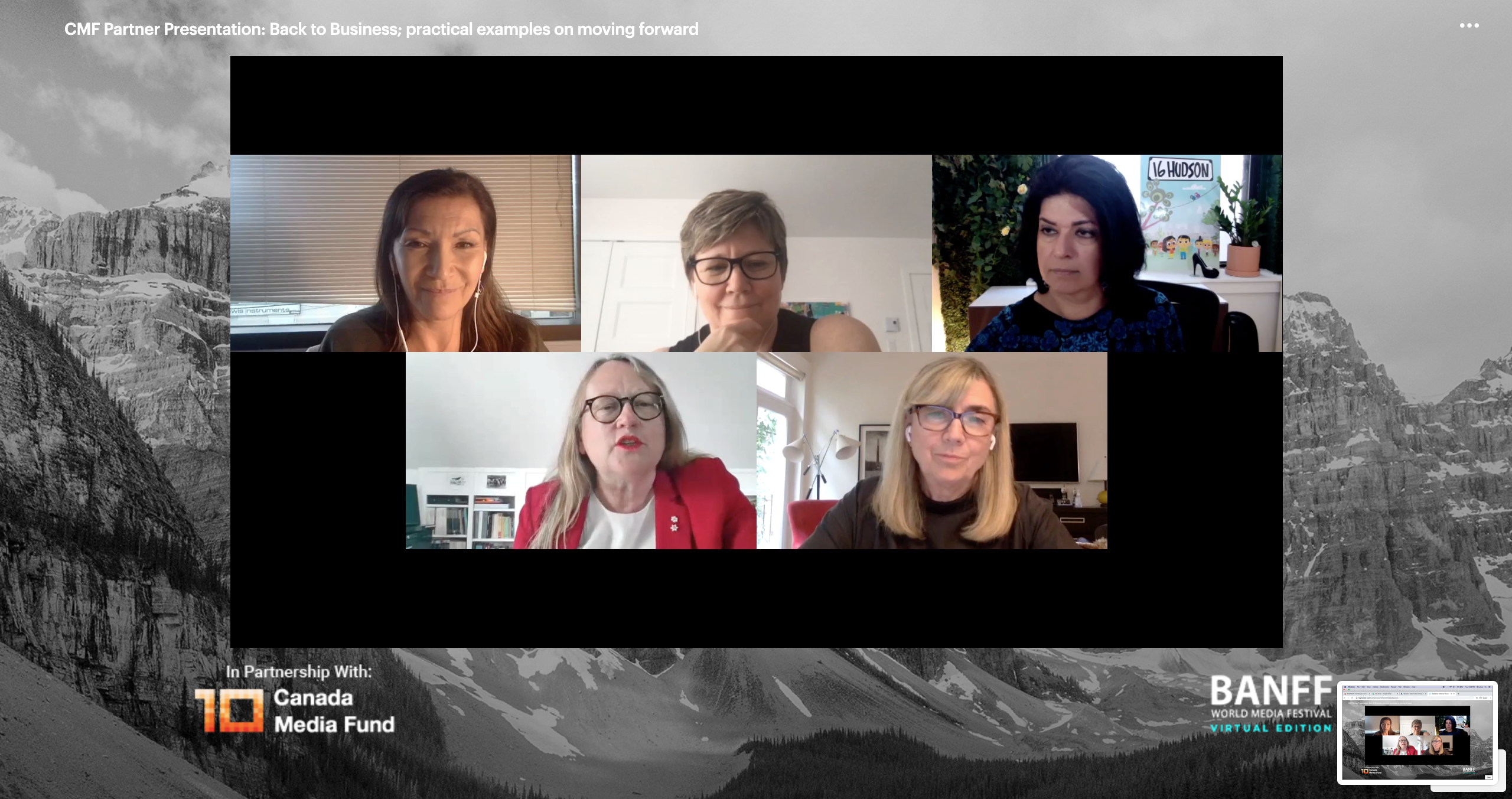 BANFF '20: With Hudson & Rex poised to begin filming in St. John's on July 12, panelists discussed how they plan to execute production during the pandemic.
Hudson & Rex looks set to become the first major Canadian scripted show to enter production since mid-March, with Shaftesbury preparing to roll cameras on season three in St John's, Newfoundland & Labrador on July 12.
"It will be the first show out of the gate for Shaftesbury, where all of these COVID-19 mitigation procedures and protocols are going to be in place. It's going to be a brave new world," Shaftesbury chairman and CEO Christina Jennings said during the BANFF Virtual panel titled "Back to Business; practical examples on moving forward." Shaftesbury produces Hudson & Rex alongside Pope Productions in association with Citytv and Beta Film GmbH.
Moderated by CMF president and CEO Valerie Creighton, the discussion also featured Eagle Vision president Lisa Meeches, Big Bad Boo president and co-founder Shabnam Rezaei and Sphere Media Plus' VP of production and operations Josée Vallée.
Under the new production processes, Jennings said Shaftesbury will break its various teams into "pods" – with separate ones for prep, shooting, office teams and post-production – to reduce the risk of transmission of COVID-19. "And never shall the pods meet," said the Shaftesbury principal.
As the company prepares to head back into production, Jennings says "every day will be a learning curve," with the Hudson & Rex team in the midst of adapting its processes for the new realities of testing, quarantining, sanitizing sets from top to bottom and having on-site medics, as well as implementing new methods for feeding cast and crew and transporting personnel to and from set.
While Rogers Sports & Media was tight-lipped about other Canadian projects at its upfront presentation earlier this week, Hudson & Rex was the sole Canadian series renewal – primarily because it knew production could move ahead. Aside from the fact filming takes place in Newfoundland & Labrador – which has recorded just 261 COVID-19 cases and three deaths since mid-March – the renewal is somewhat of a no-brainer after the previous two seasons pulled in impressive ratings on Citytv, and sold to more than 100 territories internationally.
In terms of both time and money, however, the new reality will be drastically different than anything before. Production will, without question, take longer, said Jennings, and that will mean simplifying the storytelling, making some scenes longer and doing away with large action scenes.
It's also got Shaftesbury searching for outside-the-box solutions that reduce the need to travel. "What can we do with game engines, real-time rendering and video-wall technology? Can we build worlds where we don't have to travel to far locations, where we can use the innovation that Canada already has and build out those worlds so we can shoot in a safe way?" said Jennings. "That is going to be a real priority over the next month."
And while this could lead to new and innovative ways of doing things, the financial side of the equation seemingly has no silver linings. Factoring in all the new protocols, Jennings said the cost of production would rise by "hundreds of thousands of dollars."
Josée Vallée said Montreal-based Sphere has undertaken a financial analysis that indicates production budgets on its shows will increase between 15% and 22%. Part of that financial burden has been eased by SODEC, which recently launched a new program to help remount productions in Quebec.
Elsewhere, panelists discussed the various ways they had pivoted their operations during the pandemic. Like many, Eagle Vision dove into what became a very fruitful period of development. Since the pandemic began, Meeches said the Manitoba-based company has received a pair of series greenlights and is set to go into production on a feature film in August.
Panelists agreed that the production downtime has allowed them to take a step back and reassess how they will carry out their operations once production resumes. It could ultimately lead to a fundamental shift in how production takes place, and how production companies are run.
"Do we have to work such long hours in production, really? If we shoot a little more simply, maybe we don't have to do 12 or 13 hours days," offered Jennings.
"It means a readjustment of our core values and the constitution that we run our companies by," said Meeches.