Upfronts '20: Corus sets 43 new, returning originals across lineup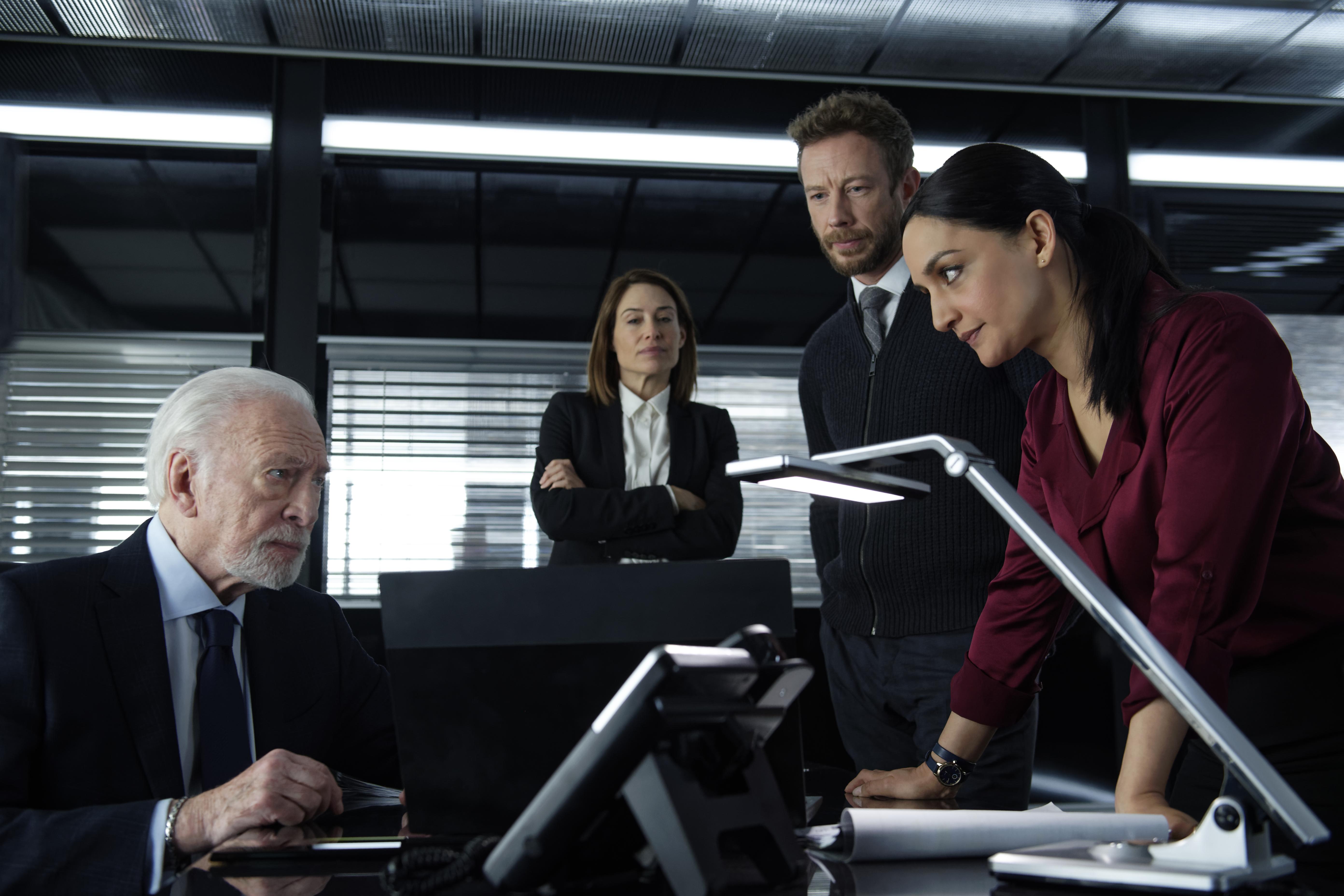 The broadcaster is leaning on its roster of originals, returning acquisitions and a newly inked deal for Peacock original series to boost its 2020/21 fall schedule.
Corus Entertainment is leaning into original content and returning series for its broadcast and specialty lineup for 2020/21, with the company confirming 43 new and returning originals and a major deal with NBCUniversal for the exclusive rights to Peacock original titles.
The fall schedule for Global is predominantly composed of returning series, such as ratings hits New Amsterdam and Prodigal Son, with a trio of new series peppered among the lineup. Among them is Shaftesbury-produced drama Departure, which had been originally slated for a 2019/20 premiere and has already been renewed for a second season. It's joined by new acquisitions The Equalizer, starring Queen Latifah, and neXt, starring John Slattery.
Daniel Eves, SVP, broadcast networks at Corus, told Playback Daily that Corus felt confident enough to bring Departure into what is traditionally a more competitive arena for new series, based on the strength of its story and production quality. Corus is also testing the waters with eOne's Private Eyes, which is moving from its traditional summer slate to Global's fall schedule. Corus also announced the series – which has consistently served as a summer ratings hit – has been renewed for a fifth season, set to air in 2021.
Additional Canadian originals in the 2020/21 lineup include newly commissioned series Family Law, produced by SEVEN24 Films and Lark Productions, and a second season of Nurses (eOne, ICF Films), which are slated for 2021 premieres. Both productions were impacted by pandemic-related shutdowns.
Global's returning acquisitions include dramas Evil, FBI and FBI: Most Wanted, The Blacklist, MacGyver, SEAL Team, Bull, and the franchise NCIS, NCIS: Los Angeles and NCIS: New Orleans, alongside comedies The Unicorn and The Neighborhood. With production reopening still in its early stages in the U.S., Eves says part of Corus' programming strategy is to rely more on returning series, which will have an easier time restarting production than new series, while acquiring new content that's either already been produced, such as neXT, or is built on well-known IP and star power, with The Equalizer. In terms of ensuring things stay on schedule, in light of potential shutdowns due to COVID-19, Eves says U.S. studios have been "committed to delivering content" with "strong, safe plans" to follow through.
Corus also announced an exclusive agreement with NBCUniversal to air original content from its new streaming service Peacock, announced during the upfront presentation. The deal will allow the broadcaster to air its marquee originals such as Brave New World, Angelyne and Girls5Eva and revivals such as Saved by the Bell and Punky Brewster across Corus channels and platforms. Though it has not yet been confirmed, the exclusive deal with Corus means it's unlikely Peacock will launch as a direct-to-consumer offering in Canada. 
"Corus is delighted to expand its offering with our long-time partner NBCUniversal to bring various Peacock Originals to audiences in Canada," said Troy Reeb, EVP, broadcast networks, in a statement. "With full linear and on-demand stacking rights, this partnership further bolsters Corus' powerful suite of brands and platforms with more premium content opportunities for advertisers."
Unscripted and lifestyle originals
Corus' stable of unscripted and lifestyle content for 2020/21 is bolstered by 11 new and returning original series. New original series on Food Network Canada includes docuseries Cheese: A Love Story (6 x 60 minutes; Corus Studios/Proper Television) and Bake or Break (10 x 60 minutes; Corus Studios/eOne). Returning originals are Wall of Chefs (10 x 60 minutes; Corus Studios/Insight Productions), Great Chocolate Showdown (8 x 60 minutes; Corus Studios/NikkiRay Media), Top Chef Canada (8 x 60 minutes; Insight Productions), Junior Chef Showdown (8 x 60 minutes; Corus Studios/Proper Television), Big Food Bucket List (26 x 30 minutes; Corus Studios/Lone Eagle Entertainment), Carnival Eats (13 x 30 minutes; Alibi Entertainment), Fire Masters (15 x 60 minutes; Corus Studios/NikkiRay Media) and The Big Bake (18 x 60 minutes; Corus Studios/NikkiRay Media).
HGTV Canada will have eight new and returning series for 2020/21. The three new series are Family Home Overhaul (8 x 60 minutes; Corus Studios/Proper Television), Rock Solid Builds (10 x 60 minutes; Corus Studios/Cineflix Productions) and Farmhouse Facelift (10 x 60 minutes; Corus Studios/Sonar Entertainment). Among the returning originals is a third season of Island of Bryan (13 x 60 minutes; Si Entertainment), Property Brothers: Forever Home (40 x 60; Scott Brothers Entertainment), Scott's Vacation House Rules (13 x 60; (Corus Studios/ McGillivray Entertainment), $ave My Reno (14 x 30 minutes; (Corus Studios/Great Pacific Media) and Backyard Builds (8 x 30 minutes; Corus Studios/Frantic Films).
HISTORY unveiled seven new and returning shows, including the final season of Vikings (10 x 60 minutes; Take 5 and TM Productions), and two new unscripted series: Big Timber (10 x 60 minutes; Corus Studios/ Big Timber Media) and Backroad Truckers (8 x 60 minutes; Corus Studios/Big Time Decent Productions/Mayhem Entertainment). Additional returning originals are Rust Valley Restorers (12 x 60 minutes; Corus Studios/Mayhem Entertainment), History Erased (6 x 60 minutes; Corus Studios/Cream Productions), Salvage Kings (10 x 60 minutes; Corus Studios/Media Headquarters), and 90-minute Remembrance Day special Fight to the Finish (Media 52 Inc.).
Eves says the slate of originals coming from Corus Studios – which were largely completed or in post once the shutdowns occurred – not only allowed the broadcaster to come out with a robust lineup of fall programming, but gives them more time to consider their commissioning strategy in the face of the pandemic and "take the time to do it right." In the short term Eves says Corus will be looking at commissions on a case-by-case basis and assessing how safely they can enter production.
Kids and youth
The 2020/21 also includes a number of original productions from Nelvana for YTV and Treehouse. Three new series set for YTV are the live-action series The Hardy Boys (13 x 60 minutes), as well as The Dog & Pony Show (26 x 30 minutes) and Ollie's Pack (26 x 30 minutes). Nelvana's YouTube series Toon Bops will air on Treehouse beginning this summer with the 21 x 1:50-minute season one, followed by the 20 x two-minute season two in the fall. Returning Nelvana-produced series on Treehouse include Esme & Roy (26 x 30 minutes), Miss Persona (20 x 30 minutes) and Ranger Rob (26 x 30 minutes).
Teletoon, meanwhile, will feature two new acquisitions – Yabba Dabba Dinosaurs and Looney Tunes Cartoons – along with returning shows Total Dramarama, DC Superhero Girls, The Tom and Jerry Show, Bakugan: Armored Alliance, ThunderCats Roar, Scooby-Doo and Guess Who?, and Teen Titans Go!
Specialty acquisitions
Specialty channels Slice, National Geographic, W Network, Showcase and Adult Swim are coming in with a slew of new and returning acquisitions. New series for W Network are Why Women Kill, Devils and the sitcom Intelligence, along with a string of made-for-TV films; National Geographic will premiere Barkskins, Race to the Centre of the Earth and Trafficked with Mariana Van Zeller; Slice will add The Real Housewives of Salt Lake City to its roster; meanwhile Showcase adds four new series to its lineup with anthology series Tell Me A Story, comedy No Activity, crime procedural Interrogation, action series Bulletproof, and Strange Angel.
On the digital side, Corus announced on Monday (June 22) that it has partnered with Playwire to launch its own E-gaming network in Canada. Playwire is a "a revenue amplification company" that help to "maximize returns" for content creators and publishers in e-sports, gaming, kids education and entertainment.