Taking on Canada's Drag Race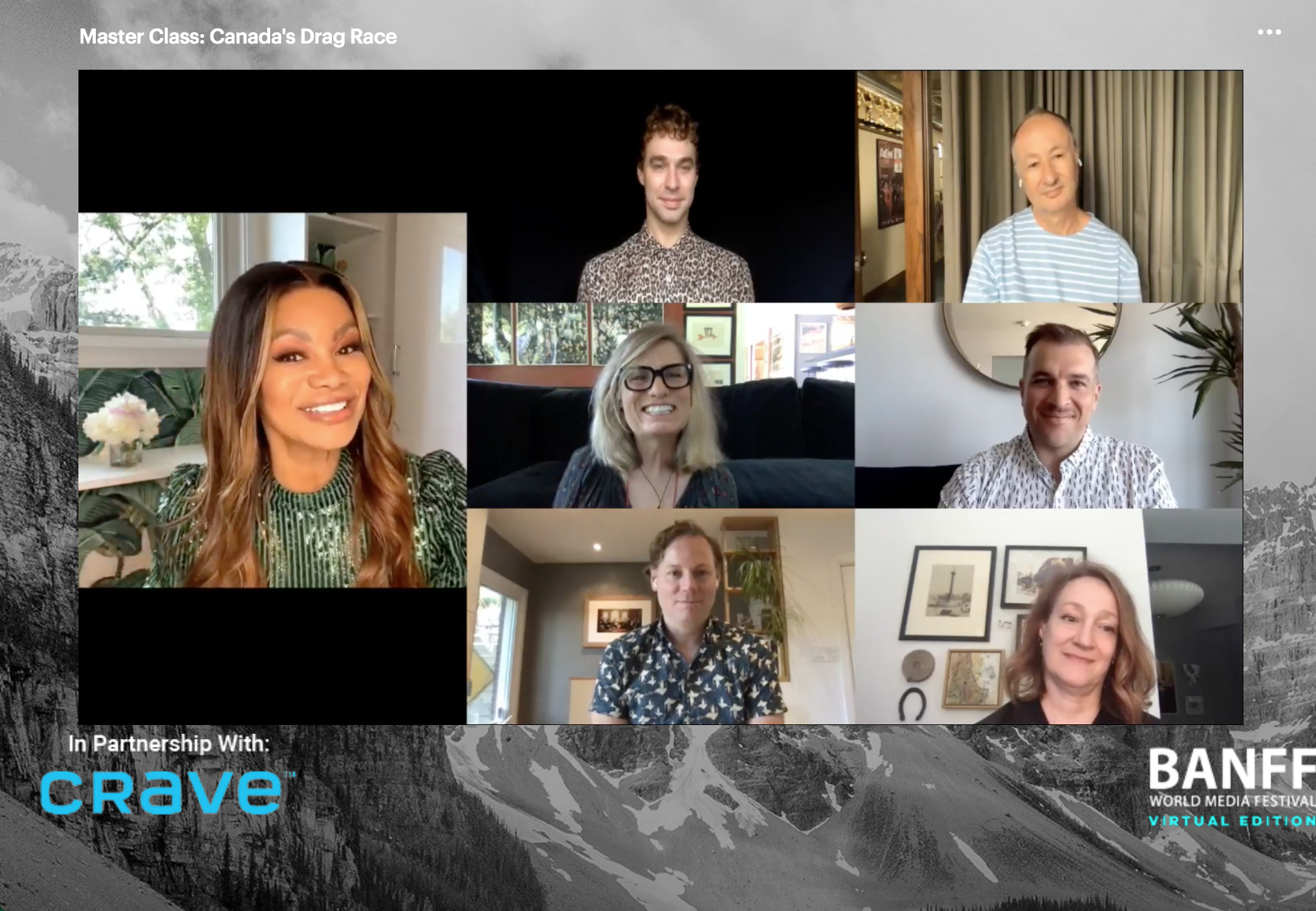 The BANFF master class saw the adaptation's team discuss the show's greenlight and the process of crafting a homegrown version of RuPaul's Drag Race.
After 12 seasons, the queens of the north are finally getting their time to shine with Canada's Drag Race – a homegrown adaptation of reality hit RuPaul's Drag Race, produced by Blue Ant Studios in association with Crave for World of Wonder.
Following 12 contestants as they vie for a $100,000 grand prize and the title of Canada's first drag superstar, the 10-part Crave Original came under the microscope during a master class held on the Banff World Media Festival's virtual BANFF Day (June 16).
Moderated by eTalk senior correspondent Traci Melchor – who also serves as Canada's first "Squirrel Friend" – the panel included: showrunner Mike Bickerton; Blue Ant Studios' CCO and co-president, content production Laura Michalchyshyn; World of Wonder co-founder Fenton Bailey; Bell Media VP, brand partnerships and client strategy Justin Stockman; Bell Media president, distribution and pay Tracey Pearce; and Canada's Drag Race judge Brooke Lynn Hytes. (Hytes was the first Canadian queen to compete on RuPaul's Drag Race in season 11, she finished in second place on the show.)
Based on the long-running World of Wonder format, Blue Ant's Michalchyshyn – who has a long-standing relationship with the company – told the panel that for years she and the team had joked about bringing a Canadian version of the show to life. Talking to Crave and others about the series in early 2019, she says Bell Media reacted "very quickly" to the project, leading her to ask World of Wonder's Bailey to come to Toronto to pitch with her.
"It was an incredible experience because we walked in the room in January 2019 and got a greenlight, it took less than four months – the fastest greenlight in my career as both a broadcaster and a producer to ever be greenlit on the show, and we were in production by fall last year," the Canada's Drag Race executive producer says, acknowledging that the appetite for the series was there and the importance of Crave's partnership on the show. "The show was not inexpensive to make, it took a lot of courage and a lot of tenacity to say yes… Also for Blue Ant, partnership is the name of the game and these are two very important partners for us in World of Wonder and in Bell, so we're excited."
Speaking about why Canada's Drag Race was a must have for Crave, Pearce called the show magic. "It's warm, it's fun, it's instantly recognizable, those are all things we're looking for on a streaming service. It has a devoted following, but importantly, the community that enjoys Drag Race continues to grow… When you have a streaming service, that's what you want. You want a show that brings people to the service and has them stay there," she said.
The latest edition to join the international Drag Race family, which includes the U.K. (RuPaul's Drag Race UK), Thailand (Drag Race Thailand), Australia (Drag Race Australia) and South America (The Switch Drag Race), earlier this week it was announced that BBC Three had picked up the rights to air Canada's Drag Race on its iPlayer streaming service one day after its Canadian premiere on Crave (July 2). The Canadian edition will also be available in the U.S. and other select territories via WOW Presents Plus, a spokesperson from Blue Ant confirmed.
Bringing the franchise to Crave was a complicated and interesting task for Bell Media's Stockman, previous VP, premium SVOD and OTT. Announced alongside the news that the Canadian adaptation was coming, Bell Media and Canadian LGBTQ network OUTtv struck a multi-faceted deal extending the reach of the show, with Crave and OUTtvGo becoming the exclusive Canadian homes of both current and past seasons of RuPaul's Drag Race, RuPaul's Drag Race All Stars and RuPaul's Drag Race UK. A spokesperson for Bell Media confirmed to Playback Daily that OUTtv's window for Canada's Drag Race begins in December 2020.
There was an opportunity in the market for Crave, according to Stockman, because although OUTtv had a hold on the property in Canada, audiences who didn't have the service had to wait for seasons to hit Netflix. "There was this weird split, where there was the core audience who were right up to speed on the show and then there was this much larger mass audience that [was] literally always a year behind," Stockman said, noting that it was a unique Canadian situation, leading to four-party negotiation to find a win-win for all.
In terms of crafting the Canadian adaptation, Michalchyshyn credited seasoned producer Bickerton and the team with coming up with a distinct look for Canada's Drag Race that felt part of the format's legacy. "We're a part of the family, and that's what all these shows are," she said. "They're very distinct to their country, place, individuals and the queens, but that's a huge honour and it's a big banner to carry as well. It's important because we are part of a global phenomenon."
Further, Bickerton, whose resume includes Blown Away, noted during the talk that there's a lot of pressure and expectation that comes along with taking on a version of RuPaul's Drag Race. "We don't necessarily get to be just a season one of a show because we are so close to the United States, we are essentially season 13 for our audience, who have watched all 12 seasons and have certain expectations," he explains.
Taking Bailey's advice (which was everything is fair game), he said the team realized that they can poke fun at certain Canadian-isms – which allowed them to figure out challenges; create a three person judging panel (comprised of Hytes, actor/activist Jeffrey Bowyer-Chapman and model Stacey McKenzie); and create the role of Canada's Squirrel Friend.
"It really is an exciting format because it takes parts of every single show that I've been able to work on and mash them all together with a wig and heels," he says, explaining the format. "There are a lot of different challenges and it's exciting to try and show off all the different skills that these queens have."
Executive producers on Canada's Drag Race include Michalchyshyn, Bailey, RuPaul, Randy Barbato, Tom Campbell, Betty Orr and Michael Kot. The show debuts on July 2, with new episodes rolling out weekly on Thursday nights on Crave's TV channel, website and app.