Studio City breaks ground on three new Toronto soundstages
The expansion project will add 70,000 square feet of new space, including a new version of the Jumbo Stage, which was decommissioned in 2019.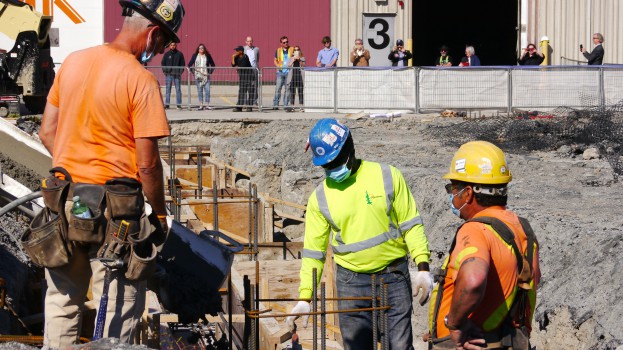 While production remains at a standstill in Toronto, Studio City Toronto has broken ground on three new soundstages set to be operational by February 2021.
The expansion project will add 70,000 square feet of new space to Studio City's existing site, nearly doubling its space to a total of 150,000 square feet across six soundstages, production offices, wardrobe suites, set decoration and props storage and stage support areas.
The largest of the stages will be a new version of the Jumbo Stage, which for a long time was Toronto's largest sound stage until it was decommissioned in 2019 to accommodate the Port Lands Flood Protection Project. Prior to that, the Jumbo Stage, originally located at 75 Commissioners Street, housed production on major Hollywood tentpoles such as Pacific Rim, RoboCop, Jumper, Scott Pilgrim vs the World and Shazam!
According to Studio City, the new version of the Jumbo Stage will "look very much like its predecessor but will feature better sound insulation, more stage power, multiple loading doors, custom beams for rigging and 80 tons of air conditioning."
The Studio City facility, located at Lake Shore Boulevard East, was formerly known as Showline Studios before it was repurchased by the City of Toronto in December 2017 in order to ensure the site would continue to be used for film and TV purposes. Following a competitive Request for Proposals (RFP) process, Studio City became the new operator for the former Showline Studios complex in April 2018.
"I'm pleased the City's efforts to preserve this valuable studio asset are being rewarded by the construction of even more sound stages on the property," said Ward 14 Toronto-Danforth Councillor Paula Fletcher, who also chairs the City's Film, Television and Digital Media Advisory Board.
While the Government of Ontario has given a partial greenlight for certain regions to restart production (including Ottawa, North Bay, Peterborough, Waterloo, Simcoe-Muskoka and Thunder Bay), Toronto has not yet been given the all-clear to resume. In early April, the Toronto Film Office confirmed it would not issue any film permits until the end of the June as the City grappled to contain the spread of COVID-19. It has not provided any additional guidance on when it will resume issuing permits.