Boat Rocker Studios sates int'l appetite for food TV with six series
Mary's Kitchen Crush and The Great Canadian Baking Show from Proper Television are among the shows that sold like hot cakes.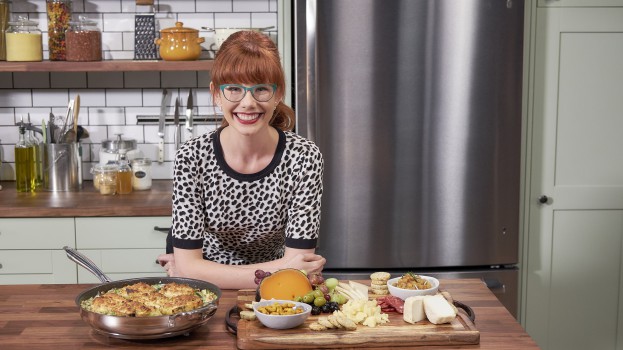 Boat Rocker Studios' food programming is flying off the shelves with new international sales for six series.
The Boat Rocker Media division has sold 2020 Canadian Screen Award best lifestyle series and lifestyle host-winner Mary's Kitchen Crush (30 x 30 minutes) to RTL in Germany; TV Paprika in CEE, which covers 30 countries; Ananey Israel; OSN Middle East; and LNK Lithuania.
Produced by Proper Television, part of Boat Rocker Studios, in association with Bell Media, Mary's Kitchen Crush (pictured) sees previous MasterChef Canada winner Mary Berg prepare original recipes inspired by her family and friends. Last year, the show was sold to Tastemade, SBS and Lifestyle FOOD.
Zeste French Canada has also picked up Proper Television-produced The Great Canadian Baking Show (8 x 60 minutes). A Canadian take on hit U.K. format The Great British Bake Off, the adaptation sees 10 Canadian amateur bakers compete in a series of themed culinary challenges that celebrate their diverse backgrounds. Recently renewed for a fourth season, the series is produced by Proper Television in association with CBC and Love Productions.
As well, Bake With Anna Olson (100 x 30 minutes, Peace Point Entertainment) has been sold to TV Paprika, SBS Australia and OSN Middle East. Following pastry chef Anna Olson, both TV Paprika and OSN Middle East have nabbed season four of the cooking show, while SBS Australia has renewed its deal for season one and two and picked up Bake With Anna Olson's junior season.
TV Paprika also bought Food Pop (13 x 30 minutes, Mobius Lab Productions), which examines the aspects of popular foods that are consumed worldwide, alongside So Yummy Channel USA and LNK Lithuania.
While, Ananey Israel and TV2 Hungary have inked deals for Crooked Horse Productions' Late Nite Eats (26 x 30 minutes) – which sees chef Jordan Andino tour three restaurants in the late-night food scene. Ananey Israel bought season two of the series, while TV2 Hungary purchased both season one and season two. Prodco Crooked Horse Productions is a division of Boat Rocker Studios.
Finally, OSN Middle East has picked up Life Inspired original productions, Seoul Extreme (4 x 30 minutes) and Seoul Refined (4 x 30 minutes) starring chef Alvin Leung.