Deals: MetFilm Sales, Syndicado, Moonbug
International sales agents take a shine to Liz Marshall's Meat the Future and Albert Nerenberg and Nik Sheehan's Who Farted?, plus more.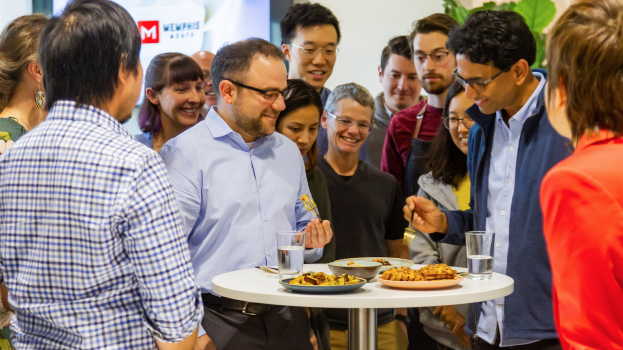 MetFilm Sales
MetFilm Sales has acquired the world sales rights (excluding Canada) to writer/director/producer Liz Marshall's documentary Meat the Future (pictured).
Negotiated by Marshall and Vesna Cudic, MetFilm Sales' head of sales and acquisitions, Cudic plans to take the project to the Cannes Virtual Market later this month. "The current pandemic has made this film only more urgent and globally relevant," Cudic said in a statement about the agreement. Executive produced by Janice Dawe and Chris Hegedus, Meat the Future examines the food science of cultivated meat via startup Memphis Meats over the course of three years. The documentary screened as part of the Hot Docs Festival Online and was one of the select Hot Docs projects a part of multi-platform festival-at-home experience, Hot Docs at Home on CBC. Jessica Jennings serves as an associate producer on the project.
Syndicado 
World sales agency and distributor Syndicado has picked up the world sales and distribution rights (excluding Canada) to documentary Who Farted? from co-writer/directors Albert Nerenberg (You Are What You Act) and Nik Sheehan (No Sad Songs). The deal, inked between Syndicado's Greg Rubidge and Who Farted Movie Corporation president Sheehan, will see the feature made available to all major networks in Europe, Asia, U.S. and VOD platforms, according to a press release. The comical and educational feature documentary – which will make its Canadian broadcast premiere on June 28 on CBC's documentary Channel – sees Nerenberg set out to discover the truth about flatulence and its relationship to climate change.
Moonbug
WOW! Unlimited and streaming service Crave have partnered to launch London-based producer Moonbug's animated series Supa Strikas (39 x 22 minutes) starting June 26. This is the first time the series will be available in Canada. Under the deal, seasons four to seven will be available exclusively as part of WOW!'s curated kids content section on Crave. The SVOD also picked up 10 episodes of Moonbug's preschool series Little Baby Bum and My Magic Pet Morphle to be made available this summer.
With files from Kidscreen