HGF backs 23 films in third quarter of 2019/20
Conquering Lion Pictures and Shaftesbury's Undercard and Screen Siren Pictures' Saving Manno are among the funder's Story Option stream.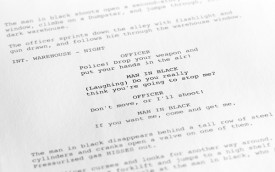 Capping off its third fiscal quarter for 2019/20, the Harold Greenberg Fund (HGF) threw its support behind 23 new Canadian feature film projects through its Script Development Program – representing an investment of more than $330,000 from the film funder.
The three projects tapped for the fund's Story Option program include: Conquering Lion Pictures/ Shaftesbury's Undercard from writer Andrew Burrows-Trotman and producers Damon D'Oliveira and Christina Jennings; producer Robin Cass' newly unveiled shingle Cass & Co's Moon of The Crusted Snow with screenwriter Ashlin Halfnight; and Screen Siren Pictures' Saving Manno from writer Dennis Foon and producers Trish Dolman and Christine Haebler.
An adaptation of David Albertyn's novel of the same name, Undercard follows four childhood friends who are unexpectedly reunited for a high-profile prize fight and murder over the course of 24 hours, while Waubgeshig Rice's novel Moon of The Crusted Snow tracks a remote Anishinaabe community coping with the collapse of society as access to food and water dwindles. Cass recently told Playback Daily that he is working with Rice on a 6 x 60-minute limited series adaptation of the novel. Finally, Saving Manno is an adaptation of Spencer Sekyer's memoir about his efforts to rescue a young chimpanzee sold into captivity.
Notably, writer/director Jasmin Mozaffari's sophomore effort with producer Caitlin Grabham is also among the projects in the HGF's First to Second Draft section. A portrait of an Iranian immigrant family in post-9/11 North America, The Path Travels Me (Prowler Film) was recently selected as an inaugural film recipient for the CFC/Netflix Project Development Accelerator.
As well, JoBro Productions' Jonathan Bronfman is involved in two projects in the category – writer/director Jeffrey St. Jules' The Silent Planet (JoBro Productions), which sees Bronfman attached as a producer; and writer/director/producer Robert Budreau's Delia's Gone (Lumanity Productions). Bronfman and Budreau serve as producers on the latter alongside Daniel Baur.
Wildling Pictures' Laura Dean Keeps Breaking Up With Me from writer Mariko Tamaki and producer Natalie Urquhart is also among the funder's First to Second Draft stream with 2019 WIDC Story & Leadership project With Love and a Major Organ (Common Knowledge Films) from writer Julia Lederer, director Kim Albright and producer Madeleine Davis; and Hawkeye Pictures' The Players from writer/director Sarah Galea-Davis and producer Sonya Di Rienzo.
Closing out the list is 3 Legged Dog Films' Any Night from writer/director/producer Ed Gass-Donnelly and producer Lee Kim; Mercury_1 Film Production's Raptus from writer/director/producer Bennet De Brabandere and producer Michael Flax; Rawk Moving Pictures' Perceval from writers Mike Haliechuk and David James Brock and producer Todd Brown; Boyer Thomas Productions' Coffee Express with writer/director Roger Boyer and producer Eva Thomas; and Enemy to Go from writer/director/producer Jephté Bastien.
On the Second to Third Draft side, the HGF is backing Banger Media's first narrative film project, writer/director Molly McGlynn's Bloody Hell with producers Jennifer Shin and Erin Sharp. Writer/director/producer Marie Clements' Tombs (Screen Siren Pictures/Marie Clements) with producers Dolman and Haebler also caught the funder's attention with 2018 CFF Harold Greenberg Script Competition winner Honor Thy Mother (Meraki Moving Pictures) from writers Kathleen Hepburn and producer/director Charlie Hidalgo with producer Jessica Adams.
Writer/director Kelvin Redvers feature film debut Don't Look Down (Thunderbird Productions) with producer Lindsay MacAdam is also among the list with Canesugar Filmworks' Africville from writer/director/producer Charles Officer and producer Jake Yanowski; writer/producer Jonas Chernick's The Time We Met (Banana-Moon Sky Films) with director Fab Filippo; Neophyte Productions' Every Seventh Wave from writer Abigail Winter, director Hannah Cheesman and producer Jordan Walker; One Lady Productions' Bricks from writer/director Jonathan Popalis and producer Ana Golja; and Borrow Light Films' The Young Arsonists from writer/director Sheila Pye and producer Agata Smoluch Del Sorbo.
Last week, a number of HGF-supported films such as filmmaker Sophie Deraspe's Antigone, Hepburn and Elle-Máijá Tailfeathers' The Body Remembers When the World Broke Open and Matthew Rankin's The Twentieth Century picked up prizes from the virtual Canadian Screen Awards Cinematic Arts presentation. In total, HGF-supported films won 13 awards.
Image: Shutterstock