imagineNATIVE ups Naomi Johnson to executive director
The leadership change comes as executive director Jason Ryle leaves to pursue new opportunities.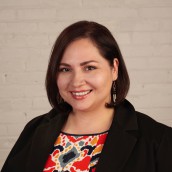 The world's largest presenter of Indigenous-made screen content – imagineNATIVE – has upped associate director Naomi Johnson to its executive director role.
Stepping into long-time leader Jason Ryle's shoes, the former artistic director and co-executive director of Brantford's Woodland Cultural Centre joined the organization in June 2019 alongside artistic director Niki Little.
In anticipation of this change, Johnson, a Kanien'kehá꞉ka from Six Nations in Ontario, has been working under Ryle's guidance for the past year, according to a press release.
"I am immensely grateful for all those who have been involved with guiding me through this role as I take on the responsibilities of executive director," said Johnson (pictured right) in a statement. "It has been an incredible learning experience and I'm forever grateful to the imagineNATIVE board, staff, and especially Jason Ryle, in whom I could not have hoped for a more generous and supportive mentor."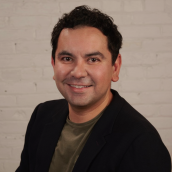 Ryle first joined imagineNATIVE as a programmer in 2002, eventually becoming chair of its board of directors in 2004 and taking the reins as executive director in July 2010. He departs to pursue new opportunities, including work as a producer.
"Leaving imagineNATIVE was always going to be a bittersweet affair," said Ryle (pictured left). "It's an organization that I love and respect dearly that serves a community that has given me so much inspiration, pride, and purpose. I've long felt that a big part of imagineNATIVE's consistent success has been because it has had the right leader at the right time. In looking ahead, my hope and expectation is that the new leadership will do bigger and better things than I could imagine. I'm so excited to see where Naomi will lead imagineNATIVE and I know the organization and our mandate are in good, capable hands."
Under the former head's decade-long leadership, the imagineNATIVE Film + Media Arts Festival has grown substantially – becoming the world's largest showcase of Indigenous-made screen content, as well as a key artistic, public and industry festival, according to a press release. Additionally, imagineNATIVE has developed a number of key partnerships with both national and international funders, broadcasters and festivals that have provided new and expanded professional and exhibition opportunities for Indigenous screen content creators.
Ryle is also credited with implementing and overseeing the development of the On-Screen Protocols & Pathways: A Media Production Guide to Working with First Nations, Metis and Inuit Communities, Cultures, Concepts and Stories, a framework released last year that provides key findings from a national consultation process, best practices for the industry when depicting Indigenous content on screen and information on cultural principles as well as how communities can be collaborative partners.
Kona Goulet, chair of the board, added that she is proud of the exponential growth and impact of imagineNATIVE under Ryle's leadership. "I know I speak for the board and staff in expressing our deep gratitude for the visionary and creative direction Jason provided in which the Festival's audience quadrupled and budget tripled," Goulet said. "In support of this leadership transition, we have worked closely with Naomi over the last year and she has quickly built trust, shown effective leadership, and demonstrated strong vision. We have full confidence for continued excellence in presenting and supporting Indigenous film and media arts under her leadership and look forward to bringing imagineNATIVE's 21st Festival to our audiences in 2020."
imagineNATIVE's annual imagineNATIVE Film + Media Arts Festival is set for October 20 to 25 in Toronto.
Images courtesy of imagineNATIVE