In brief: Unsinkable Youth special adds more talent
Plus, Wind Sun Sky Entertainment and Skybound North Entertainment debut Camp Bonkers, while Vancouver's Kelly&Kelly pick up a Webby.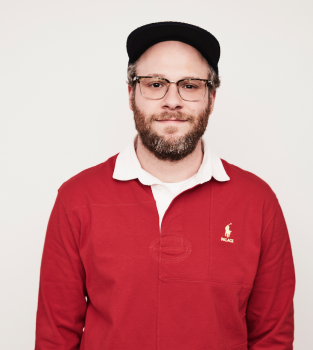 Three new faces join Canadian youth special Unsinkable Youth
Seth Rogen, Alessia Cara and Madison Bailey have joined the lineup for Unsinkable Youth, a one-hour special presented by non-profit Unsinkable, Kids Help Phone and Bell Media in support of Canadian youth.
Hosted by Olympian and Unsinkable founder Silken Laumann and Never Have I Ever lead Maitreyi Ramakrishnan, the program will make its debut on May 22 at 1 p.m. on CTV, CTV.ca and the CTV app. Rogen (pictured), Cara and Bailey join previously announced guests such as Jacob Tremblay, Hayley Wickenheiser, Johnny Orlando, Lauren Orlando, Lennon Stella, Tessa Virtue, The Reklaws and Wali Shah.
"CTV aims to bring families closer together with this special as it shares vital, relatable, and powerful messages that are felt by so many youth across the country," said Bell Media president, content and programming Mike Cosentino in a previous press release about the event. "With the significant impact of mental health struggles right now, we hope the one-hour special ignites conversations to support our youth and is a resource of entertainment during this time of uncertainty, with appearances and performances from some of Canada's biggest stars, musicians, and athletes."
Wind Sun Sky, Skybound North start Camp Bonkers
Vancouver-based Wind Sun Sky Entertainment and its sister company Skybound North Entertainment have launched camp-themed variety show Camp Bonkers.
Offering elementary school-aged children a virtual outdoors, episodes of the 20-25 minute YouTube series are hosted by friendly camp counsellors and filled with a variety of camp-themed activities such as crafts, music, food, sports, dance and more. Camp Bonkers is produced by Krista Kelloway (Robert Kirkman's Secret History of Comics) and executive produced by Catherine Winder (The Angry Birds Movie).
New episodes will launch every Monday, Wednesday and Friday at 1:30 p.m. PT/4:30 p.m. ET and at 4:30 p.m. PT/7:30 p.m. ET. Mondays, or Make it Monday, will see Camp Bonkers feature DIY-focused activities, while What a World Wednesday will examine global topics like sustainability and history. Finally, Fun Time Friday will teach kids a choreographed dance, see them hear an improvised story or try a new take on hopscotch. In total, the series is expected to run for 40 live episodes, with an additional 150 pieces of produced content from the show uploaded to the YouTube channel.
Kelly&Kelly nabs a Webby
Vancouver-based studio Kelly&Kelly has won a Webby Award, picking up Best Writing for Video for Aftershot: An App to Help Cowardly Politicians Talk About Gun Control, produced with The New York Times op-ed video department. The short, which examines the topic of gun control reform in the U.S., was nominated for Public Service & Activism in the video category. Notably, Kelly&Kelly head of production Lauren Bercovitch is among the participants in the inaugural BANFF Spark Accelerator for Women in the Business in Media cohort.