WFF names 2020 Producers Lab cohort
Finalists include Camille Hollett-French with Man in Pieces and Sibel Guvenc with Loya.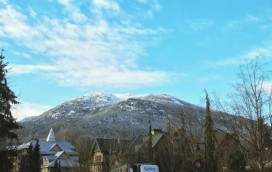 Six Canadian producers have been tapped for the Whistler Film Festival's 2020 Producers Lab.
A two-phased development and mentorship program focused on strengthening original scripted feature projects, the B.C. festival's lab is aimed at preparing Canadian producers to develop, pitch, market and sell their content.
This year's six selected participants – which consist of five producers from B.C. and one from Ontario – include: Alex Duong (B.C.) with Breaking Bread; Sibel Guvenc (ON) with Loya; Kate Kroll (B.C.) with Red Wings; Todd McCauley (B.C.) with The Medicine Line; Krista Rand (B.C.) with Re:Uniting; and Camille Hollett-French (B.C.) with Man in Pieces. Notably, Hollett-French took part in Women in the Director's Chair's 2019 script development and director mentoring program Story & Leadership, presented in collaboration with WFF.
Split into two phases, the first part of the program will take place online this June, followed by a seven-month mentorship program. From there, producers who complete the first component of the program will be invited to move into phase two, an immersive business experience leading up to and taking place during WFF and the festival's Content Summit – which runs from Dec. 2 to 6.
For the 2020 edition, Harold Greenberg Fund president John Galway, who served as program facilitator last year, will return. Producers Lab faculty include Clique Pictures president Lauren Grant, Resonance Films producer/director Jason James and Conquering Lion Pictures producer/founder Damon D'Oliveira.
The WFF Producers Lab is presented by Netflix in association with Telefilm Canada, and sponsored by Creative BC and the Canadian Media Producers Association (CMPA).