Orphan Black cast sets virtual reunion for charity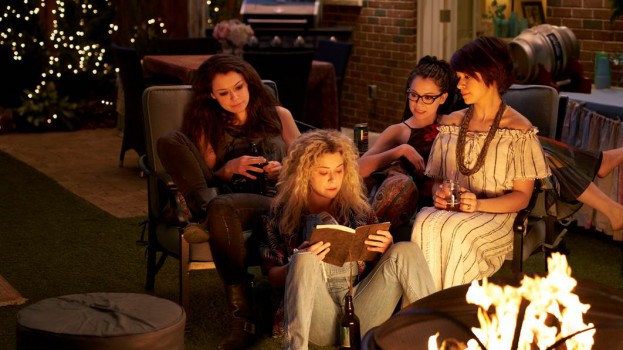 Tatiana Maslany will join the cast and creators in a table read of two episodes from season one on May 17 on the series' official Facebook page.
The cast of Canadian sci-fi hit Orphan Black is reuniting for a table read of two episodes to raise money for charity.
Star Tatiana Maslany, along with the rest of the cast, will read through two episodes of season one on Sunday (May 17) on the official Orphan Black Facebook page.
Joining Maslany are Kristian Bruun, Jordan Gavaris, Maria Doyle Kennedy, Kevin Hanchard, Évelyne Brochu, Dylan Bruce, Josh Vokey, Michael Mando, Inga Cadranel, Eric Johnson, Natalie Lisinska and Kathryn Alexandre. Co-creators Graeme Manson and John Fawcett will also take part in the table read, along with executive producer Kerry Appleyard, writer Will Pascoe and co-producer Mackenzie Donaldson.
The virtual reunion will support two charities: CenterLink, which supports LGBTQ community centres, and Sistering, an agency for at-risk women and trans individuals. The read falls on the International Day Against Homophobia, Transphobia and Biphobia.
The original series, which ran for five seasons, was produced by Temple Street, a division of Boat Rocker Media, in association with CTV Sci-Fi (formerly Space) and BBC America. Maslany won an Emmy for her role as multiple clones and was nominated three times during the series' run.
"Boat Rocker and Temple Street are delighted to collaborate with Tatiana Maslany, to organize a virtual reunion of the Orphan Black family seven years after the series' launch," said David Fortier and Ivan Schneeberg, co-executive chairmen of Boat Rocker Media, in a statement. "With so many people feeling isolated in lockdown, this one-off event will not only bring our loyal Clone Club back together in a fun, innovative way, it will also help raise awareness and funds for LGBTQ communities and at-risk women in need."
This isn't the first time Maslany has returned to the world of Orphan Black. She voiced an audiobook of an original story, set after the series finale, which was released in 10 separate chapters in the summer of 2019.
Reports also swirled in early 2019 about a new Orphan Black series from Temple Street in development at AMC, which would not be a remake and would not include Maslany.