How producer Loretta Todd kept cameras rolling during COVID-19
The producer behind APTN children's series Coyote's Crazy Smart Science Show leaned on the Indigenous community to keep season three in production.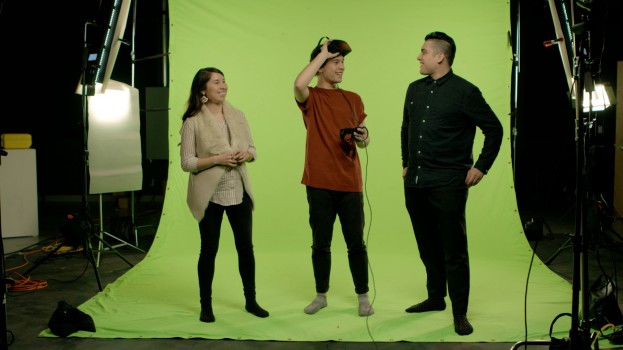 The COVID-19 pandemic has ground traditional production to a halt, but one producer has found some innovative solutions to keep cameras rolling remotely.
Loretta Todd, producer of the APTN children's series Coyote's Crazy Smart Science Show (pictured), was in pre-production on season three when the pandemic hit and it became clear production would have to be delayed. "I couldn't afford that," she tells Playback Daily. "I wanted to fulfill that commitment to keep this industry going."
Coyote's Crazy Smart Science Show is aimed at school-aged children with Indigenous elders and scientists sharing the history and innovations of the Indigenous community, spanning math, natural science and engineering, and features a Trickster character Coyote, played by Jay Cardinal Villeneuve, as well as its youth host Isabella White. Filmed on-location and in studio, each episode features Indigenous children as Science Questers, learning about different aspects of culture, history and science. "The idea is that knowledge flows from knowledge and that's our elders, our knowledge-holders," says Todd.
Finding a way to safely start production remotely was particularly crucial due to the small Indigenous communities they would often film in, where even one case of COVID-19 could devastate the population. And as Coyote's Crazy Smart Science Show is predicated on children learning from the now-vulnerable population of elders, even more precautions had to be taken.
In the end, it was Todd's commitment to the Indigenous film industry that helped Coyote's Crazy Smart Science Show keep going. After years of hiring a majority of Indigenous crews, when the time came to look at remote production, four Indigenous camera workers were available with at-home equipment and the technical skills to pull it off. "It speaks to how robustly the Indigenous community has grown," says Todd.
Crucially, crews had children at home to play the Questers, including Tia Taurere-Clearsky (pictured, right), whose sons had previously appeared on the series.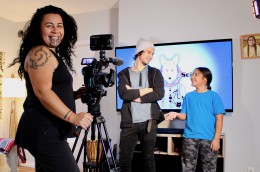 Crews would be able to film with children within their communities and in front of a green screen. Todd says an added benefit is the already-planned tech theme of season three, so at-home segments won't quite look so out of place. North Vancouver lab Zen Maker – which gives school children access to 3D printers and other tech through labs and workshops – has cameras set up in their facility so remote lessons will look polished on either end to avoid the now-common visual of talking heads in a Zoom meeting.
As well, since remote production would save costs on elements like catering, the dollars saved are being funnelled into extra animation, which is also being done remotely.
Once Todd was able to prove production could be completed safely to APTN and the Canada Media Fund, which had committed more than $450,000 to season three through the Aboriginal Fund, the last of the funding came into place and production went underway.
There are still some hurdles to overcome. Todd is still looking for elders to take part who are either set up with cameras at home or can use equipment delivered to them. A regular participant of the show is Cmdr. John Herrington, the first Indigenous person to go to space. Herrington, who lives in Montana, usually flies to Vancouver and films in the studio, but now Todd is trying to locate a local film crew in Montana to shoot in his home.
In terms of the content of season three, Todd says they will be addressing COVID-19, but in a way that doesn't dwell on the past trauma of epidemics in the Indigenous community. One way is through explaining the concept of exponential growth in terms of how the virus can spread, which is a lesson kids and adults alike should learn. "People don't quite understand that all it takes is one person who can spread this and it will have devastating effects, particularly on small communities," she says.
Maintaining the quality of Coyote's Crazy Smart Science Show is crucial as it grows its global footprint. Season one has already been sold NITV, an Indigenous broadcaster in Australia, and CBC has also picked it up for streaming service Gem, available starting June 1. Meanwhile, season two is set to premiere on APTN on May 10, landing on its streaming service Lumi the next day.
Bringing the show to non-Indigenous children has always been ingrained in the series, according to Todd, especially since Indigenous science and innovation is tied to sustainability and the environment, a crucial lesson for all in the 21st century. "A lot of small native communities are leading the way in renewable energy," she says.
Outside of Coyote's Crazy Smart Science Show, Todd operates the IM4 VR Lab from the Emily Carr University of Art + Design and is in post-production on her first feature film as director, Monkey Beach, which was shot in 2018. The pandemic has presented another unique opportunity for Todd, who had previously struggled to get VFX studios in Vancouver on board to work on a indie-level budget project. As the pipeline dries up, that situation has changed. "The companies that were saying no before now have the space and time to do it while they work from home," she says.
Now with season three of Coyote's Crazy Smart Science Show underway and a path forward for her feature, Todd is looking ahead to opportunities to share Indigenous stories with her community and the rest of the world.