CASO study underscores 'unique pain points' for post-production
The newly released report projects that 80% of VFX, animation and post-production studios will run out of work by August and more than a quarter of the workforce will be laid off.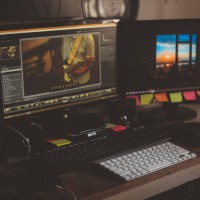 An economic impact survey released by Computer Animation Studios of Ontario (CASO) has painted a concerning picture for Ontario's post-production sector, with data indicating more than 80% of all Ontario studios will run out of work after July and a quarter of the full-time workforce will be laid off.
The province's VFX, animation and post-production sector is facing $126 million in lost labour and $50 million in losses to its studios due to increased COVID-19-related costs, according to the report. This could potentially cause a $176 million loss to Ontario's GDP, depending on the duration of social-distancing measures. In the most recent fiscal year, 2018, CASO says the VFX and animation sector delivered $309 million in direct GDP impact.
Conducted by Nordicity, the study is based on data supplied by 65 Ontario-based VFX, animation, and post-production companies. Nordicity estimates that the responses account for 61% of employment in Ontario's animation and VFX industries. Funding for it was provided by Ontario Creates.
While the impact of COVID-19 upon the production sector was abrupt and devastating, the economic damage inflicted upon the post-production sector has been more drawn out but no less devastating.
"While we share many of the physical production challenges voiced by other film and television industries, there are specific and unique pain points and timelines for VFX, Animation and Post Production studios," read a letter accompanying the report from CASO co-presidents Neishaw Ali (Spin VFX president) and Matt Bishop (partner and producer at Sinking Ship Entertainment).
Mass layoffs loom if shutdown continues past June
The survey indicates that if physical distancing continues beyond June, up to 1,853 full-time post-production jobs – that's 26% of Ontario's 7,185 full-time positions – are at risk.
VFX companies face a significantly higher risk of layoffs. The report projects that, of the 1,853 layoffs, 1,024 will be at VFX service studios, while 420 will be at post-production companies offering services other than VFX. Animation studios will also be forced to reduce headcount, with animation service studios projected to lay off 100 full-timers and animation studios generating their own IP projected to lay off 308 workers.
The sector has also been saddled with unexpected costs. By April 6, Ontario companies across animation, VFX and post-production had spent around $6.5 million on direct costs associated with establishing work-from-home setups and additional bandwidth requirements. Specifically, those costs include: setting up workers remotely; licensing and bandwidth for professional connectivity; modifying pipelines to accommodate remote set up and multiple connectivity; and additional labour, equipment and software to meet deadlines and compensate for inefficiency of working remotely.
Going forward, the survey says Ontario's animation and VFX industries will spend just over $1.4 million each month on COVID-19-related costs, with IP-generating animation studios facing the biggest increase.
On a per-company basis, additional monthly costs at IP-generating animation studios were pegged at $51,600. Other companies in the sector are less impacted by the pandemic, with VFX service studios being the next most affected ($14,900 per month), followed by animation service studios ($10,200) and post-production companies with services other than VFX ($3,500). On average across the sector, companies are are experiencing a $13,400 increase in monthly expenditures.
When combining losses and reduced profits, the survey projects the total loss of corporate profits for the sector will be $50 million in 2020.
How long can the sector sustain itself during lockdown? 
The economic climate created by COVID-19 is also making it very challenging to develop new business, said the report, with only 16% of companies saying they are able to successfully do so. Meanwhile, 58% said they can attempt to generate new business but to a lesser degree, and the remaining 26% said their ability to attempt to generate news business had not been impacted.
And with work drying up quickly, certain companies across the VFX and animation sector are set to experience trying times. While responses vary across different fields, on average 22% of VFX and animation companies say they have enough work to sustain themselves until September and beyond. Meanwhile 20% say they have already run out of work, 7% could last until April, 17% until May, 13% until June, 17% until July, and 4% until August.
It should be noted that animation studios (both those conducting service work and those generating their own IP) project they can last significantly longer than VFX studios and other post-production companies. (See the graph below for projections on when various companies will run out of work.)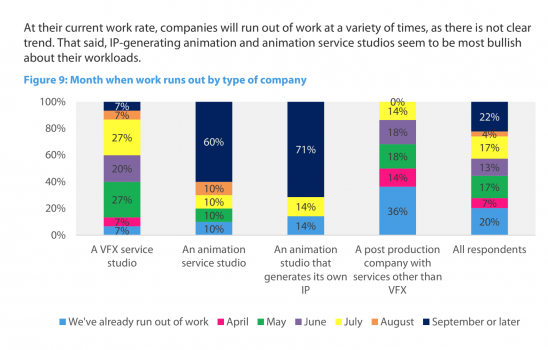 On average, both VFX service studios and post-production companies offering services other than VFX said they have three months of "runway" before work dries up entirely. Meanwhile, animation service studios said they have six months of runway, while IP-generating studios reported having 20 months of runway.
In terms of support measures for the sector, the majority of respondents "were noticeably more in favour of wage subsidies than other forms of support," according to CASO. The organization recommended the following to support the sector: continue the wage subsidy (CEWS) until December 2020; rent relief for six months to help off-set additional costs for remote set up; payment of outstanding tax credits as filed; and ensuring the stability of all tax credits.
Image: Unsplash