Martin Carrier to succeed Michel Trudel as MELS president
The video game developer exec will serve as SVP, business development and transition to the role of president when Trudel's contract expires. (Carrier pictured)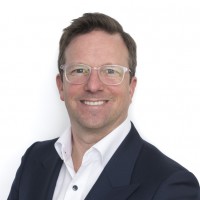 TVA Group has named Martin Carrier as SVP, business development of studio owner and post-production company MELS, with the plan for him to take over the president role held by Michel Trudel.
Trudel will serve as president of the Montreal-based company until his contract ends on Dec. 31, with Carrier working in the SVP role effective immediately until Jan. 1, 2021.
Carrier most recently served as president and CEO of video game developer Frima and has a long history in the gaming world. His past roles include VP and studio head of Warner Bros. Games Montreal and VP, communications and corporate affairs at Ubisoft Montreal.
Part of Carrier's mandate as the incoming president will be to push MELS' expansion to host more big-budget productions in its studios and boost its post-production slate "to allow MELS to enter a new phase of influence both in Quebec and around the world," according to TVA Group president and CEO France Lauzière in a statement.
"Together with our teams, we will pursue the goal of combining a forward-looking technological vision with the company's historical know-how in order to drive MELS' growth on the local and international scenes and attract more and more large-scale productions," said Carrier.
Trudel's departure will mark the end of an era in the Quebec film world. He has been part of the industry since 1988 and founded the studio Locations Michel Trudel. It was acquired by Visione Global in 2012, which was in-turn acquired by TVA Group in 2014, bringing its studio and post-production assets under the name MELS. Trudel was named president in 2015.
"I want to thank Michel for his contribution to MELS' success and, more generally, to the emergence and development of Quebec's film and television industries since 1988," said Lauzière.