Behind the scenes of The Willoughbys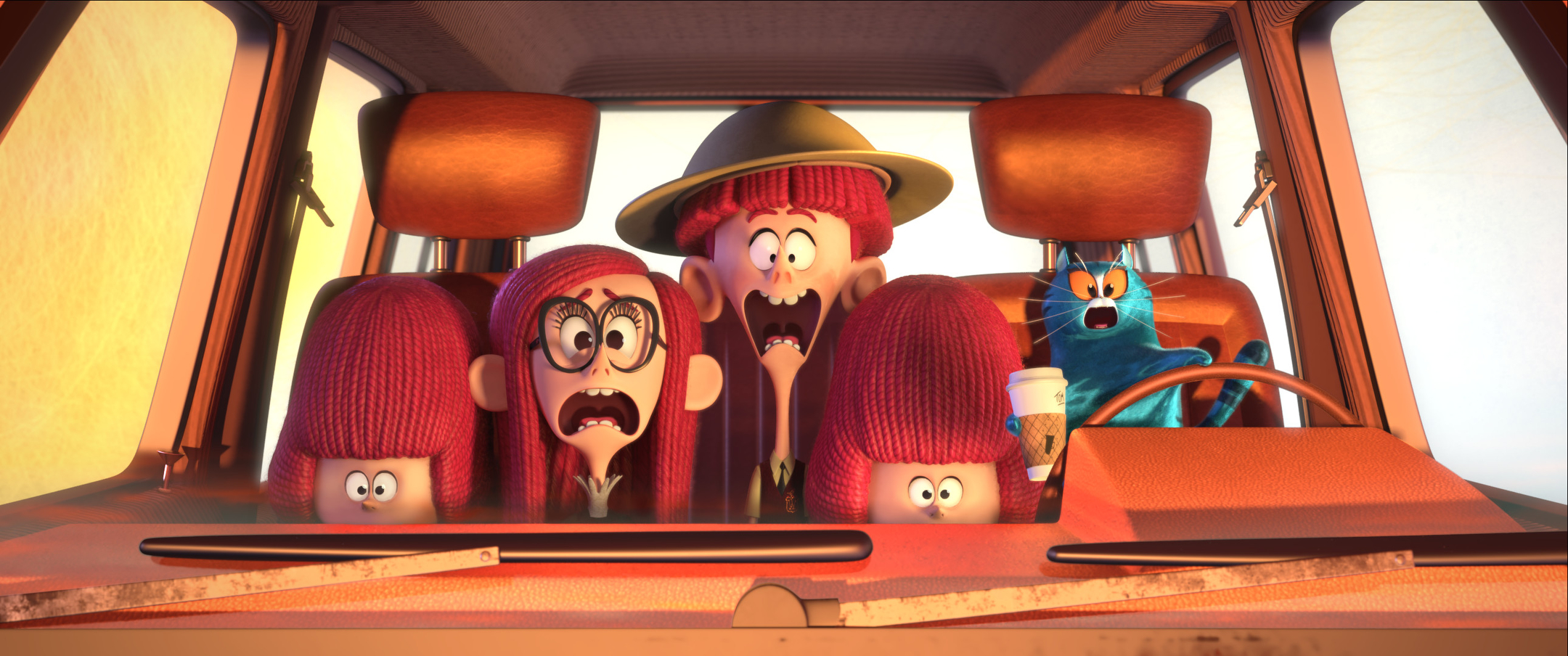 The animated film's producers Brenda Gilbert and Luke Carroll discuss what made the Lois Lowry story a fit for the "Bron world" and collaborating with Netflix.
Luke Carroll hopes his hard work on The Willoughbys – making its global debut on Netflix today – will make his kids proud.
"I could go on, but 100%," the producer tells Playback Daily with a laugh. "They were seven and five when the journey began, and so they've really seen me [working on this] for that long."
The road to the CG-animated film has been a long one. It began in the summer of 2014, with the former Bron Animation VP of production and development listening to an audiobook of Lois Lowry's novel on a family road trip across Vancouver Island.
What made the story of four siblings who aim to get rid of their selfish parents appealing, in addition to its humour, was that it fit into "the Bron world," according to Carroll. "The goal was to try to find very original stories that would be unique and funny because in the animated space, we want to make a movie for kids to be entertained. But we also want it to have a lot of heart and to deal with a subject matter that you feel like you haven't seen before," he explains. "That's very hard to find, and we were very lucky to find it in The Willoughbys."
Notably, Carroll says that during the same time Bron Animation was considering going with a streamer versus the traditional distribution model, it received notes back from a potential distributor and Netflix with two varying opinions on how The Willoughbys' script should treat its neglectful parents. "It was the synergy of a group that had the same goal, that was what Netflix represented. And they stayed true to that through the entire thing," he adds.
In addition to working with a great collaborator, the streamer was top of mind when it came to giving The Willoughbys the visibility it deserved, Bron Media Corporation co-founder and president Brenda Gilbert – who previously served as president of Bron Animation – tells Playback Daily. "This is a movie that should be enjoyed and consumed for the content that it has and for the characters that are involved and also just as an appreciation to our hard-working staff, our crew that worked tirelessly on this production, because it is a production of love and the production pipeline is quite long in comparison to live-action," she says.
For instance, director Kris Pearn (Cloudy with a Chance of Meatballs 2) shares feature writing credit with storyboard artist Mark Stanleigh (Thomas the Tank Engine & Friends) on the title. And The Willoughbys features a ton of talent in Maya Rudolph, Alessia Cara, Terry Crews, Martin Short, Jane Krakowski, Will Forte, Seán Cullen and Ricky Gervais.
The feature also saw both exec producers Gervais – who Gilbert previously worked with on Netflix feature Special Correspondents (2016) – and Pearn – who Carroll connected with in L.A. – board early on in the process.
Tonally, they were perfect for the story, according to Carroll, with Pearn initially joining as a writer. "There was a very distinct moment when Kris said 'I feel like I'm writing a love letter to my kids,' and that's when he realized that he really wanted to come on board and direct the movie and live the movie as he did for three to four years, nearly," Carroll says.
Made with the assistance of over 200 artists, early on the Burnaby, B.C.-headquartered studio opened up an office in London, ON to support Pearn's development on The Willoughbys, since he was based in the area. And halfway through the production when the creative needed to be at the Burnaby office full time, it continued to be used by one of the film's lead team members who had moved to the region, while a 10-person crew worked on the feature from Bron Animation's Vancouver Island studio.
Gilbert notes that the company's animation business has benefited from Bron's overall access and working relationship with talent. "It's been interesting because we didn't think the company was going to evolve in this way and so quickly, but it has been beneficial to one division to the next division in terms of putting content out there," she says.
While the team was in production on The Willoughbys they received multiple pitches from various live-action actors and comedians. "For a studio that started off with just a few people – we opened up officially in October 2010 – it's nice to see that talent want to work with us in some capacity [and] are pitching us projects that are their own projects that they're very passionate about and trusting us with things that they have held onto for a long period of time, but didn't want to take to other studios."
Gilbert, whose current focus is non-scripted division Bron Life, says moving forward she'd like to see the company continue to tell compelling stories that resonate with audiences and start conversations, while featuring familial themes. Additionally, she'd like to build off her volunteer work by incorporating some charitable components into Bron's business. "Just to continue doing what we're doing, both on the live-action and the animated side of our business," she says.
In addition to Gervais and Pearn, executive producers on The Willoughbys include Bron chairman and CEO Aaron L. Gilbert; COO Steven Thibault; SVP, business affairs Adam Davids; Bron Media Corp director and Creative Wealth Media founder and managing partner Jason Cloth; Teunis de Raat; Larry Bodnar; Justin Ottley; and Richard McConnell.
Image of The Willoughbys courtesy of Netflix