In brief: Telefilm grows its exec team
Plus: Several Canadian titles make Annecy's Official Selection and ET Canada will broadcast a week-long country music concert fundraiser.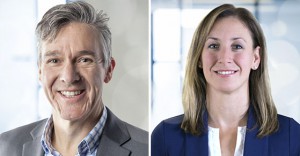 Telefilm hires Morin, Mainville to its executive leadership team
Telefilm Canada has boosted its executive team with two new hires. Jean Morin will take on the newly created role of director, information technology, while Marie-Eve Mainville will serve as director, human resources. Mainville's position was previously held by Stella Riggi, who served in the role for more than 20 years. Telefilm has announced a number of flexibility measures in the wake of COVID-19, including an accelerated drawdown schedule and no requirement to refund canceled events that received financing. The funder has also said it may provide funding for overages caused by the COVID-19 shutdowns.
Hot Flash, The Physics of Sorrow and more among Annecy 2020 selections
The Annecy International Animation Film Festival has selected a number of Canadian projects for its 2020 Official Selection.
Short films with Canadian roots in the Official Competition section include: director Thea Hollatz's Hot Flash, Andreas Hykade's Altötting (Canada/Germany/Portugal); Jean-François Lévesque's Moi, Barnabé ("I, Barnabé"); and Theodore Ushev's The Physics of Sorrow. Notably, three out of the four Canadian films in the category were produced by the National Film Board of Canada (Altötting, Moi, Barnabé and The Physics of Sorrow). Additionally, both Hollatz's Hot Flash and Ushev's The Physics of Sorrow made their world debut at the 2019 edition of the Toronto International Film Festival (TIFF).
Elsewhere, copro Like and Follow (Canada/Germany) from directors Tobias Schlage and Brent Forrest was tapped for the Young Audiences category. The two-minute short tracks a kid that starts spending time in the real world, leading to his smartphone trying to get his attention back.
Meanwhile, three Canadian projects made it into the Graduation Films lineup: director Catherine Slilaty's Moundform; director Michelle Chua's The Fox & The Pigeon; and Arden Colley, Asil Atay, Isabel Wiegand and Kellie Fay's Unraveled (Canada/Spain/U.S./Italy/Turkey). Finally, director Steve Angel's Pudsy's Christmas, commissioned by CBS show Evil, was selected for the Commissioned Films section alongside director Janet Perlman's Beatbox Anima Mundi 2019, a 2D trailer for the 2019 Anima Mundi Animation Festival.
Regarding Annecy's future, the festival said it can confirm it plans to have a digital event from June 15 to 20. "Developing Annecy 2020 Online is both a technical and human challenge, which seemed an obvious choice to us: our event plays an indispensable role in the entire animation film sector, and is even more reason why we should be here during this unique situation," said a press release from the organization about its Official Selections. More information about Annecy 2020 Online will be provided soon. Additionally, Annecy's feature film and VR selections will be revealed in mid-May.
ET Canada to bring Canada together with week-long concert series
Corus Entertainment's ET Canada will premiere a week-long country music concert series to raise funds for Canadians impacted by the COVID-19 pandemic. Titled Canada Together: In Concert, the music series begins on April 20 during ET Canada's 7:30 p.m. ET/7 p.m. PT timeslot. It was created in partnership with the Canadian Country Music Association and the CCMA Foundation. Artists participating include Shania Twain, Lady Antebellum, Luke Combs, Morgan Wallen and Jordan Davis. The funds raised will beet split between Food Banks Canada and the Unison Benevolent Fund and music streaming service Spotify has agreed to match each dollar raised up to US$10 million. Canada Together: In Concert will also be available to stream on the Global TV app and will be broadcast on Corus-owned radio stations Country 105, CISN Country 103.9 and Country 104.