The new showrunners: Vagrant Queen's Jem Garrard
The British-Canadian writer/director shares how working in the indie world prepared her for showrunning, and the advantages of shooting sci-fi in Cape Town.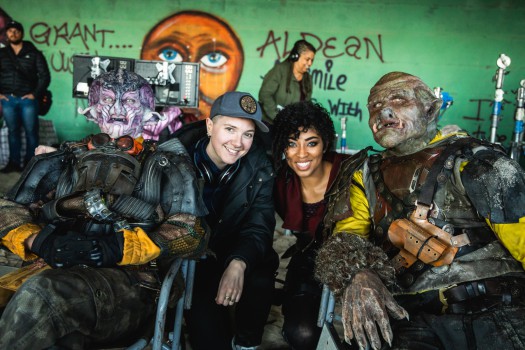 Canada has a new genre series to add to its expansive canon with Vagrant Queen, following in the footsteps of Killjoys, Dark Matter and Wynonna Earp.
The series, based on the comics by Mags Visaggio, was created for the screen by Jem Garrard (pictured, left) and produced by Blue Ice Pictures, a prodco based in Toronto and Cape Town, South Africa. It follows a rogue orphaned queen, played by Adriyan Rae (pictured, right), on the run from a government organization out to end her bloodline. Vagrant Queen was commissioned by U.S. network Syfy and airs on Citytv in Canada.
Garrard is an Emmy-nominated director and Leo Award-winning screenwriter, but Vagrant Queen was her first opportunity to work as showrunner. She tells Playback Daily the series was a chance to dive into a fun sci-fi show with the spirit of Firefly or Guardians of the Galaxy, but with explicitly queer and diverse characters.
We spoke with Garrard about the process of bringing the series from script to screen and how its Cape Town location and inventive crew made a slick-looking series with a limited budget.
What was it about the Vagrant Queen comic book series that interested you in adapting it for the screen?
Jem Garrard: I'm a fan of the writer Mags Visaggio, I've read a lot of her work. When [myself, Blue Ice Pictures and Syfy] were looking for our next project together, her name was one I threw into the mix. Vagrant Queen was a fairly new one from her that we all responded to and thought would be a really great adaptation. It's unique; we've not seen a space opera done this way. I wrote the pilot and bible, and based on that Syfy picked it up for a 10-episode first season. And that was it, I was off to Cape Town to shoot it.
When did you first work with Blue Ice Pictures and Syfy?
JG: We had just completed an early 2018 horror comedy movie called Killer High. It was clear that we had a lot in common and loved geeking out about what we were reading comic book-wise, what we were watching and what would make a great adaptation. So after working on that movie together we kept a dialogue going, then later in that year Vagrant Queen came out and we all jumped on it.
Syfy was the series commissioner, but when did Citytv get involved as the Canadian broadcaster?
JG: We were at the beginning of prep and we were still writing. We were able to show Rogers the first few episodes, the bible and a look book on what we wanted the series to look and feel like. We had a very exciting call with them and they jumped on board not long after.
You've written and directed for TV before, but this was your first time showrunning. What were some stand-out challenges you faced, or some of the biggest lessons learned?
JG: I absolutely loved showrunning. For me, I come from an indie background as a writer and director. When you have that background, you're so used to doing everything yourself – writing, directing, producing and answering thousands of questions a day. So it felt very organic for me and I settled into the role easily. I'm not saying that it's not challenging, but I know the show inside out, so it was really about keeping track of everything. The biggest role is knowing the story inside out and being true to the story, always being able to answer questions and problem solve. But really, it was just a lot of juggling, especially because I was directing episodes as well. And often working with little time to do that and a little budget.
Since you were the one who knew the show inside out, what were some of your key priorities in building the writers' room?
JG: I wanted to have different voices in the room. People that were fans of the genre, but tonally different. With Mariko Tamaki, I was a fan of her. She's a fantastic comic book writer and I'd heard she just moved into screenwriting. After reading some of her samples, it was clear that she had a great sense of story, and was tonally very similar to what we would try to pull off with Vagrant Queen. She's fantastic with comedy. Mika Collins comes from a darker, more dramatic sci-fi background. It was great to have her voice in the room and hear those different perspectives and ideas. It makes for a much stronger story because you're able to cover more ground and try more things.
What about hiring the rest of the crew?
JG: We had all female writers and directors. That was important for me because I've been a director for hire and know how difficult it is for women to get hired in genre in particular. I think we've got a long way to go to reach parity, but I'm especially not seeing enough women in action, sci-fi and fantasy. Being put in a position of power as showrunner, it was hugely important for me to amplify those voices.
Since you shot in Cape Town, how much were you able to take advantage of location shoots compared to in the studio?
JG: Going in, we anticipated we'd have about 50/50 location and studio, but it ended up being more on-location because we were able to find some really unique spots. The great thing about Cape Town is that there's so many different looks. It's got a forest look, a desert look, abandoned places and industrial places. It could play as many planets, which was really cool.
There were a few things that we thought would be studio builds that we were actually able to go out and find. We shot in one building that was actually an office building, but the owner was a huge sci-fi fan. He decorated and custom-built his office to look like a spaceship, down to every fine detail. It was crazy. And we're the first sci-fi show to shoot in it, funnily enough.
Obviously with a genre show, as much as you want an unlimited budget, that generally doesn't happen. What were some of the budget constraints you had to deal with and what were the ways you were able to overcome them?
JG: We did have a limited budget. I think part of that adds to the charm of the show, but you're often problem-solving a lot of things when you work with a lower budget. Coming from that indie background really helped. We would do things practically. We had a fantastic prosthetics team who created these amazing aliens. Whenever we could, from the aliens to the fight sequences, we would do as much practically as possible. Our DP, Trevor Calverley, made the show look next level. We were able to light in a way that really upped the production value of the show.
We custom-built everything as well, which sounds expensive, but you're designing something that's going to work for the entire series. Our budget didn't stop us from creating these unique-looking props in this unique-looking world. By being very smart with how we spent, doing things practically and not pushing the VFX so much, we were able to do that.
What was the process for casting your lead?
JG: It took a while. We saw a lot of auditions from everywhere, from the U.S. and Canada, the U.K., and we were also looking locally in South Africa. It was further into the process of casting that Adriyan Rae's tape came in. I remember I was in South Africa at the time, and I got a call straight away from Blue Ice in Canada, like, "have you seen this tape yet? Check it out." It was really exciting to see because she really understood the character. She could play that unique line between drama and comedy. There's a seriousness to Elida, but there's also a silliness to her that I think we were missing in a lot of the reads. A strong female character is often played pretty angry and there's just so much more to a leader than that. So when Adriyan's tape came in we were really excited, and then it was clear after giving her notes and seeing the second tape that we'd found Elida, so we could all breathe. [laughs]
Do you have anything else in the works right now?
JG: It's impossible not to think about where I'd like to take Vagrant Queen. We're thinking ahead to future seasons and hoping that we get the greenlight on season two. Outside of that, I'm finishing a feature film of mine. It's a sci-fi called Project Ivan that has received funding from the Harold Greenberg Fund and Telefilm. So I'm using the time in self-isolation right now to get that ready before I hopefully start writing season two.
For more on Canadian TV's new showrunners, read our interview with New Eden stars and creators Evany Rosen and Kayla Lorette.