Netflix cancels V-Wars, October Faction
Both series, produced by Toronto's High Park Entertainment and publisher IDW, ran for one season on the streamer.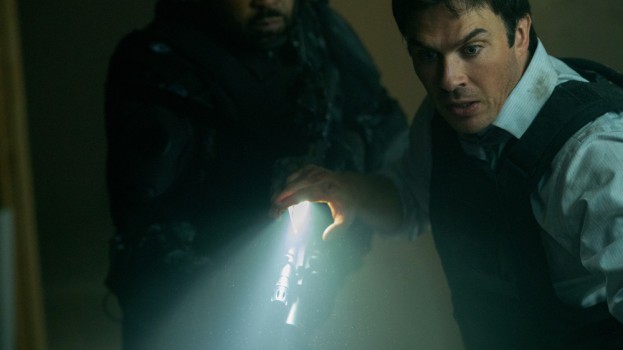 Netflix has cancelled V-Wars (pictured) and October Faction, produced by comic publisher IDW Entertainment and Toronto's High Park Entertainment.
Both Ontario-shot series were cancelled after one season. V-Wars, starring Ian Somerhalder, premiered on Dec. 5, 2019, while October Faction, starring Tamara Taylor and J.C. MacKenzie, premiered on Jan. 23. High Park's Thomas Walden and Eric Birnberg were executive producers on both series, which were commissioned back in 2018.
V-Wars showrunners and executive producers William Laurin and Glenn Davis adapted the series based on the comic by Jonathan Maberry, who also served as executive producer. Other executive producers include IDW Entertainment's David Ozer and Ted Adams, Marada Pictures' James Gibb, and Brad Turner. Fans of V-Wars have already rallied behind the series with a change.org petition that has garnered more than 15,000 signatures in less than 24 hours.
October Faction was created by Damian Kindler, who previously created Canadian sci-fi series Sanctuary, based on the comic by Steve Niles. Kindler served as showrunner and executive produced along with Niles and James Thorpe.
The news follows the renewal of another IDW Entertainment project, Locke & Key, which was shot in Ontario and Nova Scotia and has Take 5 Productions attached as a producer. Meanwhile, Spinning Out is another Toronto-shot title that was canceled after one season. The streamer bases its cancellation decisions on views rather than production costs, although it does not regularly post view statistics. It has recently included a regional top 10 feature to show the top film and series viewed in a given territory, including Canada.
Netflix productions across Canada and the U.S. are currently on hiatus due to the COVID-19 crisis, including season two of Halfire Entertainment's Another Life. The streamer has committed US$100 million to aid workers on productions impacted by the shutdowns, which includes a $1.5 million donation to the AFC and Fondation des Artistes.
Image courtesy of Netflix