Bell unveils more details about Quibi programs
NewsDay by CTV News will be hosted by Heather Butts, while NewsNight by CTV News will be helmed by Reshmi Nair.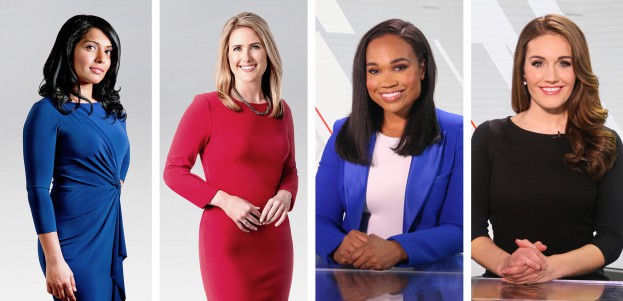 Bell Media has lifted the lid on programming details for its three upcoming Quibi series.
CTV News is producing NewsDay by CTV News hosted by Heather Butts and NewsNight by CTV News hosted by Reshmi Nair as part of Bell's partnership to have CTV News and TSN exclusively provide content for the short-form platform's Daily Essentials section. New episodes will be available to stream on the service weekday mornings by 6:30 a.m., weekday evenings by 5 p.m. and by 9 a.m. on Saturdays and Sundays.
Covering local and global headlines, both shows will tackle subjects such as politics, business, health and climate change with Butts and Nair delivering "digestible updates of the news that matters most," according to a release. CTV News Channel and CTVNews.ca general manager Lis Travers serves as exec producer of NewsDay by CTV News and NewsNight by CTV News.
The content comes as demand for news is rising. Comscore is reporting an "explosion on engagement with news and information sites" in Canada this month in a special investigation into how the COVID-19 pandemic is impacting audience behaviour.
Meanwhile, TSN will produce Sports AM by TSN – which covers the most buzzed-about and essential sports stories in three minutes. The show will be available to stream every morning at 6:30 a.m. on weekdays and at 9 a.m. on weekends. Lindsay Hamilton will serve as the program's host during the week, while Kayla Grey helms the show on weekends.
"With an unmatched level of energy, wit, and charisma, Lindsay and Kayla are the perfect hosts to deliver smart and engaging short-form sports content," said Steve Argintaru, Sports AM by TSN  senior producer and showrunner in a statement.
Introduced earlier this month, Bell also revealed it had signed on to serve as Quibi's exclusive marketing partner. All told, the service is expected to launch next week on April 6 in North America, offering an ad-free tier at $9.99 a month and an ad-supported tier for $6.99.
Image courtesy of Bell Media