In brief: Catching up with SXSW's Canadian winners
Plus, Hot Docs' industry market moves to an online format, while the Toronto Screenwriting Conference retools its awards for remote mentorship.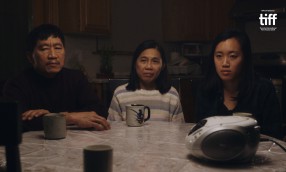 By: Lauren Malyk and Kelly Townsend
SXSW's Canadian winners weigh in on victories
Although Austin, TX-based film festival South by Southwest (SXSW) was a no-go this year, Canadian directors Carol Nguyen and Santiago Menghini both walked away with prizes for their short films – with Nguyen picking up the Documentary Shorts Jury Award for No Crying at the Dinner Table (pictured) and Menghini winning the Midnight Shorts Jury Award for Regret.
Catching up with the winners, Menghini – who previously won the same award for his short Milk at the 2018 edition of the fest – told Playback Daily that the decision to cancel the festival was a sad turn of events, but the right decision to make. "Thankfully I had the chance to see the festival first hand with my last short film Milk. But this year the right decision was made to adjust to the global crisis," he said, also crediting SXSW for its drive and determination for films to get recognition. The writer/director also added that to have Regret win the Midnight Shorts Jury Prize "felt both amazing and just as rewarding as being there," and proceeded to thank the festival for supporting his career.
Meanwhile, Nguyen told Playback Daily that she was initially disappointed about the festival's decision, as it was her crew's first time being selected for SXSW. However, following the news that the crisis was deemed a pandemic by the World Health Organization (WHO) and how a raft of cancellations started coming in, she says it became clear how serious the matter was. "We are living through a rare moment in history right now. To me, as long as we're doing everything we can to protect ourselves, our loved ones and citizens, that is enough," says Nguyen, who serves as a TIFF Share Her Journey ambassador.
Mailchimp and Oscilloscope have teamed up to create a free "digital home" for this year's SXSW short film selections. Both No Crying at the Dinner Table and Regret are among the selections.
Hot Docs' industry market goes virtual
Organizers of the Hot Docs International Documentary Festival have revealed that this year's industry market will move to an online format, replacing the live industry event that was canceled earlier this month due to the current COVID-19 pandemic. The digital edition will offer same market events and services made available at the live event, including the Hot Docs Forum, Hot Docs Deal Maker, Distribution Rendezvous and the Doc Shop. All industry passes will be filtered into one Hot Docs Industry All Access Online Pass, which will provide delegates access to all digital offerings. Industry content will be available during the festival window until May 31.
This year's Hot Docs Forum will allow pitch teams to present their projects digitally to top decision makers, who will then provide their comments and feedback. All pitches and feedback will made available on the Doc Shop – the online market that offers industry players access to doc titles on-demand – for pass holders to view. The Doc Shop will also house recorded Close Up With… sessions, which provide updates from commissioners and funders; and Micro-Meetings, offering insider knowledge from broadcasters, funders and tech leaders. One-on-one pitch meetings Hot Docs Deal Maker and Distribution Rendezvous will also proceed virtually.
This year's event will also include specified sessions geared toward examining the effects COVID-19 are having on the film industry, while also offering strategies to support business and providing resources on emergency funding and mental health.
Toronto Screenwriting Conference updates awards details, deadlines
The Toronto Screening Conference has announced new deadlines and details for its mentorship awards, Telefilm Canada New Voices and Magee TV Diverse Screenwriters Award, following the cancellation of its April event. The Telefilm New Voices Award will offer five winning screenwriters an opportunity to meet with Telefilm executives in their city and to work with a mentor on their scripts, either in-person or remotely. The Magee TV Diverse Screenwriters Award is also given to five writers and includes a welcoming event with Magee TV founder Al Magee and a three-month mentorship program, comprising five one-hour meetings with mentors Alejandro Alcoba, Duana Taha, Eva Thomas, Marsha Greene, and Noelle Carbone. Both awards will offer winners a complimentary pass to the 2021 conference.
The deadline for the Telefilm New Voices is April 17, while Magee TV Diverse Screenwriters Award is April 17. In-person meetings will only be available once the federal and provincial governments end social distancing measures. This year's conference, which was set to run from April 25 to 26, has been retooled as a series of evening events which will be held in fall/winter 2020.
With files from Realscreen
Image of No Crying at the Dinner Table courtesy of Carol Nguyen