TCB Media Rights greenlights Architect's Extreme Ice Machines
The U.K.-based company has also given Hitler's Supercars from Wiser Films the go-ahead and holds the worldwide rights (excluding Canada) to a new BGM show.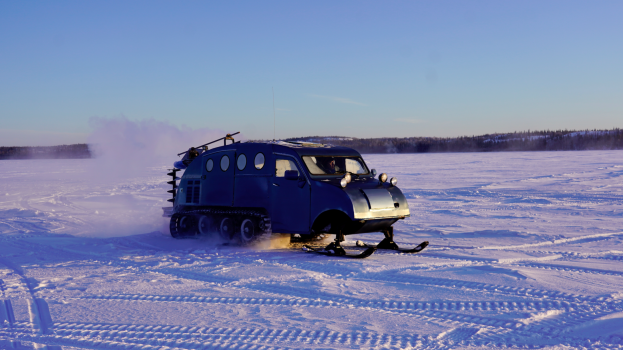 TCB Media Rights has greenlit two new factual titles and a new paranormal series – with two of the three projects coming from former Kew Media Group companies.
All told, the U.K.-based producer and distributor – which was acquired by Kew Media Group in October 2017 – has given U.K.-based Wiser Films' special Hitler's Supercars (1 x 60 minutes) and Toronto-based Architect Films' series Extreme Ice Machines (8 x 60 minutes, pictured) the go-ahead and inked presale agreements for both.
TCB Media Rights "is currently in negotiation to agree its next iteration in conjunction with FTI Consulting Canada after its parent company Kew Media Group went into administration," according to a press release.
Executive produced by Wiser Films' Tas Brooker and Jim Wiseman alongside TCB's Hannah Demidowicz and Nicola Davey, Hitler's Supercars examines how during the rise of the Third Reich, two German car manufacturers were tasked with building "the most high performance vehicles the world had ever seen," said a release announcing the titles. The 60-minute one-off has been presold to the U.K.'s Channel 4 via a deal brokered by senior sales manager Holly Newey.
Meanwhile, Extreme Ice Machines from former Kew Media Group company Architect Films explores wide-ranging machinery critical for human survival in the world's coldest climes. A U.S. network has joined the show through a presale inked by TCB's Simona Argenti, according to a release. The series is currently in post-production.
Earlier this month, Playback Daily learned that new production outfit Nikki Ray Media Agency, founded by Architect Films' Mike Sheerin and Tanya Linton, bought Architect Films' shares from Kew Media Group. Executive producers on Extreme Ice Machines include Architect's Sheerin, Linton and Cara Volchoff, alongside TCB's Demidowicz.
Finally, TCB Media Rights has ordered Paranormal Nightshift (13 x 60 minutes) from former Kew Media Group-owned kids and factual producer BGM (previously known as Bristow Global Media), which was also acquired by DATSIT Sphère earlier this month.
Presold to Blue Ant Media's T+E Channel in Canada and the Travel Channel in the U.S, the show looks at the stories of night workers who have encountered various phenomena like ghosts and demons in the workplace. Excluding Canada, TCB Media Rights holds the worldwide rights to Paranormal Nightshift.
Last week, DATSIT Sphère grew its portfolio with the acquisition of another Kew Media Group company, Toronto-based Cardinal producer Sienna Films. Kew was placed in receivership in late February, and all of its directors resigned. FTI Consulting Canada, which has been appointed as receiver of all of Kew's assets, undertaking and properties, is tasked with managing its affairs and selling its assets to pay its creditors.
With files from Realscreen