AVOD's revenue potential in a growing streaming-focused market
As the world turns to steaming services for their media consumption during the COVID-19 pandemic, advertisers are taking note of the opportunities in AVOD.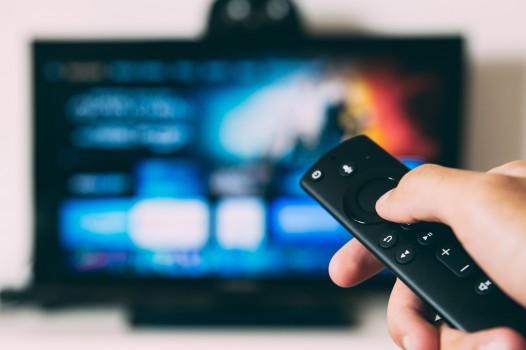 Editorial note: The Playback editorial team signed off on the final version of our Spring 2020 issue on March 4. A little over a week later, the film and television industry – and life in North America in general – was radically changed in response to the COVID-19 pandemic. As a result we've adapted our print stories to reflect the current situation as best we can.
While the novel coronavirus may have forced Canadian film and TV to a virtual standstill, the need for accessible content for consumers is at an all-time high.
Subscription-based services (SVOD) are currently reaping the benefits of millions of consumers in self-isolation, with Nielsen reporting a 13% increase in streaming between March 15 and 16 – and predicting  TV and streaming services will be a major beneficiary based on its analysis of previous crises such as Hurricane Harvey in 2017. However, if the pipeline of new content runs dry later this year or in early 2021 due to production shutdowns, the ability to retain subscriptions will become a challenge.
Advertising-supported streaming services (AVOD) provides an alternative method to drive revenue, giving consumers a free flow of content without subscription fees.
AVOD services were already earning rapid attention at the start of 2020, with Ampere Analysis declaring it the "Year of AVOD." Its experts predicted regional streaming services would push back against the U.S. titans in 2020 in anticipation of the looming fear of subscription fatigue, if the price tag for multiple subscriptions rises to equal cable bills or if should the pandemic lead to a recession and consumers scale back spending on home entertainment.
"AVOD is a good option for clients to shift their media investment," Sarah Thompson, chief strategy officer at Mindshare, tells Playback, adding that advertisers should carefully look at consumer trends in global markets, such as China, that are slowly bouncing back from their crisis peak.
The free-to-consumer alternative had already made gains in the market before the novel coronavirus wreaked havoc on Hollywood. Global ad revenues for AVODs such as San Francisco-based Tubi, which provides thousands of hours of licensed content from studios like Lionsgate and Paramount, and long-running social platform YouTube, hit US$21.9 billion in 2018 and are expected to rise to US$32 billion in 2020, according to Deloitte.
AVOD can also hold bragging rights for proven sustainability. Tubi, which launched in 2014, reported in 2018 that it had reached profitability, with ad revenue rising 180% compared to 2017. In the midst of the novel coronavirus pandemic, Fox Corporation entered a deal to acquire it for US$440 million in cash, which is expected to close before June 30.
Global AVODs have already developed creative marketing opportunities for advertisers as well. Thailand's LINE offers contextual ad opportunities and granular user info, while Indonesia's OONA rewards ad-viewing customers with virtual currency they can use to buy branded goods.
Mindshare's Thompson says that advertisers are advised to "lean into opportunities in the market" at a time of recession, which pulls into account audience shifts in consumption, including home entertainment spending.
Canadian broadcasters have entered the AVOD space, with a focus on their existing library of linear TV offerings. Corus Entertainment has launched the Global TV app as a hub for its cable and specialty programs. The app will allow users without a cable subscription to stream a selection of Food Network Canada and HGTV Canada series for free along with access to live national and local news.
SVOD service Crave is Bell Media's premium platform, with 2.6 million subscribers as of the end of 2019, but the CTV brand remains its digital and cable mainstay. For its online offerings CTV Throwback, it licenses free nostalgia-inducing TV shows such as Dawson's Creek and Community, as well as films like A Knight's Tale, Groundhog Day and A League of Their Own. And there is the CTV super hub to consider, which brings CTV-branded channels under one umbrella, set to launch in spring 2020.
The ad-supported digital space is far from new for Canadian producers and will continue to provide production opportunities once cameras are free to roll again. Funding from organizations like the Independent Production Fund (IPF) and the Bell Fund have opened opportunities for new voices to break through. What it has yet to become is a space that yields revenue.
Toronto-based prodco Shaftesbury has long been experimenting with digital production since it acquired Smokebomb Entertainment in 2008, now part of the Shaftesbury Digital division.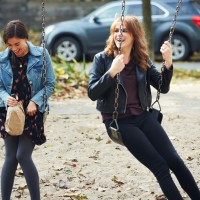 The company currently has two channels on YouTube: Shaftesbury Kids and KindaTV, which targets the LGBTQ+ audience. KindaTV has approximately 267,000 subscribers and has generated more than 139 million views. The channel's flagship series Carmilla, a lesbian vampire drama, has garnered more than 78 million views alone, and Shaftesbury has built on that brand with the acquisition of digital series Ghost BFF (Babe Nation Creations; pictured) and Gay Mean Girls, produced by Maddy Falle and Hayley Wong.
While YouTube doesn't generate profit for Shaftesbury, it has helped feed into production for new digital Cancon. Dylen Postnikoff, VP, global brand strategy at Shaftesbury, says the company made the decision not to run ads on its kids channel and KindaTV's revenue is used to acquire and develop new programming. "Both platforms are CAVCO-certified, giving us a unique position to partner with Canadian content creators who can then qualify for federal tax credits contributing to the financing of their digital shows," she says.
Whether the rights remain solely with KindaTV or can be sold to other distributors varies from deal to deal, according to Postnikoff.
Katie Bird Nolan of Babe Nation Creations says producing Ghost BFF was a great "intermediary step" for the company. It allowed them to work on a longer narrative format on a smaller scale than broadcast television or full-length features with minimal oversight, while still tapping into financing from Ontario Creates, the Canada Media Fund, the Bell Fund and the TELUS Fund.
The biggest obstacle was finding distribution in Canada. The series held a unique premise – a comedy with heavy themes of depression and suicide, with its lead character haunted by her dearly departed friend – one very few distributors were comfortable taking on.
Ghost BFF eventually landed on Elizabeth Banks' digital platform WhoHaha, after producers ventured south of the border for support. It has garnered an estimated 5 million views for season one and has wrapped production on a second season. It now has its Canadian home with KindaTV.
Nolan says there is an opportunity to see a revenue uptick for producers in the digital space, but it is currently driven in the U.S., referring to Jeffrey Katzenberg's and Meg Whitman's upcoming streamer $1.75 billion startup Quibi as a service that's "changing the structure and the model" of the streaming landscape.
The mobile-only short-form streaming-video platform with a billion-dollar content budget has already attracted A-list producers, including Reese Witherspoon (Fierce Queens) and Steven Spielberg (Spielberg's After Dark). A key incentive is its deal structure. Quibi covers 100% of the production cost, and gives the option for creators to make a feature-length cut in addition to the Quibi-friendly bite-sized format (10 minutes or less). The platform retains the rights to the short-form cut for seven years, but the feature-length edit reverts to creators in just two years.
It is scheduled to launch in the North American market April 6 with a hybrid model, allowing consumers to purchase an ad-supported version at half the price of its US$7.99 premium offering. Among its upcoming products is a spin-off of the Canadian film Code 8, starring cousins Robbie Amell and Stephen Amell. There has been no word about a delay to the COVID-19 pandemic, as of press time.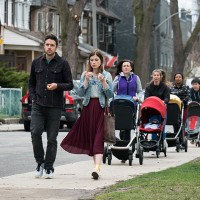 Canada's own hybrid streaming service comes in the form of CBC Gem, which launched in late 2018. The pubcaster's digital platform streams for free with ads and charges $4.99 for a premium ad-free version. CBC has already greenlit new seasons of original offerings such as How to Buy a Baby (pictured) and Detention Adventure. One of its most recent offerings is Hey Lady!, co-directed by Sarah Polley, Adriana Maggs and Will Bowes and starring Jayne Eastwood, and which had a world premiere at Sundance.
CBC has yet to release subscriber data for Gem. The streaming service has little regulatory oversight at the moment, but that may change in light of the channel's upcoming licence renewal. CBC has already proposed an amendment that will see its programs of national interest requirements introduce a minimum of 10 hours a week for digital, but reduce its linear prime-time requirements from nine hours to seven. A hearing on the renewal is scheduled for May.
On the flip side, as AVOD options grow, consumer tolerance for ads will be tested. A recent Nielsen survey in the U.S. indicated that one third of consumers are willing to pay for multiple streaming services to minimize the amount of ads they see on screen.
Thompson says the challenge ultimately falls to marketers to create compelling campaigns. During the coronavirus pandemic, she says it is "crucial for brands to consider their message and then consider how to maintain their reach and brand awareness."
"If the ad is bad, we have no tolerance; if the ad is good our tolerance is better – the ad needs to be as good as the content," says Thompson. "We are entering into an era where we do not want an intrusive interruption if we're not getting something that is satisfying and valuable from that experience."
Image: Unsplash
A version of this story appeared in Playback's Spring 2020 issue