EXCLUSIVE: WGC cancels 2020 Screenwriting Awards
Instead, the guild said it will announce the winners virtually, with recipients set to be recognized on stage at its 2021 ceremony.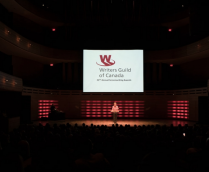 The Writers Guild of Canada (WGC) has called it quits on its annual Screenwriting Awards next month – but vows to make a big splash at it's quarter-century anniversary in 2021.
"While we will not be gathering in person, the Guild will be announcing the 2020 winners via virtual means," said the organization in a statement to Playback Daily. "The 2020 winners will be recognized on stage at the 2021 ceremony. It will also mark the 25th anniversary of the awards."
The decision to drop the event scheduled for April 27th at Toronto's Koerner Hall comes as multiple other awards ceremonies and galas abandon plans including the Junos, the Canadian Screen Awards, Canadian Film Fest and Hot Docs. The Canadian Society of Cinematographers' 63rd Awards Gala has also been postponed.
The Screenwriting Awards cancellation isn't expected to hurt the bottom line as the gala is supported by sponsorship and ticket sales.
In a statement to Playback Daily, the guild also said that it is working on a virtual announcement and presentation for the winners, "including the production of a digital program and collateral."
Additionally, the guild is continuing to administer member work agreements and is still lobbying on behalf of its members interests "especially with the pending reform of the Broadcasting and Telecommunications Act that will have an impact on the level of original Canadian television and film production for decades to come."
This year's annual WGC gala would have marked the event's 24th year celebrating Canadian screenwriting talent behind Canadian-made series, films, documentaries and webseries. Comedian and writer Gavin Crawford (Because News) was to serve as the ceremony's host and his long-time collaborator screenwriter Kyle Tingley as the show's writer.
The guild was also expected to announce the winner of its annual Showrunner of the Year prize, which went to Emily Andras (Wynonna Earp) in 2019.
Some of the writers up for the WGC's nine screenwriting prizes include: Jann (Project 10 and SEVEN24 Films, CTV) co-creators Jann Arden and Jennica Harper for the episode "The Big House" in the Comedy Series section; two nominations for Coroner (Back Alley Films, Muse Entertainment, Cineflix Studios, CBC) for Noelle Carbone and Seneca Aaron in the Drama Series field; and Holly Hobbie (Aircraft Pictures, Cloudco Entertainment, Wexworks Media, Hulu/Family Channel/CBBC) which earned three nominations in the Tweens and Teens category for writers Cole Bastedo, Sarah Glinski and Courtney Jane Walker.
"It's so important that we recognize this amazing group of nominees and their achievements, despite circumstances that prohibit a live ceremony," said the guild.
Image courtesy of the WGC's website