In brief: CBC sends Schitt's Creek 'Best Wishes, Warmest Regards'
Plus, the NSI and CBC renew their partnership on the CBC New Indigenous Voices training program, Quebec studio Squeeze gets animated for Marvel Studios, and more.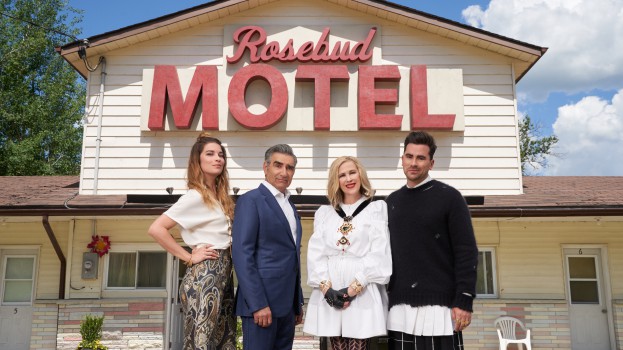 Schitt's Creek lands one last goodbye
Schitt's Creek (pictured) is getting its last hurrah in the form of Best Wishes, Warmest Regards: A Schitt's Creek Farewell, a 90-minute special commissioned by CBC and directed by Amy Segal. Produced by Best Wishes Inc. in association with CBC and Pop TV, the program features interviews with key creatives as well as never before seen footage of table reads, audition tapes and moments from the comedy's last day on set. Distributed internationally by ITV Studios, the program will premiere at 8:30 p.m. on April 7, following Schitt's Creek's final episode.
"This special night of programming gives audiences an opportunity to say goodbye to the characters, cast and town that have meant so much to them. In the words of David Rose himself, 'I feel like that needs to be celebrated,'" said Sally Catto, CBC general manager of entertainment, factual and sports in a statement. The special sees Segal, Project 10′s Andrew Barnsley as well as Fred, Daniel and Eugene Levy serve as executive producers. For CBC, Catto is an executive producer alongside Trish Williams, and Greig Dymond. Meanwhile, executive producers for Pop TV include Brad Schwartz and Elizabeth Allan-Harrington.
NSI, CBC reteam for CBC New Indigenous Voices training program
The National Screen Institute – Canada (NSI) and CBC have renewed their two-year partnership on the CBC New Indigenous Voices training program. A Winnipeg-based full-time, 14-week training course aimed at introducing Indigenous storytellers between the ages of 18 and 35 years old to creative and challenging employment opportunities in the film, TV and digital media space. Since 2017, the pubcaster has served as the title, presenting and tuition sponsor for the program, which is currently accepting applications until next Friday (March 20). Notably, for the last three years, women have made up 48% of the participants in this program, according to an NSI release about the news, while 85% of graduates are working in the arts sector or pursuing related education. Some of the short films developed through the program include writer/director Jon Berg's Dead Bolt and Nappy Hair & Eagle Feather from director Adeline Bird with Diandre Thomas-Hart and Daniel Bear.
Quebec's Squeeze working on What If…?
Québec City-based animation studio Squeeze has been tapped by global entertainment company Marvel Studios to create five episodes of upcoming animated series What If…?. Scheduled to premiere on Disney+ in summer 2021, What If…? reimagines various key moments in the Marvel Cinematic Universe (known as the MCU) and marks the first animated series in the universe. Co-founded by Denis Doré and Patrick Beaulieu, Squeeze's other credits include brand Cracké, which has aired in over 210 countries and territories.
Dark Slope launches Trick Shot Kings
Toronto-based Dark Slope Studios has launched multiplayer augmented reality (AR) application Trick Shot Kings. Created in collaboration with AT&T, the application sees participant's compete to outdo each other with unreal trick shots, turning their city into a basketball court. Trick Shot Kings is now available for all AT&T customers with a 5G-capable smartphone. "Working with AT&T enabled us to use an AR format to our full advantage resulting in a multiplayer experience with low latency, responsive design elements and overall, a really fun game to play, " said Dark Slope head of enterprise services and business development Eyal Kleiner in a statement.
Friends of Canadian Broadcasting to release Canadian-focused short documentary series
Next Monday (March 16), Friends of Canadian Broadcasting will release Tell Our Stories, a short documentary series helmed by five Canadian documentary filmmakers to shine a light on untold Canadian stories. In a statement, Friends executive director Daniel Bernhard said the advocacy organization is sponsoring this initiative to underscore how foreign online broadcasters are crowding out Canadian stories, noting that Canadian storytellers are mostly producing stories about other destinations. "We are becoming spectators of other people's culture, and losing our own," Bernhard added.
Shorts set to be released next week include director Ryan Sidhoo's Down with the King,  a profile of Vancouver street basketball legend Joey Haywood; and Louise Abbott's The Out-of-the-Way Dwellers, the story of the Ahiarmiut, an Inuit group in Nunavut that the Canadian government forcibly relocated between 1949 and 1959. Louise Lalonde's Summerside Kitchen Party, meanwhile, follows a traditional live music gathering at the Summerside Legion. As well, Revitalizing Untold Stories of Traditional Indigenous Foods from director Taina da Silva tracks Winnipeg-based indigenous chef Chantelle Bone as she seeks out traditional food recipes from an elder. Rounding out the list is director Rafäel Beauchamp's French-language short Eayila, which examines the daily lives of a Syrian refugee family, four years after they arrived in Québec City.