Klassen starts strumming on Stupid for You
The punk rock musical produced by Toronto's SubProd sees the Love in the Sixth director co-star with her daughter.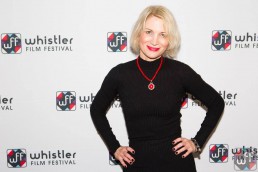 Writer/director Jude Klassen (Love in the Sixth) is underway on her second musical feature, punk rock musical Stupid for You in Toronto.
Produced by Brett and Jason Butler from Toronto's SubProd, the feature co-stars her real-life daughter Mika Klassen-Kay, following the story of a love sick teen (played by Mika) who reunites her mother's dysfunctional band to win over a punk rock fan girl. Klassen (pictured) co-wrote the film's music with Asher Ettinger and T.C. Folkpunk.
Stupid for You was previously selected to be developed further through Women in the Director's Chair's 2018 Story & Leadership Program at the Whistler Film Festival (WFF). Klassen's feature debut, Love in the Sixth (2015) – which is described as an "unromantic musical comedy about extinction" – previously screened at WFF.
Supported by Telefilm Canada, the Harold Greenberg Fund and WIDC, Stupid for You's budget comes in at $250,000. Toronto-headquartered A71 Entertainment is attached to distribute the film in Canada. Additionally, Toronto singer-songwriter Lily Frost stars as a member of the reunited punk band and performs lead vocals with Klassen. The feature also stars Caylin Turner, Mia Rodne, Michael Coughlan, Tracey Woods, John Bennington and Matt Olver.