Cineworld continues with Cineplex deal in face of coronavirus concerns
The U.K. theatre chain maintains deal will close but protracted virus crisis may 'cast doubt' over ability to stay in business.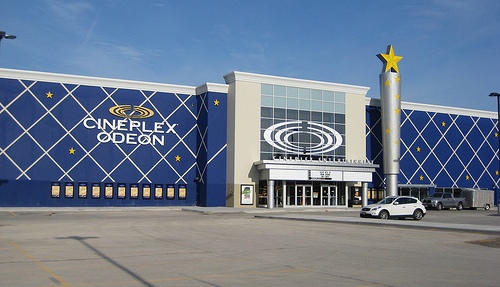 Cineworld Group is staying the course for its $2.8 billion acquisition of Cineplex, despite the volatile stock market and an uncertain period for theatres in the wake of COVID-19.
The U.K.-based theatre chain says it anticipates it will close the deal within the first half of 2020 after "overwhelming universal support from shareholders," according to its fiscal 2019 year-end financial report released today. In its outlook, Cineworld said it has "robust contingency plans in place across our business" to deal with the coronavirus disease and the Cineplex deal will help it deliver "synergies of $130 million by 2021."
"I remain confident that the crisis will ultimately pass and that the cinema exhibition industry will continue to play a major role in providing fun, laughter, happiness and joy to millions of dedicated movie fans, just as it has for over a century," said Anthony Bloom, chairman of Cineworld in the report statement.
The acquisition is still pending approval from the Competition Bureau and the Investment Canada Act.
Forensic financial analysis company Hindenburg Research spooked Cineplex shareholders last Thursday (March 5) when it went to Twitter to predict that the deal may "fall apart or be reduced in price" – adding that theatre operators have seen a 47% decrease since the deal was announced in December 2019.  Shares of Cineplex fell by $4.03 to $28.45 on Thursday morning.
Cineplex addressed concerns about the impact of COVID-19 in its fiscal 2019 year-end financial report. While the efforts to contain the virus have had a minimal impact on its business thus far, according to the company, in a downside scenario "currently considered unlikely" two to three months' revenue loss could result in a "risk of breaching the Group's financial covenants," unless they reach a deal with their lenders. CinemaCon, the annual gathering of film studios and theatre owners, was canceled due to concerns over the virus. It was set to run from March 30 to April 2 at Caesar's Palace in Las Vegas.
Cineworld today reported a 6.2% revenue loss in 2019 compared to 2018, with theatre admissions coming to $275 million, down from 2018′s $308 million, which the company attributed to last year's "strong comparative film slate and closure of loss making sites in the U.S."  It operates 9,494 screens globally.
Shares of Cineworld have seen a decline since the release of James Bond film No Time to Die was postponed from April to November in response to efforts to minimize the spread of COVID-19. The company's share value on the London Stock Exchange dropped to as low as 78 cents this morning from yesterday's closing value of $1.54. Cineworld released a statement on March 6 to assure shareholders that the company has "not observed any material impact on our movie theatre admissions."
The company added that if continues related to the virus continue or worsen, it will take measures to "reduce the impact on our business," mentioning cost reduction and capital expenditure postponement.
Cineworld's biggest shareholder Global City Theatres sold a portion of its shares at $152 million (£116 million) on Monday (March 9), accounting for 7.9% of Cineworld's total issue share capital. GCT sold the shares to restructure a margin loan from HSBC Bank and Barclays Bank. The company still holds 20% of shares. Cineworld's debt is $3.48 billion.