J.C. Mills to head up Cineflix Productions
Cineflix Media has appointed the former Glass Entertainment Group executive as president and commercial director, while Charles Tremayne shifts to a new role.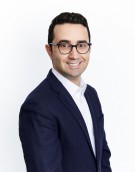 Cineflix Media has appointed J.C. Mills (pictured) as president and commercial director of Cineflix Productions, while Charles Tremayne moves to a new role within the company.
Based in New York, the former president and general manager of Glass Entertainment Group will report to Cineflix Media co-founder and co-CEO Glen Salzman.
In his new role as president, Mills will focus on leading Cineflix Productions through innovative content strategies, building the company's creative team and strengthening its relationships with various networks and streamers. Additionally, his post as commercial director will see him join Cineflix Media's executive team, working to drive new business opportunities across the company.
This appointment sees Cineflix Productions president Tremayne become chair of the Cineflix Content Group, which is described as a working alliance of its producers and other creatives. Tremayne will also start his own production company in partnership with Cineflix Media. More details about the venture will be announced shortly, according to a press release.
During his time with Glass Entertainment Group, Mills expanded the company's content portfolio to 12 networks and platforms, while working on projects such as Pope: The Most Powerful Man in History for CNN; The Vet Life for Animal Planet; and Desert Flippers for HGTV. He also previously worked as an agent at ICM Partners, representing non-fiction production companies, writers, directors and showrunners and served as director of development for National Geographic's New York office.
In a statement, Salzman noted that Mills' diverse experience and entrepreneurial drive make him an excellent addition to both Cineflix Productions and Cineflix Media. He also acknowledged Tremayne's contributions. "We would like to thank Charles for the years he dedicated to the company and our people, he's been an integral part of the Cineflix team, and our success," the executive added.
Last week, former Miramax executive James Durie joined Cineflix Media's U.K.-based distribution arm Cineflix Rights as its head of scripted. In the newly created role, he oversees the distributor's global strategy for sales, presales, acquisitions and coproductions for its scripted content.