CaribbeanTales developing Denham Jolly memoir
Founder and CEO Frances-Anne Solomon (pictured) is set to direct the adaptation, which received support from Telefilm Canada and the Harold Greenberg Fund.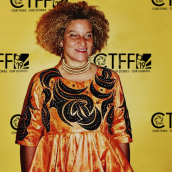 Toronto-based CaribbeanTales Media Group is in development on a feature film adaptation of entrepreneur and activist Denham Jolly's memoir In the Black: My Life.
Winner of the 2017 Toronto Book Award, the book follows Jolly's journey from Jamaica to Canada – focusing on his struggle with discrimination as well as his fight to secure a licence for a black-owned Toronto radio station, Flow 93.5. Jolly, who is a founding member of the Black Business Professionals Association, also sits on CaribbeanTales board of directors.
"Denham Jolly's 10-year battle to win a license for Canada's first black radio station, is the stuff of urban legend. In the Black shows Canada from a unique point of view. It's the story of Canada herself, through a fresh and important lens. Our audiences are hungry for authentic stories about Canadian life: Real lives of real people who came to this country and made it their home," said CarribbeanTales founder and CEO Frances-Anne Solomon (pictured) in a statement.
Solomon is attached to direct and produce the film, which received support from the Harold Greenberg Fund and Telefilm Canada. The Heart Beat creator and Lord Have Mercy! co-creator is working with writer Andrew Burrows-Trotman and development executive Jamie Gaetz on the adaptation. Burrows-Trotman's writing credits include Frankie Drake Mysterie (CBC), Utopia Falls (CBC/Hulu) and Diggstown (CBC).