ACTRA T.O. unveils best-practices doc for on-set nudity, intimacy
The document covers situations ranging from auditions and contracting to closed-set protocols and restricted access in post-production.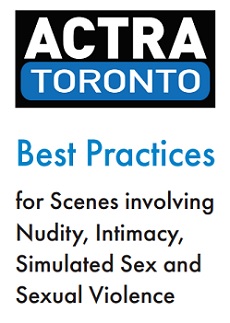 ACTRA Toronto has released a guidelines document laying out best practices for scenes involving nudity, intimacy, simulated sex and sexual violence.
Based on a number of "safe space" meetings in which its members came forward with stories of harassment, the document covers situations ranging from auditions and contracting to closed-set protocols and restricted access in post-production.
As well, it includes checklists and questions for performers, intimacy coordinators, agents, casting directors and production companies to consider.
At the pre-production stage, ACTRA Toronto advises that productions engage an intimacy coordinator, who will implement appropriate protocols for scenes containing intimacy, simulated sex, nudity or high emotional content, as well as liaising between performers and the production team.
Performers should know ahead of time what they will be required to do during auditions, said the document. If an audition requires performers to undress or wear revealing clothing, the audition venue must have changing rooms and privacy barriers, as well as being accessible and gender-inclusive. Individuals who are auditioning should also be advised ahead of time if they will be auditioning with another performer.
The best-practices document says contracts and riders must be submitted to performers at least 48 hours in advance so that agents have sufficient time to review documents and negotiate any necessary changes. As well, on the day of the shoot, the performer, intimacy coordinator and ACTRA representative should be provided with copies of the contract.
Scene requirements (for example, performer action and camera angles) must be addressed before final decisions can be made about wardrobe, modesty garments and makeup, said the doc. And in instances where an intimacy coordinator has been engaged, they should also be involved in all decision-making processes and be present at rehearsals.
"This is a living document," said ACTRA Toronto president Theresa Tova (pictured) in a statement. "We look forward to it fostering important conversations, understanding and action among performers and industry partners alike to ensure all workplace interactions are respectful and consent-based."
ACTRA Toronto also set out protocols for photography and storage of photographs. Wardrobe photos involving nudity require prior written consent of the performer, and photos should be kept in a private and secure place. Unused photos should be securely destroyed.
The organization also set guidelines around who can be present on set on days when scenes with nudity, intimacy, simulated sex and sexual violence are being filmed. It recommends that the call sheet clearly indicates that it is a closed set, and that no visitors are permitted. As well, only essential persons should be given access to production monitors. And once a shot is complete, a wardrobe person should be available to assist a performer with their robe, while cameras are directed away from the performers.
"Excessive takes, needlessly prolonged shots and demand for unscripted actions may be indicators of an improper purpose. Intimacy coordinators, stunt coordinators and crew members are encouraged to intervene, especially when performers appear distressed or are unable to advocate on their own behalf."
During editing and post-production, content involving nudity or of a sexual nature should be restricted to designated individuals who have a "direct and professional need for access," added the guidelines document. A full list of all the documents protocols and guidelines can be found here.
ACTRA Toronto and ACTRA National have unveiled a number of initiatives to combat harassment, bullying, discrimination and violence in the Canadian industry, including the launch of a 24-hour helpline (in partnership with the DGC) and the Canadian Creative Industries Code of Conduct, which it launched in collaboration with more than 20 industry organizations.