JANN, Coroner, Schitt's Creek top WGC Award's drama, comedy noms
Jennica Harper, Jann Arden and Dan Levy are among this year's crop of nominees for the awards, which will be handed out at a gala ceremony on April 27.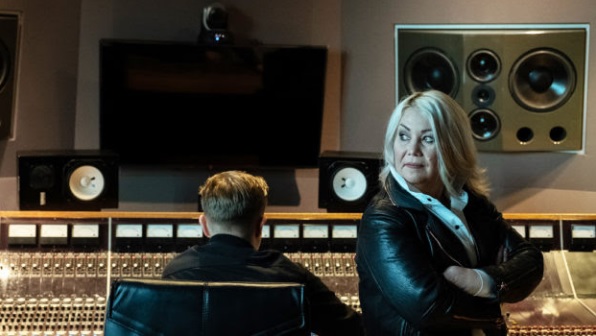 The scribes of JANN, Coroner and Schitt's Creek lead the nominations for Writer's Guild of Canada's 24th annual Screenwriting Awards.
Jann (Project 10 and SEVEN24 Films) co-creators Jann Arden and Jennica Harper picked up a nomination in the Comedy Series category for "The Big House," while writer Mike McPhaden earned a nod for "Weeknd at Charley's." Schitt's Creek (Not a Real Company Productions) showrunner and co-creator Dan Levy also earned a nomination for the episode "Meet the Parents," as well as Schitt's writer David West Read for "Love Letters." Rounding out the comedy nominations is Corner Gas Animated (Moving Mountoons), with Diana Frances earning a nod for "Tag You're I.T."
Coroner (Back Alley Films, Muse Entertainment, Cineflix Studios) led the field in the Drama Series category, with writers Noelle Carbone and Seneca Aaron earning nominations for "All's Well" and "Confetti Heart," respectively. Vivian Lin and Derek Robertson picked up a nomination for the Killjoys (Temple Street) episode "Three Killjoys and a Lady," Simon McNabb earned a nod for Murdoch Mysteries' (Shaftesbury) "Sins of the Father," and Ken Kabatoff for Travelers (Peacock Alley Entertainment) episode "Archive."
Detention Adventure (LoCo Motion Pictures) and Save Me (iThentic) picked up nominations in the Shorts and Webseries category, with Joe Kicak and Carmen Albano earning a nod for Detention Adventure episode "The Catalyst" and Fabrizio Filippo for Save Me episode "Birdie's End." Hannah Cheesman was nominated for the short The AfterLifetime of Colm Feore and Darrin Rose earned a nod for the short One Last Last Heist.
On the film side, Wilson Coneybeare was nominated for American Hangman, Adriana Maggs and Jane Maggs for Goalie, Thom Richardson for Justice Dot Net, Katherine Collins for Riot Girls and Laura Phillips for Sweetness in the Belly.
Andrea Stevens earned two nominations for MOWs Christmas Jars and Thicker Than Water, the latter co-written with David Elver. Nominations for Documentary went to John Walker and Robert Sandler for Assholes: A Theory, Michael McNamara for Pugly: A Pug's Life and Nance Ackerman, Ariella Pahlke and Teresa MacInnes for Conviction.
Holly Hobbie (Aircraft Pictures) pulled in the most nominations on the kids side, with three nods in the Tweens and Teens category for writers Cole Bastedo, Sarah Glinski and Courtney Jane Walker. Jesse Shamata picked up a nomination for Bajillionaires (Six Eleven Media), as well as Emma Campbell for Creeped Out (WildBrain).  Dino Dana (Sinking Ship Entertainment) earned two nominations in the Preschool category; J.J. Johnson was nominated for both, with one episode co-written with Christin Simms and Amish Patel. Rob Hoegee earned a nod in the category for Abby Hatcher (Spin Master), Andrew Sabiston for The Remarkable Mr. King (Nelvana) and Jennifer Daley for Xavier Riddle and the Secret Museum (9 Story Media Group).
Daley also picked up a nod in the Children's category for Corn & Peg (Nelvana), and is nominated alongside Jeff Sager for Cupcake & Dino: General Services (eOne), Andrew Orenstein for Ghostwriter, Mark Steinberg for Hotel Transylvania: The Series (Nelvana) and Ashley Spires and John van Bruggen for Nelvana animated short The Most Magnificent Thing.
The awards will be handed out at a gala ceremony on April 27 at Toronto's Koerner Hall, with Gavin Crawford set to return as host. The guild will also name the winner of its annual Showrunner of the Year prize, which was awarded to Wynonna Earp's Emily Andras in 2019.