CTV sets Cardinal's final investigation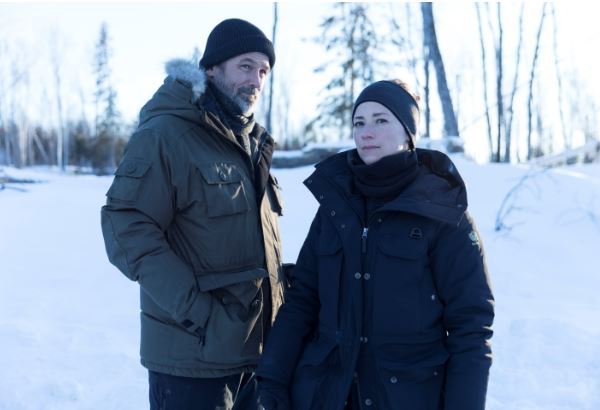 The fourth and final season of the hit detective series sees Nathan Morlando (Mean Dreams) direct.
It's official: bona fide hit detective series Cardinal will return this April.
Produced by Toronto-based Sienna Films and global entertainment studio Entertainment One (eOne) in association with CTV, the show's fourth and final installment will grace the screen on Monday, April 6 at 10 p.m. EST on CTV.
Adapted from Giles Blunt's John Cardinal Mysteries series, Cardinal: Until the Night sees 2019 Canadian Screen Award winners Billy Campbell and Karine Vanasse return as detectives John Cardinal and Lise Delorme – with this season focusing on a seemingly mundane missing persons case that turns into a spree of nightmarish murders, pushing the two to their limits.
This final six-part edition of the show sees past season two showrunner Sarah Dodd (Motive) – who recently served as the Pacific Screenwriting Program's inaugural showrunner in residence for its Scripted Series Lab – partner with Cardinal season three showrunner Patrick Tarr (Saving Hope) on showrunner duties. Tarr is currently up for best writing in a drama series at the 2020 CSAs with Noelle Carbone and Aaron Bala for the Cardinal episode "Mama."
Executive producers include Dodd; Tarr; Mean Dreams director Nathan Morlando, who also directs; eOne's Jocelyn Hamilton; and Sienna Films' Julia Sereny and Jennifer Kawaja. Bell Media president Randy Lennox serves as executive producer of the series.
Commissioned by Super Écran for French-language Canadian broadcast, season four also features Glen Gould (Rhymes for Young Ghouls), Kristen Thomson (Away From Her) and Alanna Bale (Reign) on screen. Distributed by eOne worldwide, Cardinal received financial support from the Northern Ontario Heritage Fund Corporation (NOHFC), the Canada Media Fund (CMF), The Bell Fund and the Ontario Film and Television Tax Credit and the Canadian Film or Video Production Tax Credit.
In addition to snagging a best writing nod, Cardinal received a whopping 14 CSA nominations for this year's awards. The drama is up against Anne with an E, Coroner, Mary Kills People and Vikings in the Best Drama Series category, while Campbell and Vanasse are both nominated for best lead actor and lead actress in a drama series.
Image of Cardinal courtesy of Bell Media