Naveen Prasad's next step
The industry veteran discusses his decision to move on from his post as president of Vice Canada and what's next for him.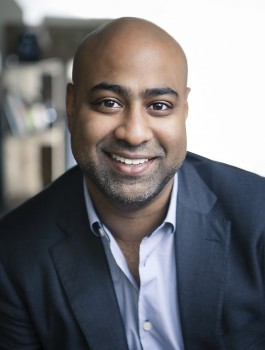 The next two months mark a new chapter for seasoned Canadian executive Naveen Prasad.
As of last Friday (Feb. 28), the former Elevation Pictures EVP and general manager has moved on from his most recent post as president of Vice Media Canada – a decision that he tells Playback Daily was always part of "the game plan."
"The Refinery29 integration was complete, the other lines of businesses were set up for success and given the runway to be part of the global company. It was the right time," he says, adding that business was also ramping up at his Toronto-based production banner Impossible Objects.
Starting out as a consultant for Vice over two years ago, the former Alliance Films SVP, television and online, took over the global parent company's Canadian president position in August 2018. Tasked with reorganizing Vice Canada's business so that it wasn't a territory in and of itself, his position also saw him recruit talent to bolster Vice's various lines of business and drive growth.
A Toronto-based spokesperson for Vice Canada told Playback Daily that following Vice's successful acquisition of Refinery29 last November, the company reorganized its leadership across its key lines of business. As such, with this change, all of Vice Canada's local teams report to global leaders within the larger Vice Media Group – therefore, a territory president within Canada will no longer be necessary moving forward, they explained.
Vice Canada's studio business is under the purview of SVP, studio Canada, Vanessa Case, while head of account management Whitney Milne leads Canadian work for Vice's creative agency Virtue. VP, client partnerships, Canada, Jessey Finizio and VP, strategy and content Amy Davies are both responsible for Vice and Refinery29′s digital publishing businesses. Additionally, Carley Fortune, executive editor, Refinery29 Canada, and Josh Visser, Vice editorial director, Canada, both lead editorial content.
"Between all of those folks, they now work within their lines and together as an executive team at the local level," Prasad notes. "They're all very, very talented. I basically made myself redundant because they're so great and they're going to kick ass going forward."
Starting this April, Prasad plans to focus his attention on Impossible Objects, his joint venture with filmmaker Jamie Dagg, who had been holding down the fort so to speak. Launched in January 2018, the company's goals for its slate include projects in the feature film, scripted series and documentary space that are both market-driven and appeal to their tastes.
While Prasad remained tight-lipped about projects in the works at the banner, clues are starting to filter through as industry funding agencies announce their recipients. For instance, The Harold Greenberg Fund this week unveiled an Impossible Objects project called The Night Knows as part of its 2019/20 Script Development Program. It was penned by Michael Doyle and Dagg, who is attached to direct and serve as a producer alongside Ari Lantos and Todd Brown.
Reflecting on his time with Vice, Prasad says that he feels like the goals set out for him have been achieved. Looking forward, he explains that in addition to serving as Bell Fund chair, he's excited about other future business opportunities.
"Impossible Objects is very much a creative outlet for me. That is the home where I get to work with great filmmakers and collaborators on delivering content that has no limitations other than the kind of content that Jamie and I want to do," he says, addressing his future goals. "So then, there's the other side of my head, which is there's numerous businesses and opportunities – that it doesn't have to play as part of Impossible Objects, but [it] is also just as much a creative job and work to build out and strengthen. And I find that very appealing as well."