Gravitas Ventures takes on James vs. His Future Self
The sci-fi comedy up for best original screenplay at the Canadian Screen Awards is expected to be released theatrically in the U.S. this May.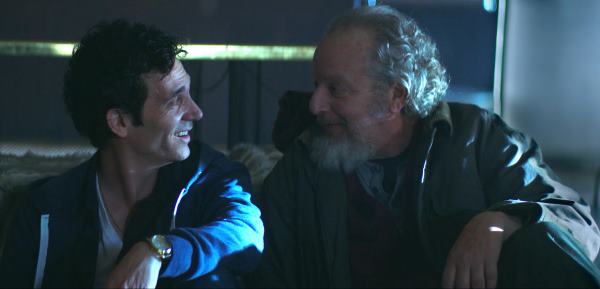 Jonas Chernick and Jeremy LaLonde's James vs. His Future Self is on a roll.
Co-written by the duo, the sci-fi comedy following an uptight time travel-obsessed scientist (played by Chernick) who encounters a supposed future version of himself has been acquired by Red Arrow Studios' Gravitas Ventures for U.S. distribution.
Set to be released theatrically on May 1, in approximately 10 markets, the deal also includes a VOD, DVD/BluRay and digital release. Gravitas Ventures' VP of acquisitions Tony Piantedosi negotiated the agreement with AMP International's James Norrie and Nina Kolokouri, who handle worldwide sales on behalf of the film.
All told, this sale comes one day after the feature nabbed four Canadian Screen Award nominations, including best original screenplay, and signals director LaLonde's latest deal with the U.S.-based independent film distributor, following How to Plan an Orgy in a Small Town (2015) and The Go-Getters (2018).
Produced by Chernick's Banana-Moon Sky Films, Jordan Walker's Neophyte Productions and Jonathan Bronfman's JoBro Productions, the Sudbury, ON-shot film is co-produced by JoBro's Andrew Bronfman and sees Raven Banner Entertainment's Andrew T. Hunt, Michael Paszt and James Fler serve as executive producers. Raven Banner Entertainment's specialty distribution arm Northern Banner Releasing holds the Canadian distribution rights to the film.
In May 2018, Crave (previously The Movie Network) acquired the Canadian TV rights to the feature starring Chernick (My Awkward Sexual Adventure), Daniel Stern (Shrill), Cleopatra Coleman (The Last Man on Earth), Frances Conroy (Six Feet Under), Tommie-Amber Pirie (Michael: Tuesdays and Thursdays) and Tara Spencer-Nairn (Corner Gas). Additionally, the title was pre-sold to China's Huashi, the Middle East's Front Row and Greece's Odeon.
Previously, James vs. His Future Self was selected as the Edmonton International Film Festival's Opening Night Gala film. The feature will make its European debut at the Glasgow Film Festival in early March and received financial support from Telefilm Canada and the Northern Ontario Heritage Fund Corporation (NOHFC). It was developed in association with The Harold Greenberg Fund and Super Channel.