Building Landscape Artist of the Year Canada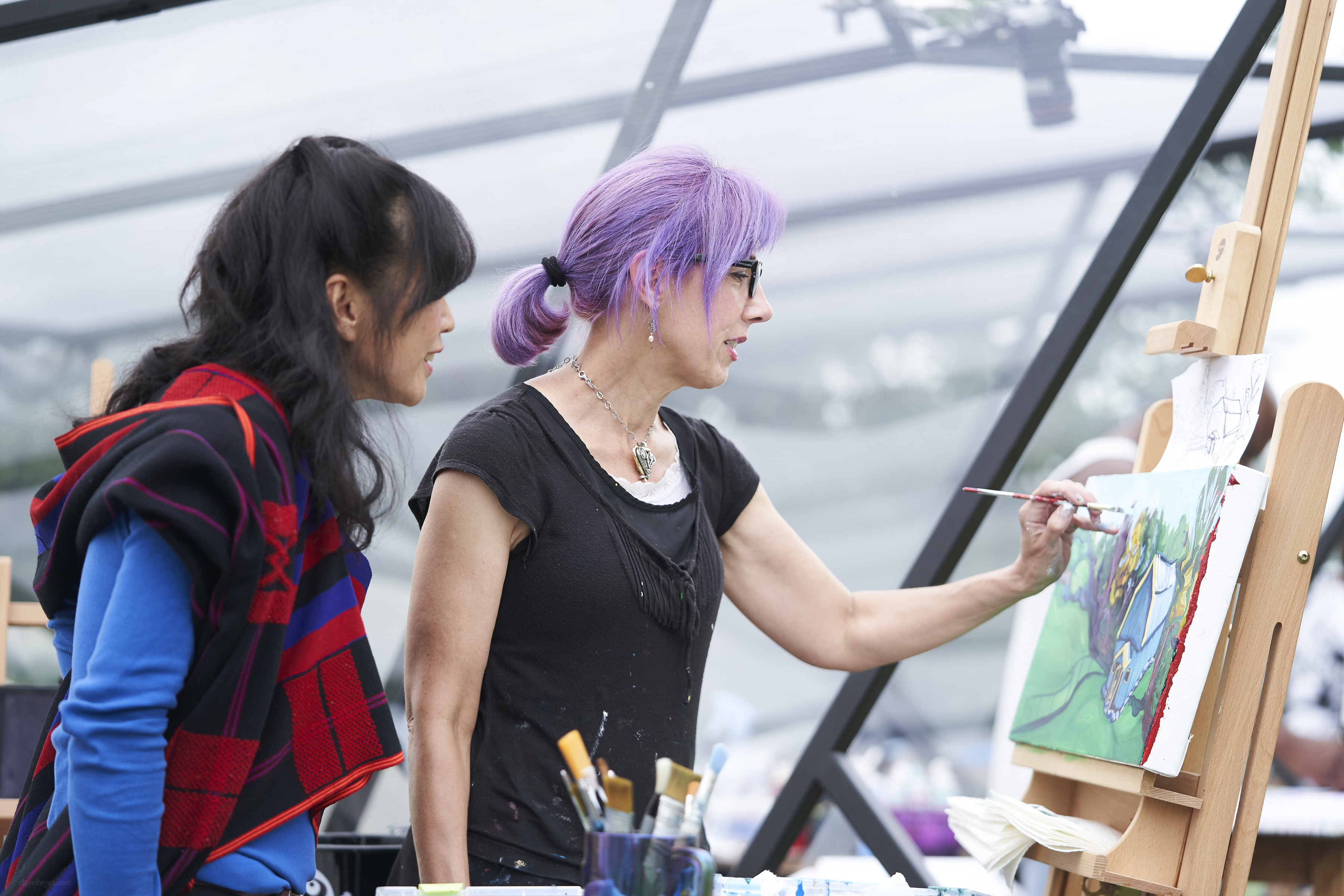 Blue Ant Media's Sam Linton and marblemedia's Matt Hornburg discuss the path to the Canadian adaptation of the hit U.K. competition series.
It was only natural for Blue Ant Media to consider commissioning a Canadian version of Storyvault Films' Landscape Artist of the Year after a few years of the U.K.-set competition series and its companion show, Portrait Artist of the Year, becoming a fan-favourite on Makeful.
"This show just fits the bill perfectly," Sam Linton, Blue Ant Media's head of original content, Canadian Media told Playback Daily prior to the world broadcast premiere of the local adaptation this weekend (Feb. 16). "We look for shows that entertain and inspire this young millennial audience of mostly female women who want to be creative."
Airing as part of Makeful's eight-week free preview – which runs across Canada until April 5 – Landscape Artist of the Year Canada (4 x 60 minutes), hosted by Octavio Is Dead!'s Sook-Yin Lee, sees 50 "wildcard" walk-on artists and 18 professional and amateur artists paint their take on a Canadian landscape in the span of four hours. The winner claims the coveted title of Landscape Artist of the Year Canada and a $10,000 cash prize.
Produced by Toronto's marblemedia, the adaptation has already been pre-sold to Foxtel in Australia by Banijay Rights and marks Blue Ant Media's latest collaboration with marblemedia – following in the footsteps of Restaurants on the Edge with L.A.'s OutEast Entertainment (13 x 60 minutes, Cottage Life/Netflix) and glass-blowing competition series Blown Away (10 x 30 minutes, Makeful/Netflix). Notably, Blown Away aired on Makeful last spring and was the top-rated show during its premiere first-run window among total viewers and adults 25 to 54, according to Numeris data provided by Blue Ant Media.
Linton notes that although Blue Ant Media originally had the opportunity to option either the U.K. version of Landscape Artist of the Year or Portrait Artist of the Year from Banijay Rights, the decision to adapt Landscape made more sense for Makeful because of Canada's connection to landscape painting and the Group of Seven.
She also credits marblemedia with elevating the show via its partnership with the McMichael Canadian Art Collection, which will showcase the winner's work in its Founders' Lounge from March 9 to April 19, following Landscape Artist of the Year Canada's finale on March 8. "To us it felt like a very natural extension of our brand and a tremendous opportunity for us to ensure wider stakes for the artists, something that money couldn't buy with regards to an opportunity," adds marblemedia co-CEO and show executive producer Matt Hornburg.
Receiving 400 applicants from across Canada, Hornburg says his team looked towards art critics on both the curatorial and educational side to assist with ensuring that selected participants were the right fit. As well, the series sees former National Gallery of Canada director Marc Mayer and artist and educator Joanne Tod serve as judges.
Linton also notes that because CBC (which co-commissioned the series and holds second window rights to the show) is a conventional broadcaster without a specialty offering, it made them an ideal partner for Landscape Artist of the Year Canada. "We hope that it's the beginning of doing a lot more stuff together," she says.
Reflecting on the success marblemedia has seen from Blown Away, Hornburg says he believes audiences are hungry for competition series and authenticity, explaining a takeaway from Blown Away was to be true to the people and experiences happening on screen. Elements that are built into Landscape Artist of the Year Canada via the weather conditions. "We did the same with Blown Away where we let things that naturally occurred be a part of the narrative. And I think that's what ends up being really satisfying, is the audiences are sophisticated enough to know what feels real or what feels overly-produced," he says.
Landscape Artist of the Year Canada airs on Sundays at 9 p.m. on Makeful and is distributed by Banijay Rights. Executive producers include Hornburg and marblemedia co-CEO and executive producer Mark Bishop. Carly Spencer, whose credits include Back in Time for Winter and The Bachelor Canada, serves as series producer and writer. Marblemedia VP of production Donna Luke is the show's supervising producer.
Image of Landscape Artist of the Year Canada courtesy of Blue Ant Media and marblemedia