CSAs '20: Antigone, Body Remembers among best pic noms
Anne at 13,000 ft, White Lie and The Twentieth Century round out the category, while Francois Girard's The Song of Names received the most nominations with nine.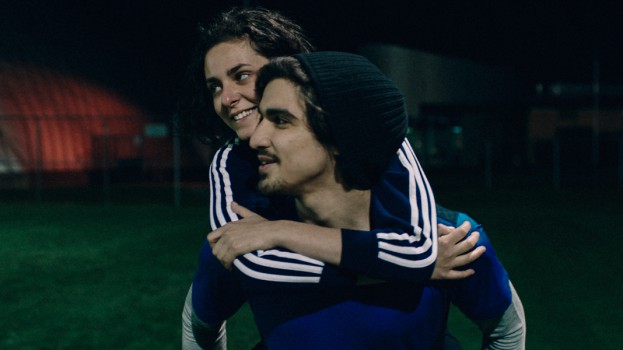 What do Kazik Radwanski's Anne at 13,000 ft, Sophie Deraspe's Antigone, Matthew Rankin's The Twentieth Century, Yonah Lewis and Calvin Thomas' White Lie and Kathleen Hepburn and Elle-Máijá Tailfeathers' The Body Remembers When the World Broke Open all have in common? Well, in addition to screening at the 2019 Toronto International Film Festival and being tapped for TIFF's Canada's Top Ten, all five are vying for the coveted best picture and best director prizes at the 2020 Canadian Screen Awards.
Of the films, writer/director Rankin's feature debut earned the most nominations (Voyelles Films, eight) – scoring nods in costume design, hair, art direction/production design, performance by an actor in a lead role for Dan Beirne, original screenplay and the John Dunning Best First Feature Film section.
Overall, Quebec-born director François Girard's The Song of Names claimed the most nominations this year with nine.
Produced by Toronto's Serendipity Point Films and Montreal's Lyla Films, in association with Ingenious Media, Feel Films and Proton Cinema, the film penned by Jeffrey Caine made its world premiere at TIFF this September as a gala presentation. Starring Tim Roth and Clive Owen, it received nominations for achievement in costume design, art direction/production design, hair, make-up, overall sound, sound editing, visual effects as well as original song and original score from Toronto-born Lord of the Rings composer Howard Shore.
Elsewhere, films from La belle province dominated the adapted screenplay category. For instance, Deraspe's Antigone (Association Coopérative des Productions Audio-Visuelles, seven, pictured) was nominated alongside writer/director Louise Archambault's Il pleuvait des oiseaux ("And the Birds Rained Down," Les Outsiders Films, five); Denis Cote's Répertoire des villes disparues ("Ghost Town Anthology," Ziad Touma, two); Kuessipan co-written by director Myriam Verreault and Naomi Fontaine (Max Films Media, three); and Sympathie pour le diable ("Sympathy for the Devil," Go Films/Monkey Pack, three), co-written by director Guillaume De Fontenay, Guillaume Vigneault and Jean Barbe.
Meanwhile, three of the five 2020 Best Motion Picture nominees made the cut for the original screenplay award. The section saw The Twentieth Century, The Body Remembers When the World Broke Open (Experimental Forest Films/Violator Films/Oslo Pictures/Tannhauser Gate, six) and White Lie (Film Forge/Babe Nation Films/Lisa Pictures, four) in the running with co-writer/directors Jonas Chernick and Jeremy LaLonde for James vs His Future Self (Banana-Moon Sky Films/JoBro Productions/Neophyte Productions, four), which was selected as the Edmonton International Film Festival's Opening Night Gala, and writer/director Anne Émond for Jeune Juliette (Metafilms, one).
The Body Remembers When the World Broke Open – which won the Toronto Film Critics Association's Rogers Best Canadian Film Film Award – also earned recognition in Performance by an Actress in a Leading Role section, with Tailfeathers nabbing a nomination alongside her co-star Violet Nelson. This year's TFCA Stella Artois Jay Scott Prize winner, Deragh Campbell, is also nominated for her performance in Anne at 13,000 ft (MDFF/Film Maudit, four). Other nominees include Kacey Rohl in White Lie and Nahéma Ricci in Antigone. In addition to The Twentieth Century's Beirne, Il pleuvait des oiseaux's Gilbert Sicotte is up for Performance by an Actor in a Leading Role with Black Conflux's Ryan McDonald, Goalie's Mark O'Brien and Mafia Inc.'s Marc-André Grondin.
Fresh off her Narrative Feature Grand Jury Prize win at the Slamdance Film Festival for Murmur (Houseplant Films, one), Heather Young is in contention for the John Dunning Best First Feature Film Award. Also nominated for the prize are Rankin's The Twentieth Century, director Fontenay's Sympathie pour le diable, Nicole Dorsey's Black Conflux (Band With Pictures/Panoramic Pictures, two) and Jonathan Beaulieu-Cyr and Renaud Lessard's Mad Dog Labine (Rococoeur, one).
On the documentary front, nominees for The Ted Rogers Best Feature Length Documentary prize are: Prey, which won the 2019 Rogers Audience Award for best Canadian doc from Hot Docs (Border City Pictures/TVO/Knowledge Network, two); Invisible Essence: The Little Prince (90th Parallel Productions/Groupe Fair-Play/Canesugar Filmworks, two); nîpawistamâsowin: We Will Stand Up (Downstream Documentary/NFB/TVO/APTN, one); Gordon Lightfoot: If You Could Read My Mind (Insight Productions, one); and Alexandre le fou (Pedro Pires Films, three).
Additionally, this year's Best Short Documentary nominees are Acadiana from Guillaume Fournier, Samuel Matteau, Yannick Nolin and Jean-Pierre Vezina; Gun Killers from Jason Young, Rohan Fernando and Annette Clarke; No Crying at the Dinner Table from Aziz Zoromba and TIFF Share Her Journey ambassador Carol Nguyen; Take Me to Prom from Andrew Moir; and Now is the Time from Christopher Auchter, Selwyn Jacob and Shirley Vercruysse.
Click here for the full list of nominees.
Image of Antigone courtesy of TIFF