Deals: Raven Banner, Untitled, Discovery Kids Media
Raven Banner Entertainment signs deals for two SXSW Midnighters, while Untitled Entertainment picks up the TV and digital rights to Better Luck Next Time, and more.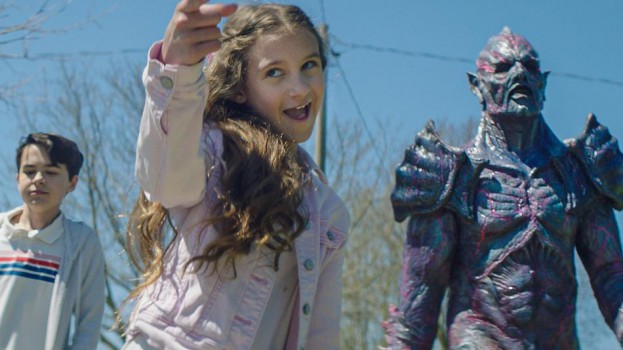 Raven Banner Entertainment
Raven Banner Entertainment has signed deals for two South by Southwest (SXSW) Midnighter selections. The Toronto-based company has picked up the Canadian distribution rights to writer/director Steve Kostanski's PG (Psycho Goreman) (pictured) and the world sale rights to Yummy, excluding Benelux. Both films are set to make their world debuts at the festival.
PG (Psycho Goreman) follows the story of a brother-sister duo who unwittingly resurrect an ancient alien overlord that's been entombed under their backyard. With the help of a magical amulet, the kids force the creature to be their new best friend. Stuart F. Andrews serves as a producer on the feature alongside Shannon Hanmer and Toronto International Film Festival (TIFF) Midnight Madness programmer Peter Kuplowsky.
Meanwhile, Belgium's first zombie-action film Yummy – which Raven Banner plans to introduce to buyers at the European Film Market – sees a young couple travel to a shabby hospital in a resort town that specializes in plastic surgery. While in an abandoned ward, the boyfriend stumbles upon the result of an experimental rejuvenation treatment that will change everyone into bloodthirsty zombies. Directed by Lars Damoiseaux, Yummy is based on a screenplay penned by him and Eveline Hagenbeek. The film is produced by Kobe Van Steenberghe and Hendrik Verthé produced the film. Raven Banner's Michael Paszt and Michael Da Silva brokered the deal with Yummy's Verthé.
Untitled Entertainment
Untitled Entertainment has acquired the TV and digital rights to Toronto-based author Kate Hilton's novel Better Luck Next Time. A generational dramedy, the novel follows one family's eventful year, tracking a feminist icon's family members as they tackle issues like aging parents, crumbling marriages and more. Hilton's other credits include The Hole in the Middle and Just Like Family. Transatlantic Agency's Samantha Haywood negotiated the deal.
In March 2019, Canada's Boat Rocker Media acquired an undisclosed stake in the U.S.  talent management and production company founded by Jason Weinberg and Stephanie Simo. In a joint press release issued at the time, the two said Untitled plans to use the investment to grow all areas of its business, with a particular focus on expanding its operations in film, TV and digital production.
Discovery Kids Media
Discovery's kids content production and distribution unit Discovery Kids Media (DKM) is growing its distribution efforts. U.S. streamer Hulu and Sony Pictures Television's U.K. kids channel Pop picked up seasons one and two of Discovery's live-action series Big Top Academy.
Produced by Montreal-based Apartment 11 Productions in association with Discovery and Canadian kids channel TVOKids, and in collaboration with Cirque du Soleil Images, the 52 x half-hour series targets kids ages five to nine. Revolving around eight young acrobats who dream of becoming professional circus artists, the series first debuted on Discovery Kids (LatAm) and TVOkids in 2018. These agreements with Hulu and Pop mark the first broadcast deals the distributor has signed for the show, however no air dates have been announced.
With files from Kidscreen
Image of PG (Psycho Goreman) courtesy of SXSW