In brief: Netflix's first Quebec film to premiere in Montreal
Plus: Anthropocene directors Jennifer Baichwal and Nicholas de Pencier take over Toronto's Human Rights Watch fest and a new Montreal VFX studio opens.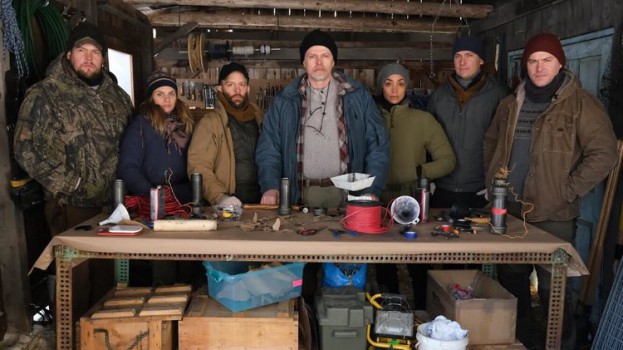 Netflix's first Quebec commission to world premiere in Montreal
Patrice Laliberté's Jusqu'an Déclin ("The Decline"; pictured), Netflix's first feature film commission from Quebec, will make its world premiere in Montreal's Rendez-Vous Quebec Cinéma (RVQC) festival. The film is produced by Julie Groleau of Couronne Nord and directed by Laliberté, who co-wrote it with Charles Dionne and Nicolas Krief. It follows a man who is so convinced a catastrophe is about to happen he joins a survivalist training camp that prepares for apocalyptic scenarios. The film was commissioned in 2018 and went into production in the northern region of Quebec in February 2019.
Anthropocene directors to helm Toronto's Human Rights Watch fest
Veteran documentary filmmakers Jennifer Baichwal and Nicholas de Pencier will become co-chairs of the Human Rights Watch Film Festival Toronto following the departure of long-time chair Helga Stephenson after 17 years. Baichwal and de Pencier are known for their trilogy of films about the degradation of the planet: Manufactured Landscapes (2006), Watermark (2013) and Anthropocene: The Human Epoch (2018). The Human Rights Watch Film Festival, which wrapped its Toronto edition on Feb. 4, is an annual event in more than 20 countries around the globe.
In 2015, Human Rights Watch honoured Stephenson — who brought the film festival to Toronto — for her long-time service to the organization at a film festival opening night reception and screening. Stephenson, along with entertainment lawyer Divya Shahani, have recently been named co-chairs of Toronto training and skills development center POV.
Digital Domain's Montreal studio opens
L.A.-based VFX studio Digital Domain has opened the doors of its Montreal location, bringing 130 new jobs for local effects artists. The company, which also owns a studio in Vancouver, announced plans to open a Montreal studio in 2018, bringing its total worldwide locations up to nine. The 35,000-square-foot facility includes multiple editorial bays, a screening room and can host up to 500 staff members. The studio will be working on projects from Sony, as well as Disney-owned studios Marvel and 20th Century. Past VFX work from Digital Domain includes Avengers: Infinity War, the Toronto-shot Shazam! and Ready Player One.
With files from Realscreen
Image by Bertrand Calmeau