Cineplex-Cineworld deal gets shareholder approval
The $2.8 billion transaction remains on course to close before June 30, said Cineplex president and CEO Ellis Jacob, as the company announced its Q4 financials.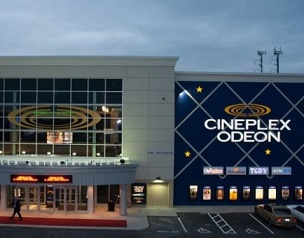 Cineplex shareholders have approved the exhibition chain's $2.8 billion acquisition by U.K.-based Cineworld Group.
The vote took place Tuesday, with 99.9% of the shares represented voting in favour of the deal. Earlier in the day, Cineworld Group's shareholders also voted in favour of the transaction.
Now that the deal has received shareholder approval on both sides, Cineplex said it will apply for a final order from the Ontario Superior Court of Justice to approve the transaction on Feb. 18. Separately, the deal is still subject to a number of other closing conditions, including approvals from Investment Canada and the Competition Bureau.
During a Wednesday conference call announcing Cineplex's Q4 financial results, president and CEO Ellis Jacob said the transaction is on course to close at some point between March 23 and June 30. "We continue to work together with Cineworld and the authorities to move this forward, and we continue to communicate with all of the parties," said Jacob.
If and when the transaction closes, Cineplex will become a wholly-owned subsidiary of Cineworld Group and cease trading on the Toronto Stock Exchange, where it began trading in 2003. Under the debt-financed deal, Cineworld has agreed to acquire all of the issued and outstanding common shares of Cineplex for $34 per share in cash.
A number of companies across the Canadian film industry have suggested the deal should be subject to something akin to a tangible benefits package, to ensure domestic film is not an afterthought for a company that has not previously had any business operations in Canada.
That said, Cineworld has a solid track record of supporting independent cinema in other markets, and said in December it plans to be a "a new partner for the Canadian film industry to collaborate with, as Cineworld Group has extensive distribution and exhibition businesses outside of Canada."
Last week, Cineplex revealed that the seven-week "go shop" period – in which Cineplex was permitted to solicit and enter negotiations with potential buyers – had ended. During the window, Cineplex said it contacted 52 third-party companies, but received no superior offers.
With the transaction, Cineworld says it will own more than 11,200 screens across the world. It currently operates 9,498 screens across 786 sites in the U.S., U.K., Ireland, Poland, the Czech Republic, Slovakia, Hungary, Bulgaria, Romania and Israel.
Elsewhere, the Toronto-based Cineplex said its Q4 revenue had increased 3.6% year-over-year to $443.2 million.
Quarterly box office revenues were down slightly (0.3%) to $181.8 million from $182.3 million as theatre attendance decreased 0.8%. Per patron, box office revenues rose 0.6% to $10.79.
The top films – Joker, Frozen II and Star Wars: The Rise of Skywalker – each grossed more than 13% of box office revenue, up from the 8.7% represented by the top films of Q4 2018.
Still, Canadian theatre attendance continues to decline annually, down to 66.4 million attendees for the full fiscal year 2019 as compared to 69.3 million in 2018. Total box office revenue for 2019 was $705.5 million, down from $724.2 million in 2018.
Media revenue, however, reached a quarterly record, increasing 20.1% year-over-year to $69.5 million, a result of higher cinema media revenue ($42.2 million) and digital place-based media revenues ($9.6 million). Total media revenue for 2019 was $196.8 million up, from $162.8 million in 2018.
Food services revenue was up 3.3% year-over-year to $114.6 million, which Cineplex attributed to the expansion of offerings outside core products.
The $53.5 million in total amusement revenue was flat when compared to Q4 2018. And other revenue, including promotions, screenings, private parties and corporate events was $13.3 million for the quarter.
With files from Kristyn Anthony, Media in Canada