Podemski, Diorio roll on Unsettled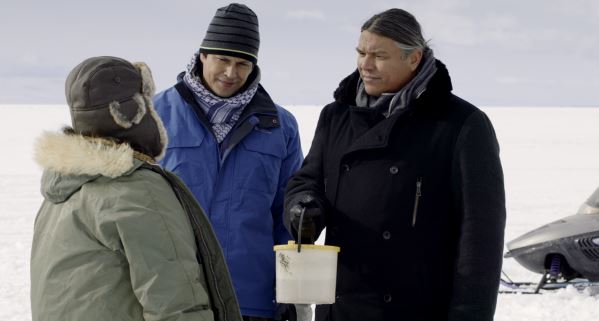 The 10-part drama series is produced by Jennifer Podemski's Redcloud Studios and Derek Diorio's Distinct Features for TVO and APTN.
Production is underway in Northern Ontario on Unsettled, a 10-episode by 30-minute fish out of water drama series co-created by Jennifer Podemski (Future History) and Derek Diorio (Hard Rock Medical).
Produced by Podemski's Redcloud Studios and Diorio's Distinct Features, the series was co-commissioned by TVO and APTN and follows an urban Indigenous family who lose their fortune in the midst of an identity crisis.
Podemski and Diorio serve as executive producers, writers and directors on Unsettled – with Podemski solely directing the show's debut episode. Bizable Media co-presidents Janice Dawe (Qanurli?) and Kathy Avrich-Johnson (Future History) are also credited as executive producers, while Geoff Ewart (Future History) is a producer on the project.
Shot almost entirely on Nipissing First Nation on the shoreline of Lake Nippissing, Podemski told Playback Daily that an open casting call for the series attracted the attention of 53 Indigenous community members. Notably, out of the show's 55 roles, 50 consist of Indigenous characters played by Indigenous actors.
Unsettled stars Cheri Maracle, Brandon Oaks, Tamara Podemski, Pam Mathews, Wesley French, Lawrence Bayne, North Bay local Mitchell Loon and Albert Owl. It also features recurring appearances from Michaella Shannon, Tashena Sarazin, Glen Gould, Joshua Odjick, Lisa Cromarty, Migwan Buswa, Sid Bobb, Phoenix Wilson, Stephanie Aubertin, Willow Podemski-Bedard and Michael Podemski-Bedard.
Additionally, producers on the drama are working closely with Canadore College to offer Indigenous students and graduates from the college's Digital Cinematography program the opportunity to train on set. Led by director mentee Morningstar Derosier, trainees are shooting second unit narrative content throughout the community. Assistant director Dustin Hollings is also a writing trainee in the program. In total, 10 participants are part of the initiative.
Unsettled received support from the Canada Media Fund (CMF), picking up $398,685; $1 million from the Northern Ontario Heritage Fund Corporation (NOHFC); Rogers Cable Network Fund; and The Bell Fund. The show is also the first dramatic TV series to be funded through the CMF's Aboriginal Program, meaning 20% of the show is shot in Ojibway.