SXSW takes The Toll, adds PG (Psycho Goreman)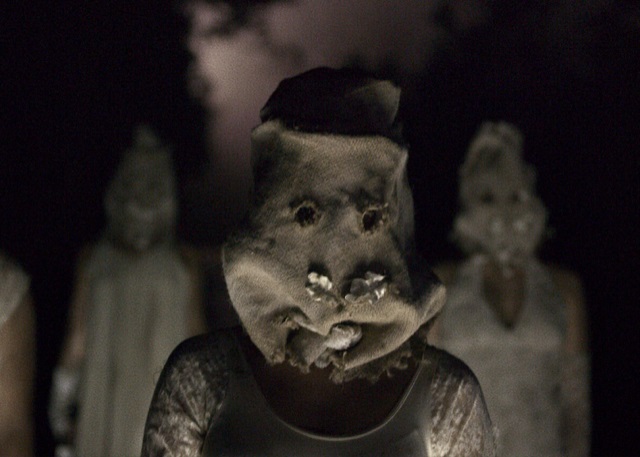 Ingrid Haas' Still Wylde (Canada/U.S.), Nicole Bazuin's Modern Whore and more are also set for the American festival.
The South by Southwest (SXSW) Film Festival has added more programming to its 2020 edition, tapping films by writer/director Steven Kostanski and Michael Nader to world debut in its Midnighters section.
Written and directed by Kostanski, PG (Psycho Goreman) follows brother and sister Luke and Mimi, who unwittingly resurrect an ancient alien overlord that's been entombed under their backyard. Using a magical amulet, the kids force the creature to be their new best friend – eventually leading to his magical powers drawing the attention of some interstellar visitors. Jesse Kristensen is an executive producer on the Toronto-shot sci-fi comedy. Producers include Stuart F. Andrews, Shannon Hanmer and Toronto International Film Festival (TIFF) Midnight Madness programmer Peter Kuplowsky.
Meanwhile, Nader's The Toll (U.S./Canada, pictured) has also been added to the section. Produced by Toronto's 4AM Films, the King City, ON-shot horror film sees a young woman and her rideshare driver become trapped in the world of a terrifying supernatural being called the Toll Man. Marko Hegner is an executive producer, while Will Frank and 4AM Films' Max Topplin and Jordan Hayes are producers.
Also making its world premiere in the after-dark section is The Silencing (Canada/U.S.), penned by Micah Ranum and directed by Robin Pront. Following an isolated reformed hunter who teams up with the local sheriff to track a killer, the film is produced by Anova Pictures in association with Toronto's Wildling Pictures. Executive producers include Aram Tertzakian, Maxime Cottray, Jonathan Gardner, William V. Bromiley, Shanan Becker, Jonathan Saba, Sukee Chew, Jonathan Loughran, Gabe Scarpelli and Ryan Shoup. Anova Pictures' Cybill Lui Eppich is a producer.
Meanwhile, on the Narrative Shorts Competition side is writer/director Ingrid Haas' Still Wylde (Canada/U.S.). Making its world debut in the category, Haas' directorial debut follows Gertie (played by Haas) and her on-and-off again boyfriend as they face a major life decision. Haas is an executive producer, while Devin Lawrence and Katie White are producers on the short.
Elsewhere, in the Documentary Shorts Competition, writer/director Nicole Bazuin's Modern Whore will make its world premiere alongside the U.S. debut of TIFF Share Her Journey ambassador Carol Nguyen's No Crying at the Dinner Table.
An adaptation of the illustrated book Modern Whore: A Memoir – which was created in collaboration with the film's director – the short follows Andrea Werhun, a former escort who shares the ins and outs of an escort review board culture in an effort to expose complexities around sexual power and social stigma. Executive producers include Bazuin, Werhun and Jonas Diamond. Lisa Baylin is a producer.
No Crying at the Dinner Table, meanwhile, sees the filmmaker interview her family, examining issues around love, grief and intergenerational trauma. Nguyen is a producer on the film alongside Aziz Zoromba.
Charlie Tyrell's Broken Orchestra (Canada/U.S.) has also been added to the section. Directed by Tyrell, the film recently screened at the Sundance Film Festival and follows Symphony for a Broken Orchestra, a music and art project that collected and fixed hundreds of broken instruments from the Philadelphia public school system, putting them back in students' hands. Tyrell serves as a writer on the short alongside Josef Beeby. Executive producers include Mona Panchal, Anna Holmes, Ryan Chanatry and Jennie Bedusa. Julie Baldassi, who worked with Tyrell on My Dead Dad's Porno Tapes, is a producer on the film.
In the Texas Shorts section, director Jeremy Schaulin-Rioux's Rules For Werewolves (Canada/U.S.) will also make its world premiere. Penned by Kirk Lynn, the film is described as a dual narrative examining a young wolfpack "of post-recession house squatters." Lynn is an executive producer alongside Jonathan Duffy, Kelly Williams, Peter Harvey, Geoff Manton and Sebastien Galina.
Other projects set for the festival include: the world premiere of director Felix Lajeunesse's Space Explorers: the ISS Experience – Preview in the Virtual Cinema section; writer/director Thea Hollatz's Hot Flash in the Animated Shorts Competition (produced by Morgan Fortier, Brett Jubinville and Wildling Pictures' Kristy Neville and Matt Code); writer/director Santiago Menghini's Regret in the Midnight Shorts section, his film Milk previously won the program's jury award and caught the attention of L.A.-based New Line Cinema; and a digital 4K restoration of director Dennis Hopper's Out of the Blue (1980, Canada/U.K., writers Leonard Yakir and Brenda Nielson) in the Special Events section. Director and writer Peter Ricq's music video for Humans' Noose has also been tapped for the festival, while title designer Jordan Turner's Who Among Us Title Sequence is in Excellence in Title Design.
The 33rd festival runs March 13 to 22 in Austin, Texas.