Friedman wins 2020 TIFF-CBC screenwriter prize
Plus, Cory Bowles (Black Cop), Jasmin Mozaffari (Firecrackers) and Romeo Candido (Second Jen) are among this year's Writers' Studio participants.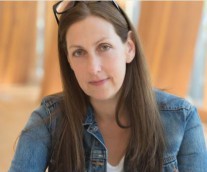 The Toronto International Film Festival (TIFF) has named the recipients of its 2020 TIFF-CBC Films Screenwriter Award and Writers' Studio.
All told, Canadian author and screenwriter Elyse Friedman (pictured) picked up the organization's TIFF-CBC Films Screenwriter Award for her feature film script, The Relationship Experiment.
Created to support diverse Canadian screenwriting talent and the development of Canadian screenplays, last year's prize went to Tracey Deer and Meredith Vuchnich for their coming-of-age feature Beans – with Friedman's script Better Now winning the $1,500 Jury Prize.
"We loved The Relationship Experiment because it subverts societal expectations of how a woman is supposed to look and behave, with an off-beat spirit and sensibility like Noah Baumbach's Greenberg and laughs and set pieces like Paul Feig's Bridesmaids," said the award's jury in a statement.
Alongside the TIFF-CBC Films Screenwriter Award's $15,000 grant, the Toronto-based author – who recently penned the novel The Answer to Everything, published by HarperCollins Canada – will receive support from a script consultant, access to TIFF 2020 as well as TIFF's September Industry Conference.
Additionally, Cory Bowles (Black Cop), Jasmin Mozaffari (Firecrackers) and Sanja Živković (Easy Land) were among the eight participants tapped for TIFF's Writers' Studio.
Now in its ninth year, the five-day intensive workshop takes place in March at Toronto's TIFF Bell Lightbox and is designed for mid-level screenwriters and writer/directors across Canada to sharpen their creative and business skills.
Produced by TIFF and supported in part by Share Her Journey, this year's lab will support the development of feature film scripts, offering participants one-on-one discussions with international script consultants like Alesia Weston, Karen Walton, Christina Lazaridi and Brad Fraser, to name a few. Notably, women make up 50% of this year's cohort.
Prior to this Bowles' drama Black Cop made its world premiere at TIFF 2017, while Mozaffari's feature debut Firecrackers had its world premiere at the festival in 2018 and Živković's first feature Easy Land was part of TIFF last year.
Rounding out the list, Romeo Candido (Second Jen), Julian De Zotti (New Year), Sol Friedman (An Imagined Conversation: Kanye West & Stephen Hawking), Lisa Jackson (Biidaaban: First Light) and Fawzia Mirza (Signature Move) will also take part in the intensive. All participants will also receive access to TIFF 2020 and the festival's Industry Conference.