Omnifilm lands The Red Harlequin
Creeped Out's Robert Butler is attached to the TV adaptation alongside Rick Porras (The Lord of the Rings).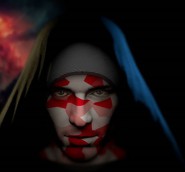 U.K.-based Pantomimus Media has inked a TV development deal for its young adult fantasy brand The Red Harlequin with Vancouver's Omnifilm Entertainment.
Under the agreement, Omnifilm "will work towards creating a high-end action adventure fantasy series," according to a release. Creeped Out co-creator, writer and executive producer Robert Butler and The Lord of the Rings trilogy co-producer Rick Porras are attached to the adaptation – with Butler set to serve as showrunner.
Penned by Pantomimus Media creator and director Roberto Ricci, The Red Harlequin saga consists of five books and follows Asheva, a teenager living in an ancient and complex world divided by coloured warring nations, where everyone lives hidden behind a mask. A spokesperson for Pantomimus Media confirmed to Playback Daily that Ricci will serve as co-creator and executive producer on the TV series.
Alongside this deal with Omnifilm Entertainment, Pantomimus Media also unveiled agreements with Dreamscape Media and Dreamscape Media.
Dreamscape Media has acquired the worldwide English-language audiobook rights to The Red Harlequin's five novels, while independent comic book company Broken Icon Comics has secured the property's U.S. print rights to adapt the saga into graphic novels. All five audiobooks are expected to be released in May 2020.
In a statement about these agreements, Ricci said he's excited to partner with the trio to develop The Red Harlequin as a global entertainment property, noting that these partnerships offer a multi-platform approach to reach new fans.
Pantomimus Media holds the rights to Ricci's The Red Harlequin. Development of the property is backed by Finnish venture capital fund IPR.VC.